SANDRA McCRACKEN
Sandra McCracken was quite possibly Nashville's best kept secret but earlier this year the Nashville-based singer-songwriter signed to Dave Robinson's Shell Records. She supported Hanson on their UK tour and headlined her own gig at London's Borderline.
Sandra's third album 'Best Laid Plans' is a blend of folk, pop, country and rock.

1. What are you currently up to? (gigs, recording etc etc)
Eating lots of Christmas cookies at the moment (my Mom was just in town)...working on several new songs and demos. We have a decent home studio setup so I have been recording rough versions of the new songs. Also, I am working on a duet with a Cuban artist and label mate from Havana, Alexis Cuba Band...a long distance collaboration.
2. Tell us something about your album releases to date and what experiences they might reflect at the time you recorded them?
Each album is personal. So, with each project, I am working to better communicate what I live and see in a way that is honest and engaging. My first project, The Crucible had a lot of heartbreak in it. A mix of piano and guitar driven songs, it was such an amazing but demanding experience to record my songs and stories all at once. I was going through some rough things personally, which probably gave the vocals a sort of a desperate quality throughout. Itís like how a Bone China cup is heated so intensely in the fire when itís made, that when you hold it up to the light, you can actually see through it.
The second album, Gypsy Flat Road has a bit more romance to it, partly due to the fact that I had just met my now husband, and partly because I think I was settling into my career at this point. I was learning to trust my instincts, and getting comfortable touring and performing. We recorded the tracks live in the studio, with the musicians all in the same room together. It was a magical experience.
The new album, Best Laid Plans, went through a few false starts and took a little longer to actually record than I expected. But once we got in the studio at Ray Kennedyís it came together effortlessly. Peter Collins had everything to do with that.
It was the first time I had worked with an outside producer, let alone somebody of his calibre. And it freed me up to perform without distractions. I think this album has some of the heartbreak from the first years, the romance that came after, and some new dimensions as well. As a writer, I think Iím just starting to figure myself out, and am excited where it will go next.
3. How did you hook up with Ray Kennedy and Peter Collins?
I met both of them in Nashville, Peter through some friends at Dualtone Records, and Ray by way of Peter. Both of them have been so supportive. I knew of them by reputation and was still more impressed with who they are as people, over and above all the amazing work they have done.
4. What are your own personal favorites on the 'Best Laid Plans' album and why?
It changes, really, thatís one of the organic things about it. But my favorites are 500 Miles, and No More Tears at the moment. I love the sounds, and the synergy between all the parts on No More Tears, and 500 miles turned out as sort of a prophetic lyric, about process rather than destination.
5. Tell us about your songwriting, how long did it take you to put together the current album and what experiences inspire you to write?
I just saw the new film about Ray Charles this week and was thinking as I watched it about how much your story effects your art. Sometimes, you mean for it to, and other times you try to avoid it, but either way, I think the best writing comes out of looking honestly at your situation, or somebody elseís situation.
The more deeply you feel something, the more soul comes out in the song. It can be any kind of experience, and it can make you feel irony, despair, happiness, longing, or anything in between. And even if itís not spelled out in the lyric, listeners can measure your sincerity by what they hear in your voice. And it doesnít take a music degree to hear the difference between truth and pretend.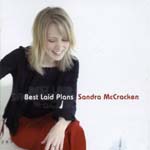 6. Tell us about your recent trip to the UK? Will you be coming back to perform/tour?
Yeah, we had a great time at the Hanson shows, and Iím crazy about the UK. I'm getting spoiled with all these visits. It is all so fresh to me to tour in new places and with new people. It teaches you more about yourself, and it is a good test of what people like or donít like about your music. It has surprised me some, but generally, audiences anywhere resonate with certain songs more than others. You wouldnít want to rely too heavily on that as your measure, but it is a tool to help you gain command in what you write, in melody and in lyric.
7. Who have been your main musical influences and who are your all-time favourite artists/albums?
I love Bob Dylan, Johnny Cash, Daniel Lenois, Julie and Buddy Miller...I love Joni Mitchellís Blue, and Emmy Lou Harrisí Wrecking Ball, Neil Finn and any album he ever wants to record.
8. What have been the highlight(s) and lowpoints(s) of your career to date?
Low points would be the show where nobody comes except 3 people, and they are all related in some way. Or having your guitar munched in the conveyer belt at the airport. High points would be making fans of people that you are already fans of like Buddy Miller, playing a sold out show in Texas when everybody sings all the words, and having days off in Edinburgh.
9. Outside of the music business, what do you enjoy doing in your free time?
I love being outside, hiking with my border collie, I love making things and rearranging furniture, and I love sitting at a coffee shop with my sweetheart.
Website: Artist website
CD review
---
Interview © 2004 David Randall/
Format and edit: The Music Index.
All rights reserved.