1. Where did the name of the band come from?
During the Second World War there was a crappy Russian racing car named 'Moskvitch'. We thought it was cool name and gave it a little twist. We think it's a good name because its different and people remember it!

2. How did you get signed to BLP label?
Frank (guitarist) travelled with Baltimoore as a roadie on there last Swedish tour, and handed a record to Björn Lodin. After a few weeks he called Frank and wanted to do a record. Of course we took the offer and started to record one month after Björn had made his voice heard!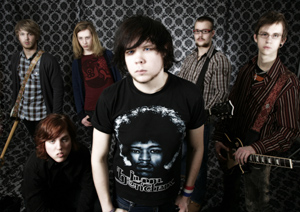 3. Is this a one album deal or are the label hoping to get behind you and develop the band?
For the moment it's a one album deal but there are already plans for a second album which we look forward to recording, we are already working on new material, but just at the start of that at the moment.

4. You seem to have fused some hard riffing retro elements with elements of Prog and hard rock, is that a fair assessment of your music?
We prefer to call it 'Hard Waltz'.

5. Who are your influences both contemporary and older? I hear Purple, Heep, Metallica, Lizzy?
Clutch, Sabbath, Thin Lizzy, Cream, Rainbow, Deep Purple, Kiss, The Doors, Soundgarden, Led Zeppelin, Jimi Hendrix, Danzig, The Melvins, Mountain, Blue Cheer, The Cult, Elvis...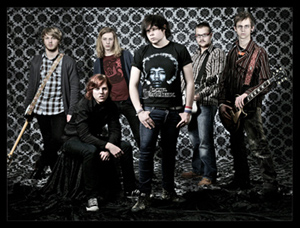 6. Did the recording process inhibit your music at all?
We really listening to what Björn Lodin said about the music and what he was doing to it. That aspect certainly created a new element in our music. The album became a lot more organic with a more lightly fuzzed guitar sound. And we concentrated to the instruments we played and we didn't put on 'overlays' and that kind of stuff. The instruments you here on the Album ALWAYS is: 1 lead Vocals, 1 Backup vocal, 2 guitars, 1 bass and 1 Hammond/rhodes piano.

7. Did the songs come about through riffs, it certainly sound like that on track 3, or was some of it written with Arvid Jonsson in mind?
Most songs are like you say, written around riffs and melodies on the riffs. We always have the groove parts in mind and Arvid Jonsson is always on our minds =).

8. You seem to have a great dynamic underpinning the music, a balance somewhere between rocking out and establishing a groove and just blowing?
Of course! That's what we are good at. It's an important part in our music to first feel a groove, melodic part and then come up with a fast and explosive part were you can just freak out, both as a band member on stage and a fan in the audience.

9. There does seem to be a Lizzy/Phil Lynott influence in the vocals, do you hear that?
Yes. We can here it now, but we didn't until every reviewer started pointing it out, lol. In the beginning of the recording we didn't notice it much, but when many people said it we started to listen and recognize it.

10. There seems to be plenty of room for jamming, with both guitars and organ, and a good rhythm section, did you prepare all the material before going into the studio? Or was it more organic than that?
We had a few ideas before going into the studio and the songs were on a basic sound stage. But parts of the album are grown out of groovin' studio jams and ideas come up in the studio.

11. Is it tough to get gigs in Sweden being a non indie rock band, or is there a good scene over there?
There is pretty much no music scene in Sweden. It's very hard because the only artists the 'big' scenes want is the mainstream bands. It's a very 'snowed in' music life in Sweden. We did manage to play at 'Sweden Rock Festival' this year which was a great experience and will hopefully open some more doors.

12. Has there been any resistance to the album because he it doesn't fit into what people might expect from a contemporary hard rock album?
Not that we have noticed yet. We have received very good response on the album, no one have said like: 'this is shitty crap boys', if you know what I mean ;).

13. What are you plans for the next 12 months?
Tuning snare drums and building a doomsday machine-Leslie for the next album. We'll be giggin' a lot, rehearsing, writing new material, blowing peoples minds. Preparing to do everything to become the greatest!!
14. Any plans for gigs in the UK?
Absolutely. We are hoping that people in England can enjoy our music also and that our promoter Andy Craven is spreading the message in England to. He's a great guy and helping us out a lot, cheers for him!
---
Interview © July 2007 Pete Feenstra.
All rights reserved.


Album review
---
| | |
| --- | --- |
| | Print this page in printer-friendly format |
| | Tell a friend about this page |