LOGAN
LOGAN formed back in 2005 have supported Alter Bridge, won Classic Rock magazine awards and been tipped by said magazine for bigger things. They tour the UK again in July and itís over to bass player Steve ReillyÖ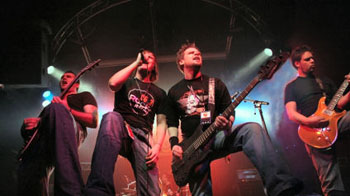 What are you currently up to?

Currently we are in the rehearsal studio locked away working on new material for our next album and rehearsing for our forthcoming UK tour. (see dates below)

Brief history of the band and how you all met etc.

The band got together as a 4 piece originally and came to work with with myself (Steve Reilly)in the studio to put our first album together that was back in 2004, during the process of recording the album guitarist Al Reilly came in to do some session guitar and enjoyed himself so much he just joined the band!
About 7 songs into the album (first leaf fallen) the band changed drummer and the line up was complete! Vocals-Kenny Collins Guitar-Al Reilly- Bass-Steve Reilly- Drums Iain Stratton Guitar-Mick coll so basically the band in a way all met through Red Eye Studio! and to date the band has now released 4 studio Albums and a fifth is in the pipeline.


Could you take us though the songs on your new album please e.g. ideas behind the songs, song writing process etc.

Most of the songs for the New album are all written in the same way, we go in to the rehearsal room and play together and basically jam guitar riffs and then we all start to add our parts to that!

We kinda like to work off ideas that we instantly like and we have a saying if we're not bored playing a song we dont know it well enough yet!! our vocalist Kenny Collins writes 99% of the lyrics and i think!! he just relates that to everday life and sometimes issues that effect the band and us all as individuals.

In the UK now there are some great new bands steeped in classic rock bands from the 70's and early 80ís. Why do you think so many good bands are coming along now and any other bands out there you would recommend?

I think the classic rock band is coming back, simply because it always been great music and the UK is steeped in the history of that kind of music. It was only a matter of time before it came around again but for some its never been away! I think people are tired of manufactured pop and rock and want to here music with some feeling and a meaning again!

What have been the live highlights so far for the band and who ideally would you like to tour with & why?


The bands live highlights have been great so far! i would say our rapturous applause at the London Astoria supporting Alter Bridge was a great night! but probably more enjoyable was selling out our own tour of the UK back in 2006 that was very important to us and the fans on that tour were fantastic! But our home town shows are always a great night! people say Glasgow is a tough crowd but they have always been great with us and we love them for it!

I would love to tour with Black Sabbath and Iron Maiden that would be cool!

Who have been influences on the band musically?

Musically our influences are all very different! Myself and Al are influenced by bands like Journey,Rainbow, Whitesnake to Alice in Chains, Soundgarden and SevenDust, the rest of the boys all have there influences like Kenny, love Pearl Jam and Chris Cornell Mick and Iain Creed, Foo Fighters to Kill Switch Engage. the list would be endless.

How do you view the internet and downloads etc. Does it help bands like yourself get established?

I think the internet and downloads have been great for small bands! It has given us a chance to sell records all over the world! I mean we have been sent pictures of people wearing Logan t-shirts in Australia and we have sold albums all over the US and Europe and Australia and New Zealand so it's a great way to get worldwide exposure and I think it will only get better!


Any good rock 'n' roll tales to tell?


Well rock and roll tales would have to come from our tour with Alter Bridge! I guess this is more of a statement than a story but I remember coming out of the Birmingham Academy gig after the show and trying to get on our tour bus, but it was full so I walked to the front door and came in that way and the entire band of Alter Bridge and half there road crew were getting pissed with the rest of Logan in the upstairs lounge.
Just seeing all the famous faces and the way the band (lLgan) on their first ever tour were feeling right at home I felt proud of the boys! but it did piss off the AB tour manager cause it went on till about 4 am lol!

Where would the band like to be in a year's time?

I would love the band to be playing Wembley next year!! but seriously if we are playing bigger venues and selling more records we will be happy!

Message for your fans...

Our message to our old fans would be thank you for all your support and things are just gonna get better and to our potential new fans, it would be if you do nothing else just come to one of our shows and judge us there and if you dont like it tell us!! but I'm sure you wont be disappointed we always spend time with the fans and will always continue to do that!

Rock On
Steve Reilly
Logan

http://www.logan-net.com/news/
Logan are on tour in the UK in July
12th July Oxford Academy

13th July Birmingham Academy

14th July Bristol Academy

15th July Islington Academy

17th July Sheffield Boardwalk

18th July Glasgow Cathouse

19th July Liverpool Academy

20th July Newcastle Academy
---
Interview © 2008 Jason Ritchie.
All rights reserved.
---
| | |
| --- | --- |
| | Print this page in printer-friendly format |
| | Tell a friend about this page |