LEE ROGERS
A local phenomenon in his native Northern Ireland, Lee Rogers is set to reach a much wider stage with the June 2006 release of his debut album, 'Drawing Clocks'.
With influences ranging from Van Morrison to James Taylor, the debut album was recorded in Italy during the summer of 2005.
1. What are you currently up to?
At this moment in time I am doing a bunch of different stuff. I am demoing some new songs at my own studio here in Belfast, writing new material, playing my usual nightly resedencies here in the city, being a father and a husband, and getting ready to make the move to London to support and promote the single release of Love, Love, Love from the Drawing Clocks album.
2. Who was/is/are the biggest influences on you, musically?
There are so many! Where do I start? I think that my reasons at the beginning for picking up a guitar came from the excitement that I would feel at hearing music that appealed. I would hear things as a teenager that really affected me, I suppose like any teenager really, I just wanted to be a part of it.
My tastes as a teen are alot different from my tastes now, but as a kid my father would play lots of Van Morrison and Bruce Springsteen, Free, etc etc, which I know has rubbed off on me as a musician and a songwriter.
My own influences come from the likes of Tom Waits, James Taylor, Sting, Paul Brady......to name a few.
I have a love for Jazz and Blues too being a fan of everything from Weather Report to E.S.T. I love bass players, like Jaco Pastorius and Marcus Millar, I enjoy listening to virtuosic playing of guys like that.
Old blues guys too, like Robert Johnson, or even newer contemporary blues like Keb Mo. It all goes in somewhere at some level.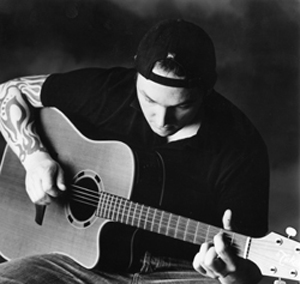 3. Tell us about Drawing Clocks. How long has it taken for the songs to come together? How did you end up recording in Italy?
Sometimes songs just appear, right?? Some of them take ten minutes to write and complete, albeit some fine tuning involved. Some take years, revisit after revisit.
The songs on Drawing Clocks where mostly all new, though I think there are 3 on there that where songs I had recorded on a demo way back. The demo that eventually got me signed in fact. I remember just before going to record the album I was staying at my record company MD's house in Cambridge.
The day before I went to Italy I was messing around with a very old 50's Stratocaster, and a song came out of it. I wrote the music and structure of the song, then the lyrics in a couple of hours and played it to them that night.
Next day in Italy I was recording the guide track of it for the album! That song was Ida. So they just kind of appeared.
We narrowed the list of 40 songs down to about 20 and recorded 16 of them, 14 of which went on the album.
The decision to go to Italy was down to the fact that my publishing company Zenith worked closely with lots of Italian artists, and in particular a great producer called Marco Canepa. The guys credentials where frightening. His work was second to none, and the big thing was that he knew exactly what I was trying to achieve. He knew my sound it seemed and created the album that was in my head. I was down there for maybe 7 weeks all in. A few of the guys that work with me here in Belfast came over, and I also used some fantastic Italian players on the album as well.
4. What are your own personal favourites on the album, and why? (How do you approach the songwriting process - ideas, inspiration etc)
I dont know that I have any personal favourites on Drawing Clocks. Some mean a lot more to me than others. Some of the structures appeal to me more than others....its a very hard question to answer.
The pinnacle of this album is playing it live, when the songs almost mutate into something else...something altogether more powerful. You get away with a lot more live because in recording an album you have to live with the finished results forever. Live, you can let the songs really breathe.
The song that is most personal is Long Gone Days. Though I like the stories behind lots of the other songs too, most of them are real life experience, and a couple of imagined scenarios.
I generally start writing on the acoustic guitar (I am fortunate enough to own two beautiful hand made Lowdens). This could start as a sequence of chords or something melodic in an alternate tuning or whatever....but thats how it starts. Then the story.
Usually I kid myself it's about someone else, then realise its about me or some aspect of my life. If it means something to other people, then that's such a blessing for me.
5. What are your hopes for the album, and what will you be doing to promote it?
I will be playing around the place promoting it. We also are fortunate enough to have a great PR/Radio plugger team involved now and May will see the release of the single, June will see the album release.
Anyone who wants to check it out, dates are on the website. I would like to see the album doing well, is the obvious gut response. But also I would like to see it go right into the public consciousness. There are alot of underlying religion and faith conotations in the lyrics. Questions on whats what I suppose, so hopefully people will pick up on it and enjoy my headspace for a while. I dont know. I hope it becomes a classic.
6. What have been the highlight(s) and lowpoint(s) of your career to date?
My highpoints have been the obvious. Being signed, recording the album, meeting new people, the groundwork that goes with it all.....
The lowpoints are really just my own thoughts. I can let things get on top of me from time to time. Everybody does though. It's few and far between now, and all I have to do is remember that it's this music thing or a cold building site at 7 in the morning........ Usually sorts me right out.
7. What would you like to achieve ideally by the end of 2006?
I would just like to see the album doing well, a good fanbase and be the king of the whole universe.
No really though, to see all the hard work that all the people involved have put into this come to fruition would be good enough for me. All the unsung heroes of the day at Zenith and the circle around them. I could say to be extremely famous, but fame absolutely frightens me, I dont feel that I need it and certainly dont want it. It's more important to keep the head down and the music coming than to be jumping in front of every camera around.
8. How important do you feel the internet is for promoting your music?
I never realised what the net could do or its potential really. Its a huge jump forward for any musician to get your stuff on the web. Very beneficial I think.
9. Where can people obtain your CDs, and what about gigs? Are you playing any, and where?
There are too many gigs to try and list but please check out the website which is www.leerogersmusic.com. You can also buy the CD online here too in the store section. These are advanced copies, so after they are all gone the next time you will get the CD is June 12 2006 on its release. Then it will be on Amazon, iTunes, my store on the website plus lots of other outlets like HMV, Virgin etc etc.
10. Message for your fans?
If you are a fan, then thank you so much for all your support. I look forward to hearing from you in the future.
---
Album review
Artist website
Interview © 2006 David Randall. All rights reserved.