JADED SUN
Formed in 2003, Jaded Sun their critically acclaimed debut EP 'Raw' was released in 2004, followed by 'Falling On The Fears' in 2005.

TA live highlight for the band in 2006 was their support slot to Bon Jovi in Croke Park, only the third Irish band ever to play in Irelandís largest music arena.

Jaded Sun spent most of 2007 writing and finalising songs for their debut album, released in 2008.
Gavan Murray (drums) answered our questions.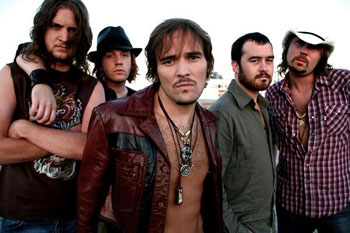 What are you currently up to? (recording, gigs, plans)
There's a real buzz of activity going on right now in the band. Our album is coming out, we're doing shows in Holland and Germany this week, we've been busy with TV and radio plus we're getting ready for a European tour. It's a very exciting time for us right now.

Brief history of the band and how you all met etc.
The band formed about 5 years ago. We had all played in different bands together over the years and eventually decided to link up to form our own band.
We started off playing pub gigs around Dublin, entering competitions to raise money and studio time etc, and to basically have a good time doing it. We released an E.P., which helped get us a deal with our label (Sian Records), released a second e.p. with them and now we're releasing our first Album at the end of March.
Could you take us through the songs on your excellent debut album 'Gypsy Trip' please e.g. ideas behind the songs, songwriting process etc.
We spent about two weeks writing the album. Sean (guitarist) who wrote a lot of the album had a vast number of influences and ideas for songs that had built up over the years so we just worked them all out and came up with suitable arrangements.
By the time it came to recording, we had over 30 songs to choose from of which 11 were picked. We then flew to Los Angeles to record in The Mouse House Studios with producer Rich Mouser.
With the opening track "Breaking Through" we wanted to be in your face straight away. Its mainly about the band trying for all those years to make it in the music business and all the trials and tribulations that go with it etc.
"Crazyman" is about a guy who thinks he's the only sane person in today's society, yet his behaviour says otherwise. "Fever" depicts a hypochondriac who is angry at the world for taking no notice of him.
"Hey You" is about a relationship that ended bitterly.
"Crave" is just another one of those love songs that we all love. "Can't Stop" is about two people that shouldn't be together but can't stop thinking about each other.
"Sweetness" is about a guy's plea to somebody not to take their own life. "He knows home" is about a guy fighting an addiction and losing.
"Positive" is all about our experiences when we were recording the album.
"Higher" is about a stoner buying some grass and being hassled by the law.
"She's got class" is about our singer's girlfriend. John (singer) wrote most of the lyrics for the album in the studio giving each song its own little background

Ireland seems to be producing some great new bands steeped in classic rock bands from the 70's like yourself, the Answer and Glyder. Why do you think so many good bands are coming along now and all with a healthy dose of 70's rock in their sound?
Probably because there was so many great bands here back in the 70's. You had Thin Lizzy, Rory Gallagher, Van Morrison.
They had such a huge impact on the Irish music scene back then, that now 30 years later they still have a strong legacy. We are just one of the many rock bands here who hope to pick up where they left off all those years ago. It hasn't been as popular in today's scene but there are some great rock n roll bands here so the futures looking good.

What have been the live highlights so far for the band and who ideally would you like to tour with & why?
There have been a few. One big highlight was when we opened for Bon Jovi in Croke Park here in Dublin. It's this huge football stadium holding about 80,000 people.
It was a great day for us, plus we went down really well. To tour with many of the great groups out there would be a dream come true. There's always ways to improve as a band, so to be on the road with such acts that have inspired us musically would be one hell of a learning experience.

Who have been influences on the band musically?
There are so many influences in this group that I couldn't pick any specific ones. Some members in this band have influences that are completely different to the next.
Everybody of course has influences from the classic rock stuff, but there's a lot of influences from today's' modern music in the band too. We listen to loads of different kinds of music between the five of us.
How do you view the Internet and downloads etc. Does it help bands like yourself get established?
The Internet has really helped us get our music out there to more & more listeners. Internet Radio, Myspace, Itunes are incredible marketing tools for bands these days.
We get amazing responses from music fans all over the world who log onto our myspace page. America especially!!. Itunes has also been great way for us to get our music out. Bands are very lucky to be able to save a lot of recourses by just releasing songs for download.
Any good rock 'n' roll tales to tell?
There's one or two that might get us in trouble if we told you but one sticks out in particular. We were headlining a festival in Zagreb Main Square in Croatia.
When the aftershow party ended we were pretty much left wandering the streets, completely shit-faced. We must have gotten lost and wandered into the wrong building or something, because next thing we know we're barging into some fancy reception and gobbling down cake and guzzling champagne.
For some reason it took about 10 minutes for us to notice the bride at the top table freaking out at her new husband, screaming for security and basically going nuts. Well we had just ruined her wedding; she had every right not to be pleased.
One of the lads in the band was so hammered that he started congratulating random people who he thought might have been the bride's parents. Complete Drunken Madness! I don't remember how we survived that one!


Where would the band like to be in a year's time?
The plan is to tour as much as possible for the next 18 months, playing every nuck and cranny that we'll fit in to get our record out there. If we're still on the road in 12 months we'll be happy. There's nowhere this band is happier than on stage. We always try to have as much fun as possible live. We'll keep writing too, so hopefully by the end of next year, we'll be back into the studio making another record.
Message for your fans...

We'd like to thank everybody who come to our shows and continue to support us. From the people who post on our myspace to the person reading this right now! Hope to see you on tour real soon.

---
Interview © 2008 Jason Ritchie.
All rights reserved.
Album review
---
| | |
| --- | --- |
| | Print this page in printer-friendly format |
| | Tell a friend about this page |