FIRST CHILD
First Child are from Germany and led by bass player Cat. Wearing her influences on her sleeve, her debut album is a riotous blend of all that's good about classic rock.
Over to Cat...
1. What are you currently up to?
Right now I'm giving an interview to 'Get ready to rock', and I am really happy about my first release in Great Britain.
I'm totaly involved in the promotion for my new album 'First Child Souvenirs'
Written interviews, phone interviews, and getting ready to tour...
2. Who was/is/are the biggest influences on you, musically?
A lot of different musicians. But mostly from the Hard Rock scene.
When I was 12 years old I discovered Led Zeppelin, I spent most the time listening to 'Since I've been loving you'and songs like 'Dazed and Confused'.
Then I heard David Coverdale and Glenn Hughes and was blown away by their voices and loved Glenn Hughes bass playing during the Deep Purple era. I was very impressed by the powerful male vocals and the rock attitude. It was so professional.
Good singers, especially male singers, are very rare these days. It's very sad but it's true.
Being a good hard rock singer doesn't seem to be a cool thing, but the problem is, there's no emotion in how they sing. English rock bands influenced me the most, that's why I have a Union Jack on the cover of 'Souvenirs'. That's my way of expressing my love for the British rock music scene.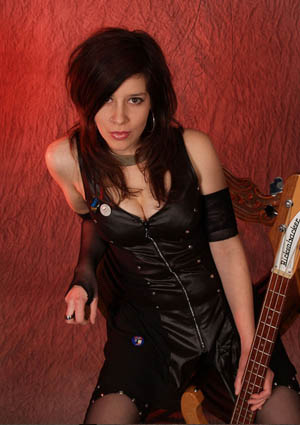 Cat, First Child
3. What bands do you admire today (i.e. current bands)
I like bands like Velvet Revolver and Audioslave. I think Chris Cornell is one of the rare male rock singers who has a great voice with a huge soulful statement in his music and his voice. I like his Solo album.
Also I loved the first and the second album of Slashs Snakepit. The album was released about 10 years ago, but good rock music never grows old.
4. Tell us about 'First Child' and the album 'Souvenirs'. How long did the album take to prepare and record?
I sang advertisments as a child for Mattel,had my first keyboard lesson when I was 7, got my first guitar when I was 12 and formed my first band when I was 14; it was called "Moby Dick' and lasted for a few years. I tried my hand at songwriting and switched over to playing bass.
I always had a passion for the bass. Then I wanted to record my own songs. Clark Philipps became my co-writer and we started composing together.
We started off writing songs in German but then we realized that the English language is much better for the rock feeling. We were also looking for a good remake, which wasn't out on the market in this sector in German.
Because of my obvious love for British Rock, we then decided on the song 'Whole Lotta Love'.
Clark Phillips and I were able to win Mary Susan Applegate over when she heard our material. She worked on lyric ideas I had and brought in her own to round it off.
Each song sounded better and better with English lyrics. And we're really happy in retrospect that we made the decision to switch languages.
The German market is currently swamped with a lot of German language acts. I don't perceive them as real rock. I think it's all mediocre, constructed mainstream shit.
All in all it took about one year to write the songs, record them and mix them at the studio. - And now you can download the album or any of the songs worldwide.
Of course that really makes me happy, because I am now able to present myself to the whole planet haha . . .
5. How did the writing happen with Clark Phillips and Mary Susan Applegate. How did that relationship come about? What was your own contribution?
Clark, Mary and I are a songwriting team. It's real teamwork. Clark and Mary have known each other for a long time and we met each other through the German musicscene.
So we decided to work together because there was a love for rockmusic we shared and the goal was to make an album that rocks and has real rocking lyrics. Chickrock lyrics. Mary and I are friends and she knows me very well, so it was easy for me to work with her and open up .
When we meet at the studio, Clark and I compose together. He's a great guitarist. One of us has ideas for a hookline, or riff idea, or sometimes complete verse or a complete hook. I use my acoustic guitar for songwriting. Clark is an allround machine, he has a huge knowledge about music, and he keeps all of the playbacks rocking.
Being in the studio with him is like playing a match. A good, friendly battle that always has great song results. - And step by step we work on the material.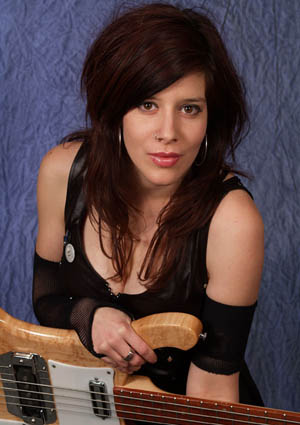 Cat, First Child
6. What are your own particular favourite songs on the album and why?
That's a very difficult question. Fortunatly I like every song of my first album.
'Shakedown' for example is a song about the rebirth of Rock 'n Roll with all of it's philosophy, sex-apeal und power. Kind of like a statement against all of the plastic songs that sound the same out in the charts now, an invitation to be true to yourself. Don't need a jury don't need a judge.
'Whole Lotta Love' is a classic and it's alot of fun for me to sing it and play the bass at the same time.
'Barricade You' has a trashy sound and a little bit of a punky additude. 'Souvenirs' is the title song of the album and I really love this song.
Actually, all of the songs on the album 'First Child Souvenirs' are like little souvenirs from parts of my life. They're memories of certain situations, incidents, the nice ones as well as the not so nice ones.
7. Are you playing gigs at the moment and do you use the studio band or is it a different line-up?
It's a different line-up. The studio line-up is only for the studio work, I have a different line-up when I play live. I also play the accoustic guitar live, for example on the title song "Souvenirs"
During the summer I'll be playing at open airs and at some pubs. Besides some solo gigs, we are planning a tour for the fall and winter. Unfortunatly I haven't got a booking agency for the UK - But I'm still looking for one...
You can check out the current tour dates on my homepage: www.first-child.de.
8. I always thought there was a healthy interest in heavy metal and rock music in Germany, is this still true and what sort of reaction have you been getting?
I've gotten a lot of good reviews, somewhere around 16 at the moment. Have a look at www.first-child.de
Great reactions. I never thought I'd be so welcomed.
Most people are surprised about me and the album, and I get lots of fantastic reviews and mails from people who say that they like the music and that there is a female classic rocksinger who's not 50 years old haha...
Zebralution are very interested in First Child/Souvenirs and have put it in their worldwide download site. And as the album
'FirstChild Souvenirs' is now also available at Amazon wordwide, I'm starting to get a lot of good feedback internationally, like from Spain, Italy Benelux but it's also been selling in Japan .
9. What are your longer-term plans?
Right now we're in the middle of making a DVD with an additional audio CD.
There will be a few surprises for sure.
Clark Philipps und I have worked on a few new songs and which will also be on the DVD.
Besides all that , I would love to do a European tour. I love to play live. It's like everything's on fire and it's the moment when I can give everything I got to the audience and get an unbelievable amount in return.
And I'm always to be had to play for a great party . Hey, maybe even make it big in the States.
10. Message for your fans?
I wanna see you live and thanks a lot for your great support! Thank you! Keep on rockin'!
---
Album review
Artist website
Interview © 2006 David Randall. All rights reserved.