Originally formed as TANTRIC by lead singer Ted Chau, as an antidote to his day job as indie guitar sidekick in John Lydon, nee Rotten's second most famous teen combo P.I.L. or Public Image Ltd as they preferred to be called, CANDYHEADS was born in late 2001. They've just released their debut album, 'Go Forth And Multiply' via Track 2 Records. They have toured extensively and supported the Phil Mogg (UFO) fronted Sign of 4 last year.


1. What are you currently up to?
We've got gigs and festivals over the next couple of months, the highlight being the Bulldog Bash on August 9th Saturday when we'll be third on the bill before Raging Speedhorn and Fun Lovin' Criminals.
2. Brief history of your work to date and the style of music you play.
Began r'n'r apprenticeship with 'Public Image Limited' and 'Phillip Boa', along the way writing for satellite/tv/theatre.
3. What has been the highlight(s) and lowpoint(s) of your career to date?
The most memorable high/gig was with PiL at Red Rocks amphitheatre, Denver, Colorado . It had been raining and water had collected on the stage's canvas roof. As we opened the set with 'Warrior', the backline went down as water hit the power sockets. Only the PA which was on a different circuit stayed on, so there was just the drums and mics. The drummer (Bruce Smith), by the book, didn't stop playing, and Rotten after an "Oh, we seem to have a technical problem!" launched into the first verse anyway. The crowd start clapping and cheering.
Meanwhile the back of the stage is going mad with activity, roadies drying plugs and techies resetting trips etc. Then the backline starts coming back on and it was like having God on the mixing board, as the bass guitar came on perfectly in time and a couple of bars late the guitar came in almost dead on the beat and then the keys come back in with a thick string pad swelling up into a crescendo. The crowd went mental. It was a HUGE buzz which lasted the rest of the set.
Low points I'd rather forget. Suffice to say that heartbreak and sacrifice are part of all our lives. Was it Wilde who said; "We are all in the gutter. But some of us are looking at the stars."
4. Any bands you'd like to tour with in the future?
Bands I'd like to tour with include Rival Schools, Muse, Queens of the Stone Age, Feeder, Manics, Chillie peppers the list goes on.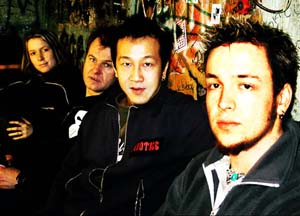 5. Your debut album, 'Go Forth And Multiply' has just been released on T2 Records (the sister label of Track Records). What are your personal highlights and why?
The track 'Sunlight' was the first song I wrote which started the whole project so having that recorded and released means a lot. It was written in a hotel in Chicago whilst on tour with PiL, just as a form of personal therapy.
6. How do the band go about getting exposure for their music?
Gigs have been where we've made the initial impact on people and I guess word has spread.
7. What state do you think rock music and live gigs are in at the moment?
It's brilliant that Evanescence went straight to No.1 with a full-on rock song. Guitar bands are back in vogue and rock is fairly mainstream again, side by side with europop, dance/r'n'b and rap, which is great for music lovers generally. The downside is that maybe there are too many bands to choose from! The grass roots live scene is pretty busy though I would like to see more quality from the UK breaking through. The majority of big bands now are from the US and sometimes it seems that anyone with an American accent commands immediate attention. Maybe a by product of Hollywood cool.
8. Message to your fans?
Thanks to all the people who started supporting us at gigs and then through the CD's and who have evangelising Candyheads to their friends.
Never give up on something worthwhile. Believe in yourself. Have the courage to face change.
We will win.