1. What are you currently up to? (e.g. touring/studio,etc.)
Right now I am busy writing new songs for the next CD. That's my main focus along with continuing promotional activities for the current CD.
2. Brief history of how you got into the music business and the style of music you play…
I come from a musical family and have been playing music my whole life. My dad is a professional musician back in Minnesota and my sister is a piano teacher and songwriter.
I started singing, playing piano, violin, and baritone horn as a child and by the time I was in my teens I was playing guitar. Once I started playing guitar I knew I had found my calling.
I played in bands and that eventually lead to doing session work both in Minnesota and eventually in Seattle as well. I played in quite a few bands and played on lots of CD's but I always wanted to release my own music.
This CD is quite a milestone for me and I really feel it's a great first step in furthering my musical career.
My style is best described as melodic rock and my biggest musical influence is Neal Schon from Journey.
3. Your debut album came out last year via Frontiers (and a damn fine album it is too!). Have you been pleased with the reviews and reaction form fans to the release?
Definitely. The fans seem to really enjoy it which makes the hard work worthwhile. Andrew McNiece from melodicrock.com gave my CD a total score of 88 which I felt was great for a debut CD and you gave me Ja 4 out 5 as well! Thank you!
4. Could you take us through the album and some personal highlights/stories behind the songs?
Leap of Faith - Upbeat rocker clocking in at exactly 150 BPM (I still remember every tempo to every song on the CD!) This song is about believing in yourself, pursuing your dreams, and knowing that somehow everything will work out and be okay in the end.
• The Phoenix - I love this song! This has a very heavy groove and also has one of the coolest hooks I ever wrote. I used to collect comics as a kid. I often found the X-Men character Jean Grey to be drawn very inspirationally. ;-) Anyway, one of the best stories in the X-Men was "The Dark Phoenix" saga. That story was the seed of inspiration for this song and is what the song is about. It's just a great fist pumping, arena rocker, put your little devil horn fingers in the air and rock type of song. :)
• Desperate Heart - This is my favorite song on the CD. It's a beautiful, powerful, dramatic AOR power ballad with some of the most emotionally drenched vocals on the whole CD. I wrote the song about the loneliness we feel when a relationship ends. "With every beat of my desperate heart, I'm crying out for your love..."
• I've Changed - This is a really fun, upbeat rocker. It's one of the fastest songs on the CD (158 BPM!) only behind "Look Me In The Eyes" which is even faster. What makes this song so much fun is that it is very self deprecating. It's about knowing you've made lots of mistakes, have screwed up your relationship, but you're begging for forgiveness..."Cause baby I've changed! I was going through growing pains!" Begging in love songs is always fun! :) The guitar solo is really spirited in this song as well. It's just plain fun! :)
• Give Me A Chance - This is a more modern mid-tempo pop rock song. I'm pretty sure I'm not the only guy in the world who made the painful mistake of falling in love with the prettiest girl in school...only to find she didn't know i even existed! This song is about wanting that pretty girl to give you a chance because you know she'd really like you if she just got to know you.
• Take Me Home - This is a power ballad about longing for home but more to the point, it's about longing for returning to a simpler time and place. The world seemed so much nicer when we were young and innocent and were unaware of all of the problems. I wish the world could actually be the nice place I thought it was when I was innocent and didn't know better...
• Date With Destiny - Another big rocker with harmonized guitar leads! This is a story about a guy who gets involved with the wrong kind of girl and she gets him into big trouble...This song really rocks. I wrote it with my good friend Dieter Rehrl who lives in Germany. Dieter sang some of my earlier demos before I met Dave.
• Once in a Lifetime - This is another big rocker with lots of guitars. Why is it that we sometimes don't know what we've got until it's gone? That's what this song is about...realizing how wonderful someone was after they are gone and the relationship has ended.
• Live Your Dreams - This song is about pursuing your dreams and not letting anything stop you. It's also about enjoying life to its fullest and making the most of our time here on Earth. I really like one line Dave came up with on the second verse where he sings "or seen Aurora Borealis..." I've never heard that used in a song before and just think that was one of the coolest lines he contributed to any of our songs. This song starts out simply with just an acoustic guitar but it keeps building and building to a big huge finish where it's a wall of guitars, drums, organ, and vocals.
• Look Me In The Eyes - This is a big rocker and the fastest song on the CD. Keith really dug my guitar on this song. I actually wrote it after he told me about a high profile rock star divorce. I used that story as the seed of inspiration for the song but believe me...the actual story that inspired this song is way too crazy and lurid to put in lyrics! :)
• Hollywood Movie Star - This is a beautiful power ballad about a girl who dreams of becoming a movie star and struggles along the way. It's also a very voyeuristic song...especially in the second verse. I wrote all of the music for this one but this is one of the only songs on the CD where Dave wrote most of the lyrics and I really like his second verse on this song in particular. There's one line there that is super voyeuristic but I thought was cool..."They stare at you with the lights down dear...dolby in every corner". It's the last half in particular that I think is way cool. :)
5. How do you hope to get heard above all the other bands and singers vying for attention out there?
It's really tough because there are so many bands and CD's out there but the internet really helps. Web sites like your own really help to get the news out to the fans of the genre and hopefully after reading the interviews and hearing the sample clips, they'll want to surf We've been getting airplay in EuropeJon over to www.bonrud com and but the CD. and Japan and some airplay in the US as well which is helpful.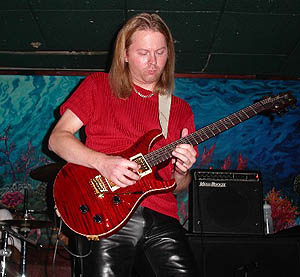 Paul Bonrud, © Website
6. How do you view the current live scene in the US as regards new bands getting exposure?
There are lots of bands out there but the best bands always rise to the top and draw the biggest crowds. You just have to get out there and play the shows and give it all you've got and eventually you'll get noticed.
7. How has the Internet helped spread the word about the band? Do you think downloading is helping or killing music?
The internet is very helpful for marketing and spreading the word about a band but downloading has hurt the market to a degree. I think the young kids are used to getting their music for free now which has affected the market place rather dramatically. Having said that, the internet is a bigger blessing than it is a curse, especially for a someone like myself who is really just starting to make a name for themselves.
8. What bands/artists do you admire and/or are an influence?
Journey is my favorite band and not surprisingly, Neal Schon is my favorite guitarist and Steve Perry is my favorite singer.
My list of musical influences is pretty broad though. It starts with Journey, Boston, Van Halen, Foreigner, Bryan Adams, The Eagles, Rick Springfield, Def Leppard, and Bon Jovi and then goes to the modern era of Nickelback, Fountains of Wayne, Butch Walker, Waltham, The Darkness, and many more.
I spend far more time listening to new bands and music but I still like the old classics.
9. What has been the highlight(s) and lowpoint(s) of your career to date?
The absolute highlight was working with Keith Olsen and becoming good friends with him. He's a legend in the industry and I learned so much from him.

The low points were all of the typical frustrations along the way which were amplified by the fact that I bore 100% of the financial burden for making this CD.
10. What ideally would you like to achieve by this time next year?
I would like to have a dozen strong new tunes written and at least partially recorded. I've got a good start but it takes a lot of time to write and record great songs. A lot of songs get written and dropped along the way as well.
11. What's the most rock 'n' roll moment you have had so far?
Oh man, there are so many ways I could answer this. The radio station interviews, the rock magazines, the radio airplay and recording the bumpers for the radio stations, working with Keith Olsen who has won 6 Grammy's and produced all the bands I liked growing up like Whitesnake, Sammy Hagar, and Foreigner - but if I had to pick one moment, it would be before all of this recent stuff happened.
It's really more of a Spinal Tap moment. Many years ago my band Citizen Kane was going to play a house party (this was back in Minnesota). When they showed us to the basement where we were supposed to set up, there was hardly any room for our equipment let alone for the kids to watch us play. There was a wall separating the basement and I jokingly knocked on the cherry paneling and said "well, I suppose we could tear the wall down").
I went upstairs with my guitar and was warming up playing some licks while I was sitting on the couch flirting with a very pretty girl. I heard some banging downstairs and thought it was Tommy setting up his drum kit. I was pretty distracted by the girl but after awhile, I realized that I wasn't hearing drums!
I raced downstairs and much to my horror, the cherry paneling had been ripped off the walls and all that was left were the 2x4 studs. The kegs were on the far side of the basement with the kids while they watched the band playing on the other side through the 2x4's.
It was an incredible party and of course there were underage kids there too. After about ten songs, a very angry man suddenly appeared downstairs. He was the landlord and he called the cops. He was furious to see his basement had been destroyed and it was all we could do to flee with our equipment before the cops arrived.
THAT is what I call rock and roll.
12. What CD's do you currently have available and where can they be purchased from?
The debut Bonrud CD can be purchased for $10 at my website which is www.bonrud.com. I sign every CD as a thank you to the fans who are helping to make my musical dreams come true.
13. Message to your fans?
I'd just like to thank everyone who has purchased the CD and everyone who has written me to tell me how much they like the CD. I always appreciate hearing from the fans and that is what motivates me to create the next Bonrud CD.