Lynsey (Lead Vocals) Martin Jarvis (Guitar) Mark Borland (Guitar) TJ Stirling (Bass) Liz McLaughlin (Vocals) Pete Sneddon (Drums)
1. What are you currently up to?
Lynsey - We've just finished the dates with the Heavy Metal Kids and are now finishing off the pre-production for the album.
2. Who were your influences?
Lynsey - Janis Joplin, The Who and many more!
Martin - Mick Ronson, Zal Cleminson and Brian "Robbo" Robertson, who you would have seen at the Underworld gig
Mark - All things Pink Floyd
TJ - Gene Simmons amongst many others
Pete - Ian Paice, Ted McKenna and all good classic Rock drummers.
Liz - Stevie Nicks
3. Brief history of the band plus the style of music you play.
Lynsey - No frills Rock n Roll. Think Heart meets Black Crowes, blended with Thin Lizzy and you have the idea. We just wanna play what feels right to us, stay true to ourselves and the people who come and see us.
Martin - We could tell you what we've done up to now, but it is very varied and would take up a lot of space, so suffice to say that this is the first band we have all been in that just feels right!
4. What has been the highlight(s) and lowpoint(s) of your career to date?
Lynsey - Well me and Liz did the Frankie Miller tribute night at Glasgow Barrowland in September singing with the Sensational Alex Harvey Band, and a month later we were in Sardinia singing with Danny Bowes and Luke Morley. That's the highpoint.
Martin - I also did the Frankie Miller tribute night, performing "The Rock" with me pal Billy Rankin (former Nazareth Guitarist). The band for this consisted of Ted and Hugh McKenna from The Harvey Band, and Brian Robertson - what a night. Sold out show at Glasgow's best live music venue, and sharing a stage with some of your major influences. Also, everyone who reads this should go out and buy the Frankie Miller Tribute album. It has some of the biggest names in Scottish rock on it; Fish, Nazareth, The Proclaimers, etc. A low point for me was NOT getting out to Sardinia with Bowes and Morley! But I still bought the album!
5. Touring wise, what has been the highlight so far?
Lynsey - We didn't expect a sell out crowd at Glasgow, but it was nice, and the response was amazing. Also, the London gig surprised us as to how well we were received.
Mark - I got to sign autographs - WOW!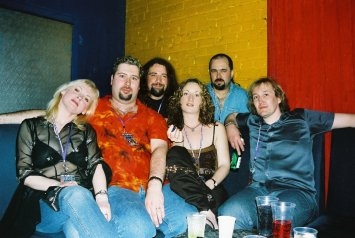 6. If you could create a fantasy band - what would be the line-up and why?
Lynsey - let's try anyway: Janis Joplin on vocals, Brian Robertson on guitar, Cozy Powell on drums, Chris Glen on Bass. Martin - I wonder what they would spend the advance on???????
7. What state do you think rock music and live gigs are in at the moment?
Martin - Not enough people are going to see real bands. There are so many great bands that are playing smaller venues just now because they don't have record company backing. As such they don't have the promotion to play big venues. Rock music is great, provided you stay away from the "mainstream". It's become like the pop world where everyone seems to be a clone of each other. It's all fads and doesn't last beyond a third album, usually! People should look at who is playing at the local venues and get out and see them - that way you will see some great bands. There are great bands and great songs out there just now, and everyone should be encouraged to buy the CD's AND go and see the bands on tour.
8. How have the dates with the Heavy Metal Kids gone?
Lynsey - Fantastic - a nicer bunch of guys you could never hope to meet. Everyone involved from band, management and tour support have been so friendly. Hopefully we can do some work with them in the future.
9. How did you first get into music? tour with?
Martin - Thin Lizzy's Killers EP Mark - 'Cos I had nae pals! Lynsey - Singing always made me feel alive. Pete - I wanted to be heard above everyone else! Liz - I liked to sing TJ - I'm the shy and quiet one so I don't like to make a fuss
10. Message for your fans...
Lynsey - Tell all your friends to come and see us, buy their tickets for >them if necessary. We can only do it if you come and see us!