BEN RANDALL
Ben Randall is only 17 but one of the UK's most promising young rock guitarists, winning that title at the international 'Guitar Idol' competition held at London ExCel in June 2008.
Since that time he's continued to add to his repertoire (and MySpace), recorded a session for the forthcoming Chasing The Monsoon album, and picked up an endorsement with legendary USA guitar maker Schecter - the first of its kind in the UK.
Since our interview, Ben has joined established melodic power metallers Power Quest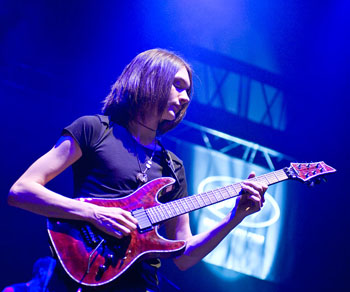 Photo: Steve Thorne
What are you currently up to?
Recently I have been recording new music, with the view of completing an album in the future. My newest song is entitled 'Beyond the Flames of Dawn', which can be heard on my MySpace page.
I am really pleased with how it turned out, and it is definitely the most technical song I have written so far! My new Schecter Hellraiser C7 FR really helped to give it that heavy sound!
I've recently played a session for the forthcoming Chasing The Monsoon project.
I have also just signed an endorsement deal with Schecter Guitars which I am really pleased about. I hope to be doing some clinics/demonstrations soon!
Also I'm endorsing G-Lab products, they're getting some good reviews in the guitar press at the moment.
What was it like making the Guitar Idol final? How did the day go for you and what were the highlights?
It was fantastic! I remember practicing really hard when I found out I had made it to the finals - up to 6 hours a day! Going to the rehearsals at the Institute of Contemporary Music was a great experience.
I really enjoyed talking guitar with the other finalists in the waiting room - everyone was so friendly! At the finals, I can remember walking to the main stage, and being amazed by the sheer scale of it!
I was the second to last person to perform, so I was quite nervous waiting for my turn. I can remember vividly the moment when I went back on stage to collect the 'Most Promising Young Guitarist' award and £1000 from Rockschool - that was definitely a big highlight!
Since the Guitar Idol final have you had any follow-up? E.g. bands approaching you as a possible member.
I haven't had any band follow-ups yet, but hopefully with the release of the Guitar Idol 2008 CD that could change! I am currently looking to form/join a band - it's about time I got back on stage again!
You have recently hooked-up with US guitar maker Schecter. How did this come about and what will it mean for you in terms of getting your profile/music more known?
I am really happy about the Schecter endorsement! It came about from contacting the UK distributor of Schecter - Arbiter Group. They liked what they heard, and offered me the endorsement!
I can honestly say that I don't think I would be at the stage I am today with my guitar playing if I hadn't discovered Schecter Guitars, and consequently may never have had the success in the Guitar Idol competition!
I came across Schecter Guitars a couple of years ago when I was looking for a guitar that had a high specification, looked cool, and wasn't too expensive. I found the Schecter Hellraiser C1 FR on EBay, and it seemed to be just what I was looking for!
When I got the guitar, I was amazed at the playability, tone and build quality. It just felt so natural to play - as if it was made for me! It also had the capability of having incredibly low string height adjustment, which is something I have come to realise is very important for my style, and hard to achieve with other guitars.
From trying other more expensive guitars, I have found that they just don't come close to the playability of Schecter's models, and that is why I am so proud to be associated with the company.
In terms of raising my profile, I think it will be very helpful! I am looking forward to doing some clinics/demonstrations, and that will be a good chance to raise my profile, whilst spreading the word about these fantastic guitars!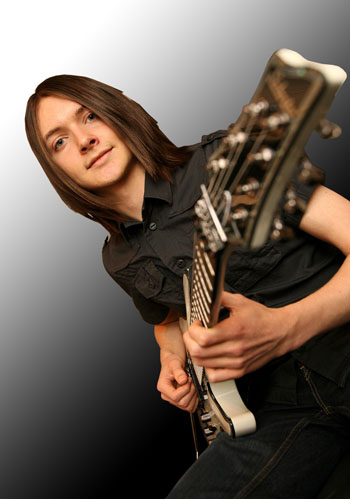 Photo: Barrington Coombs
How do you go about promoting your music? Do sites like MySpace, Facebook etc bring you in new fans and potentially sales? Or is it a case of having lots of 'friends' many of whom never bother with the music?
The internet has very much helped me to promote my music, and progress my career so far. MySpace gives me the ability to promote myself and my music, and people can easily contact me with questions/feedback - I'm not sure what I would do without it!
From my experience, I have found that almost all of the people who contact me through MySpace are passionate about the guitar, and are genuinely interested in my music which is fantastic!
Who are your musical influences and what inspired you to take up the guitar?
My initial influences were bands like Linkin Park and The Rasmus! I soon started to get into heavier music after hearing the Killswitch Engage album 'The End of Heartache'. It seemed pretty extreme to me at the time, but I grew to like it!
I was also heavily influenced by the band Trivium initially. I really liked their melodic style, combined with heavy riffs and solos. They were the main band which inspired me to pick up the guitar, and strive to improve my technique.
At the moment, my main influences are melodic/progressive rock guitarists like John Norum, Marco Sfogli and John Petrucci.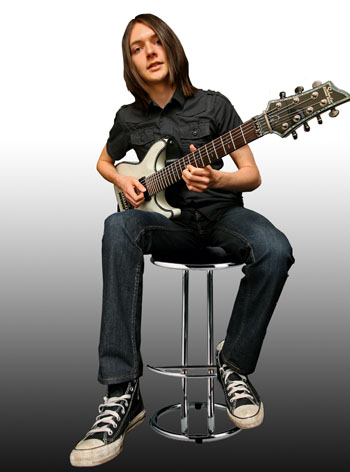 Photo: Barrington Coombs
Ideally what would you like to have achieved musically in twelve months time...
I would like to be studying music at a music college, nearing the completion of an album, and touring with a band! Fingers crossed!
How do you view the current music scene? Have you seen an upswing in interest over the past couple of years in rock music and live gig?
I know the record companies are generally suffering because of illegal downloads, but I think rock and metal is more popular than ever these days - shred guitar is very much coming back with a vengeance!
I'm not sure that we'll ever see a return to the heights of the 'golden period' in the late 80s when melodic, technical guitar playing was in its prime, but there has definitely been a significant upswing in its popularity.
From my experience, live gigs are extremely popular and there seems to be a lot more bands doing group tours, such as the Unholy Alliance tour with up to 4 bands on the bill! This seems to be good value for money, but not great if you want to see a full set from your favourite band!
What do you like doing with your spare time outside of music?
Watching videos of guitar players, reading about guitar and talking about guitar! Well, apart from anything to do with guitar, I enjoy graphic design and web design.
Message for your fans?
Thanks to everyone who showed their support by voting for my Guitar Idol entry, and thanks to anyone who has shown an interest in my guitar playing - I really appreciate your support!

---
Interview © 2008 Jason Ritchie.
All rights reserved.
www.myspace.com/benrandallguitar
http://uk.youtube.com/BenRandallGuitar
---
| | |
| --- | --- |
| | Print this page in printer-friendly format |
| | Tell a friend about this page |