1. What are you currently up to? (e.g. touring/studio,etc.)
I am writing some new material and I am currently looking into purchasing a studio to record the basic tracks at home.I have also been rehearsing with my band for the planned tour in June.
2. Tell us something about your career to date. It seems that you got into music some years after holding 'proper' jobs?! When did you first start playing music, thinking it might be an alternative career?
I first started playing guitar when I was 15 but a neighbour complained to the Police about noise levels of my electric guitar and that was that.
A few years later I worked in a marketing dept. and I had enjoyed writing promotional material but did not fancy the next step 'flogging' franking machines around Glasgow.
While I was at teacher training college I picked up the acoustic guitar and gradually I started to connect my love of music with writing words.
When I moved to London and I started performing the buzz I got from the crowd reaction even at the most basic level made me feel that I 'had something'.
3. Tell us about your Nashville and US experiences? How did that trip come about and how did it help push your music career further?
My music had a definite country influence and I was intrigued by Nashville and a publisher at BMG had encouraged me to go perhaps with a view to cowriting.
While I was there I immersed myself in the scene playing local clubs including the honky tonk bars and 'The Bluebird'.
I think the response I received and just the whole experience recharged me and most importantly made me reflect much more on the lyrical content of my songs
I also met with producer Lou Natkin(google search Naktin) and we made a demo together which got me a production deal to make the album.
4. What are your own personal favourites on the Beautiful Lies album and why?
'Make A Wave' and 'Run Away' are personal favourites as they speak into my life and my own personal struggles but the choruses are full of hope.
'It's All Over' is a sad song about loss but is also very inspirational because it is so real to me and 'Young Once' is a nice moody number.
5. How long did it take you to put together the current album and what experiences inspire you to write? Will/do the featured musicians appear in your gigging band?
Some of the material is observational but many of the songs on the album are what I would call personal but univerally themed and I think the power is that they came from strong emotions I was feeling at the time.
Most of the album was recorded over 5 months but we took a break and I wrote some new material so in total it was put together over the course of 18 months.
The original guitarist on the album Bruce Knapp plays live with my band.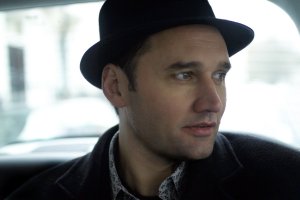 6. Tell us about your plans in the coming months, gigs, sessions etc in the lead up to the official album release in July.
We are planning to tour the whole of the U.K. throughout June. This will include some big supports in Scotland and The Borderline in London.
We have a very experienced promotional team working on it so this should include radio sessions and maybe some TV.
Check the website www.alexmcewan.com in May for dates it will be advertised in Uncut,The Word,The Guardian and The Times guides.
7. Who have been your main musical influences and who are your all-time favourite artists/albums? Any artists/albums you are listening to in particular at the moment.
I grew up in Glasgow around the time of acts like Del Amitri (Change Everything) and Prefab Sprout (Steve McQueen) and these two album hold strong memories.

I would place Tracy Chapman's debut and Tom Petty's 'Full Moon Fever' as two great albums whereby I like just about every track. I loved The Police (Outlandos D'Amour) and Sting has been a definite influence.

In recent times I would cite The Verve's Urban Hymns as a one of my favourites. At the moment I am still giving Damien Rice's album a spin, I love Tom Baxter's album and the new U2 album.

Most recently I've started to really like The Finn Brother's new 'stuff' particularly their latest single.
8. What have been the highlight(s) and lowpoints(s) of your career to date?
The biggest high point has been receiving the funding to make and release the album, it's a dream come true.
Other high's include the recent London gigs and getting such a strong reaction both from fans and the reviews. It's great to see nice things been said bout your work.
Low points have been a lack of National Radio Play but it is early days and I am confident with the next single which is more upbeat we can make inroads here.
9. What do you do in your spare time?
I like cycling usually through London to my health club where I love to relax in the sauna/steam room.

I love travelling and last year I went to Cuba and Bali. I generally like socialising, going for meals/drinks or just chilling out in coffee houses chatting and reading.
10. Message for your fans?
I am really pleased people out there have tuned in to my particular creative outlook in life, it makes it all worthwhile.
Please come along to the gigs on the tour, oh and I almost forgot, buy the album!