Just witnessed your best live gig?.. send us a review!
WISHBONE ASH
Floral Pavilion, New Brighton, 27 October 2012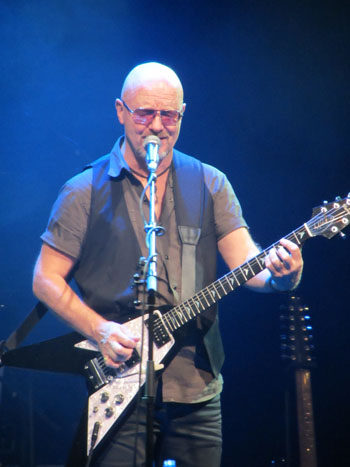 Some may be wary, or weary, of Wishbone Ash. Only Andy Powell remains from the original line-up and their earnest board-treading means that there is a good chance you'll see them playing live in the UK each year. A nasty sort of inertia could set in.
However Powell should be celebrated for almost single-handedly keeping the true spirit of the 'Ash' alive since the late seventies.
Yes, he's done it his way but – as he demonstrated in the plush surroundings of the Floral Pavilion – the band are never complacent and are still pushing the envelope with current album 'Elegant Stealth', arguably their best for a while.
Billed as the 'Elegant Stealth Live' tour as often happens only a handful of the new tracks were actually played. I can never really understand that. But a band that starts with 'The King Will Come' is making a supreme statement of confidence at the very outset and in truth, if anything, it got better after that.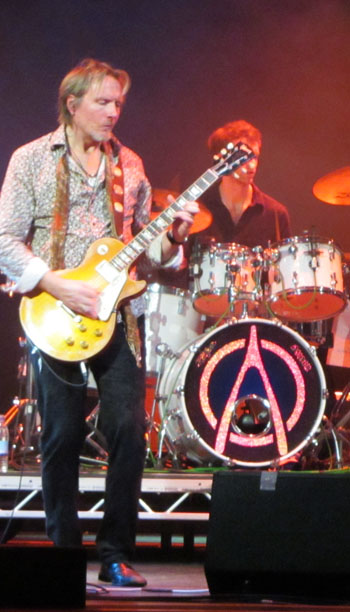 To be frank Wishbone Ash - forty years on - are still one of the best exponents of twin guitar harmony, both Muddy Manninen and Andy Powell completely complementary, and the Finn also playing occasional lap steel.
If Manninen is somewhat inanimate his playing is studied and - like Powell – always executed with passion. The resulting glorious noise makes a huge statement for heritage rock and a shining example to any less skilful wannabes. This is the real deal.
Add in some wonderfully tight rhythm from the always sprightly Bob Skeat and Joe Crabtree and the Wishbone Ash blueprint is complete.
The setlist is always going to be a challenge with such a vast repertoire to draw upon but tonight's show did cover a fair amount of ground nevertheless.
And it was maybe no coincidence that eight of the tracks feature on the newly reissued 1995 Geneva gig (a wonderful recording but with a different line-up). I am sure the band will save any real setlist surprises for the forthcoming 'Ashcon' in Chesterfield (3 November).
Things cranked up a notch in the second half with 'Engine Overheat' from the band's 1982 album 'Twin Barrels Burning' and rounded off with a prog-tinged 'Phoenix' replete with aleatoric guitar effects adding to the drama. And as if to punctuate the band's enduring influence I'm sure we had a reference to the Allman Brothers' 'Jessica' in the encore.
Perhaps a measure of a good heritage gig is that it leaves you wanting to explore more of the band's back catalogue. But it left me wanting to cherish Andy Powell even more.
Setlist: 1. The King Will Come 2. Throw Down The Sword 3. Can't Go It Alone 4. Living Proof 5. In The Skin 6. Open Road 7. Sometime World 8. Warm Tears 9. Invisible Thread 10. Jail Bait 11. Engine Overheat 12. Phoenix Encore: 13. Hometown 14. Blowin' Free


Review, interview edit, and photos by David Randall
Andy Powell chats about Wishbone Ash in our "Guitarists" series, Get Ready to ROCK! Radio, Sunday 4 November at 21:00 (GMT)
You can use the direction keys on your keyboard to navigate easily through the photo gallery
---