WALLIS BIRD Wallis Bird Rubyworks RWXCD94P (2012)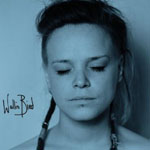 'Wallis Bird' is the self titled third album by the up and coming Irish singer songwriter with a big voice and a lyrical bent. It's a mature, honest, expressive and self confident record full of emotional outpourings in a changing personal and musical landscape.
Wallis rides roughshod over genres and thinks nothing of exploring spontaneous leaps into the void from an acoustic core to a big production finale. It's also an album that has been tried and tested before, starting life as a limited edition teaser called 'The Mistakes Are Intentional', before finally settling on a multi faceted rhythmic style with heavily accented parts and a cool grasp of dynamics that always features the primacy of her voice.
And it's her effortless vocal range that pulls songs hither and thither through an emotional wringer, to create a patchwork of moods and instrumental textures that are given expression through everything from folk to grunge and electronics.
And while she doesn't quite go from a whisper to a scream, she explores all avenues in between, opening with a close to the mic delivery, some overly deliberate diction and a whispered throaty growl on the uncompromising lyrics of 'Dress My Skin And Become What I'm Supposed To Be'.
Her emotionally fragility and her contrasting inner strength are underscored by a simple acoustic guitar and deftly applied electronic and vocal effects. Interestingly, the final mix of this song jettisoned the original wind instruments on the acoustic version to give a harsher feel that reflects her lyrical intensity.
Wallis is well positioned to collar the contemporary market, being sassy enough to know when to emote, when to be urbane, when to rock and when to explore dance beats and you suspect her wide base musical approach is the result of spontaneity rather than just cold analytic pre- planning.
Whatever her musical direction it's her lyrics that hold the key. She explores her own passive/aggressive approach to situa tions through songs that range from the analytical and ironic to the reflective and poetic Wallis frequently wraps her voice round her words and uses her guitar as an emotive extension of the self, while couching her songs in intricate arrangements.
There are plenty of tension building moments and their subsequent resolution, as on 'I Am Tired Of That Line' where she contrasts an almost an almost celebratory dance groove with a biting song about sexual politics. She also employs the kind of brusque phrasing that has led to several lazy comparisons with Janis Joplin.
In truth, while Wallis has the range and effortless power to sometimes warrant such a comparison, her music is much more diverse, her swoops and stylistic leaps are far more varied and songs are unique.
Sure, there's the same wracked emotion in the voice but Wallis Bird is a self confessed musical magpie and doesn't linger too long on any musical idea. Look no further than the album's sudden change of tempo on the rhythmically strong single 'Encore' The catchy hook and deliberately stuttered phrasing make it a potential radio hit. Wallis's style is adventurous and electric with echoes of Bjork but with more warmth.
'Take Me Home' for example, impresses in its understated way - all whispered vocals and a sparkling acoustic - as she sings; 'take my hand this old world's gone mad and I'm trying to salvage an existence where we'll live in love …' and 'we'll fly, we'll soar, we'll soar like the bird I am'. It's a sinuous piece with a sudden uplifting section on which her voice soars much like the lyric, as part of a percussive musical wash that builds to a climactic perfunctory finish.
Wallis Bird may be an unfettered spirit who pours all her emotional input into her music but the meticulous production makes the most of her voice. This is particularly so on 'Ghosts of Memories', as the acoustic opening suddenly explodes into a rock ballad with an effective quiet/loud/quiet dynamic.
'Heartbeat City' features an Afro style Soca dance beat as part of a celebration of urban living, while on 'Who's Listening Now', she chops aggressively on her acoustic on a sledgehammer heavy, radio friendly rocker with a staccato rhythm and a red raw vocal with biting intent.
In sharp contrast, the dark 'But I'm Still Here, I'm Still Here' is a stripped down piece - you can even here a door closing in the background - that bathes her voice in a sparkling wind chime finish, while the gentle 'Feathered Pocket' is a vocal exercise in which she effortlessly soars.
And having explored a full range of emotions she finishes with the suitable angst ridden 'Polarised'. It's a two part song that shifts from a primal therapy style outpouring to a plaintive, almost celestial instrumental ending.
Never was the contrast of her oeuvre more sharply drawn than on this daring book-end to a splendid album.
*****
Review by Pete Feenstra
---
| | |
| --- | --- |
| | Print this page in printer-friendly format |
| | |