VAN HALEN A Different Kind Of Truth Interscope (2012)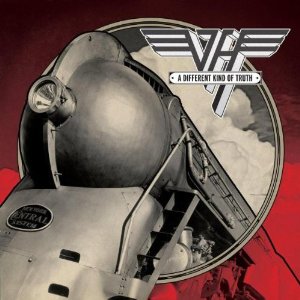 A more appropriate title for the first Van Halen album in 14 years may have been 'Back To The Future'. Not only because it sees David Lee Roth reunited on record with Eddie and Alex Van Halen for the first time in 27 years, but because much of the material dates back to the band's golden era in the 1970s.
So 'A Different Kind Of Truth' presents two burning questions. Is the old chemistry still there? And, 'If the songs didn't make the cut in the 1970's, what's changed?'
The album also sees Eddie's bass playing son, Wolfgang, making his studio debut with the band making it a very much a 'family affair' and it's co-produced by the band and John Shanks (thankfully they didn't employ Kevin Shirley who seems to distil most bands' sound down to his own).
How impressed you're going to be with 'A Different Kind Of Truth' is going to depend on whether you're a Van Halen fan, and if so whether you're a subscriber to the David Lee Roth or Sammy Hagar schools of rock.
Certainly there's enough fireworks here to suggest that the band have been rejuvenated by the project. The playing throughout is immense and sounds like the powerhouse at their peak, not a bunch of ageing rockers coasting towards retirement and out to make a quick smash and grab before calling it a day. No, in that sense 'A Different King Of Truth' is the real deal - check out 'She's The Woman' and try telling me these guys don't rock.
For me, Lee Roth has always been an 'acquired taste' as a vocalist - you certainly wouldn't mistake his style for anyone else. And that's pretty much the clincher in terms of whether you're going to give A Different Kind Of Truth the thumbs up, or down. Strip away the vocals and you've got classic Van Halen at their very best, with a sound that rivals the power and presence of Chickenfoot.
But add Lee Roth and it's a welcome return to the future. The live shows (if they ever make it to the UK) should be an absolute blast. In the words of Carly Simon, 'nobody does it better'.
****
Review by Pete Whalley
---
| | |
| --- | --- |
| | Print this page in printer-friendly format |
| | |