TOMMY BOLIN & FRIENDS Great Gypsy Soul earMUSIC (2012)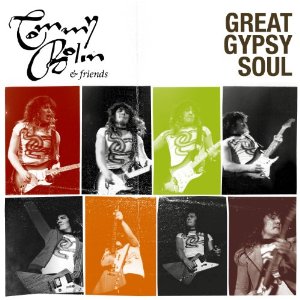 Now here's a tribute album with a difference. Take the original master tapes, 'Teaser' outakes, and graft on contributions from some present-day guitar (and vocal) heroes paying their dues to a tasteful but ultimately tormented soul: Tommy Bolin.
The idea of this collaborative effort - co-produced by and featuring Warren Haynes - brings to mind those dreadful Alan Douglas-supervised Hendrix re-recordings in the seventies when session players padded out the sound and Mitch Mitchell re-recorded his drum parts.
The big question is does this approach work? And the short answer is: not really. Leaving Bolin's vocals and lead guitar intact (although not always) whilst grafting in everyone from Steve Lukather to one-time sparring partner Glenn Hughes to add guitar or vocals is an interesting experiment. But perhaps the best way to celebrate Bolin's legacy is to leave those master tapes alone and fashion a pure "covers" album?
They've even included a song 'Sugar Shack' which never made the original 'Teaser' album and allowed Glenn Hughes to add new vocals whilst they've removed Bolin's vocal from 'Dreamer' and replaced it with Myles Kennedy.
But elsewhere, there seems to be a lack of consistency even in the chosen approach. 'Smooth Fandango' featuring Derek Trucks is a completely new song although seemingly utilising Bolin's own fills. What a mess. This leaves the way clear for 'Crazed Fandango' - Bolin's original track - and for Steve Morse to harmonise with the dead guitarist. Futile? Yes, because Morse then obliterates Bolin's leads.
Maybe in these troubled, ageing, and sometimes direction-less, times in rock we can look forward to similar tributes: I shudder to think what could be in store. Randy Rhoads remakes anyone?
And, has anyone noticed also an unhealthy cartel operating on this type of album? Yes, Joe Bonamassa features on 'Lotus'. Surely we should be developing and exposing new talent?
No, this project sounds too much like celebrity Guitar Karaoke especially John Scofield's contribution to 'Savannah Woman'. For true fans, dig out 'Teaser Deluxe' and cherish the memory.
There is just one saving grace though: no-one, not even Luke, muscles in on 'Stratus' and for this we can be eternally grateful.
***
Review by David Randall
David Randall presents 'Assume The Position' on Get Ready to ROCK! Radio every Sunday at 22:00 GMT
---
| | |
| --- | --- |
| | Print this page in printer-friendly format |
| | |