THRESHOLD March Of Progress Nuclear Blast (2012)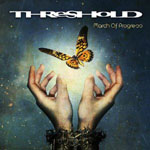 A lot has happened in the Threshold camp since their last album 2007's 'Dead Reckoning'. Vocalist Damian Wilson is back in the band and then last year saw the sad passing of former vocalist Andrew 'Mac' McDermott, plus this new album was originally down for a 2011 release.
Finally the new album is here and it is a classic Threshold release - those unmistakable guitar riffs, swathes of keyboards and melodies that fit the metal mayhem to a tee.
'That's Why We Came' is a perfect vehicle to highlight Damian Wilson's vocals, one minute quiet and melodious, the next soaring to the roof tops on the chorus. Add in the guitar and keyboard flurries of Richard West and you have a classic tune. For those fans after some lengthy, prog metal workouts look no further then 'The Rubicon' where drummer Johanne James shows other how it is done. It's not all about speed on drums but more how you fit the music rather than try and take over. 'Don't Look Down' is an instant hit on the ears and is sure to become a live staple. 'Colophon' on the other hand sees the band produce a straight ahead piece of metal and taps into the band's heavier side. 'The Return Of The Thought Police' carries on where 'Pilot In A Sea Of Dreams' left off. Sure to please long time fans of the band.
It has been worth the wait as Threshold have delivered once again and their future looks assured once again with Damian Wilson back in the fold.
****½
Review by Jason Ritchie
---