THE BREW The Third Floor (2012)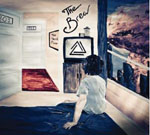 The Brew, a blues / rock band from Grimsby, have been around since 2006 and have found widespread success in Europe, notably in the likes of Germany, Spain and Poland.
Their fourth studio album The Third Floor was actually released last year, but is getting a fresh UK push with a promotional UK tour this autumn. And, if you're a child of the late Sixties / early Seventies rock, it should be right up your street. Quite why the UK hasn't cottoned on to their talents thus far is something of a mystery.
A three piece - a father son rhythm section of drummer Kurtis Smith and 'Dad' Tim on bass, with young guitarist and front man Jason Barwick - the band borrow heavily on rock's elite, but at the same time managing not to sound too derivative.
The rhythm section is tight as a bear's arse, and Barwick has a wonderfully loose blues rock guitar style with vocals cut very much in the style of a young Bono. It's a potent brew.
Their signing to Jazzhaus Records coincided with the opportunity to record their previous album, A Million Dead Stars (2010), with veteran producer Chris West (The Verve, Status Quo). The Third Floor is, however self produced, with the cooperation of West.
The result is an album packed with 'classic rock' that takes it's inspiration from Zeppelin, Hendrix and the like. And from the few snippets I've heard from their previous album, it sounds like the band have raised their game for The Third Floor.
There's echoes of early U2 circa Rattle And Hum on the set opener Sirens Of War, bluesy Hendrix references in the guitar interlude on Reached The Sky, there's a resonance with Plant / Page's quieter moments on See You Once Again and Hard Times, while Master And The Puppeteer shares the driving force of Budgie. Crimson Crystal Raindrops bears evidence of Hawkwind's space rock legacy, and Imogen Sally wears its Bad Company / Stones influences with pride. There's even a 'hidden' closing drum solo.
All those evident influences might make you wary but, actually, The Brew manage to sound pretty contemporary. 'Classic' rock as it should be served, with soul.
*****
Review by Pete Whalley
---
| | |
| --- | --- |
| | Print this page in printer-friendly format |