STOLEN EARTH A Far Cry From Home (2012)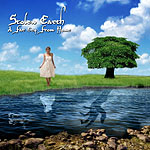 Like a phoenix, from the ashes ... Maybe not quite, but from the sad demise of Breathing Space, comes yet another female fronted melodic prog band.
Now some might say there's already a surfeit of such bands, most of whom have at some point had links to the ever sprawling Mostly Autumn 'family tree'. And there's two styles - the hard rocking road followed by the likes of The Reasoning and Touchstone, or more melodic avenue pursued by the likes of Breathing Space, Magenta and Panic Room.
But all have one thing in common great front women, all of whom tend to have a pure and ethereal vocal style.
And while Stolen Earth features four of the final Breathing Space line up - ever present bassist Paul Teasdale, Barry Cassells (drummer since 2007), and 'live' members since August 2010 vocalist Heidi Widdop and guitarist Adam Dawson - the band is a quite different proposition to Breathing Space.
Perhaps two key aspects put clear water between Stolen Earth and their predecessors and contemporaries. The first is a classy, almost laid back, style of delivery that exudes effortless 'cool', and the second that, in Heidi Widdop, they have a singer whose soulful vocals adds a new dimension to the genre.
She may not be the most powerful of vocalists, but her subtle intonations will send shivers down your spine.
The band have the 'usual' acknowledged influences that include the likes of Floyd, Marillion, BJH, ELP and (naturally) Mostly Autumn, but they're tempered by more recent bands like Coldplay, Starsailor and (a personal guilty pleasure) The Pierces. It's a combination that results in a stunning debut release.
The song writing is consistently strong, and the material has a wonderfully relaxed 'flow' to it with Dawson's intelligent guitar work, while not aping Rothery or Gilmour, letting the space between the notes add to the overall ambience.
And there's a great cohesiveness about the work with keyboard player John Sykes providing light and shade in an almost Rick Wright manner.
The result is that each and every one of the nine epic tracks on A Far Cry From Home is a winner and it's impossible to pick a stand out.
For example, it's easy to imagine a balmy Knebworth night, flags unfurling on a warm summer breeze and 'My Lips Are Too Dry' caressing the dying embers of the day. 'Tuscany Sun' is another magnificent number, but you could drop the needle into any groove and be equally blown away.
2012 has, until now, been a disappointing year for rock. But Stolen Earth have put that right with the debut album of the year. Maybe even the album of the year. A Far Cry From Home is certainly going to be a contender. A quite outstanding debut.
*****
Review by Pete Whalley
Check out the promo video for Tuscany Sun here.
---
| | |
| --- | --- |
| | Print this page in printer-friendly format |