Just witnessed your best live gig?.. send us a review!
STACKRIDGE/Blackheart
The Citadel, St.Helens 31 March 2012
We should admire a band that writes about Red Squirrels rather than the red light district and sometimes more kindergarden than kinky. But I think it's generally understood why Stackridge failed to reach a wider audience in the seventies.
They were something of an acquired taste, quirky, and frequently whimsical in a very English sort of way. To the uninitiated they may have appeared as some sort of rocked up bastard child of The Wurzels but for a generation of students they were a staple on the college circuit and were as welcome in discussions as early Genesis and Monty Python.
In spite of an increased budget for their third album and a general feeling that their George Martin produced 'The Man With The Bowler Hat' (three tracks featured tonight)would launch them into the big league they ended the seventies as industry casualties and it took a couple of decades before a reformation of sorts in 1999.
But in the meantime James Warren and Andy Davis achieved wider commercial success with The Korgis whilst still continuing to work on solo material and sessions. Then, with the release of their back catalogue on Angel Air from 2005, a new incentive was given and this led ultimately to the recording of their current studio album released in 2009.
'A Victory For Common Sense' in the capable production hands of Chris Hughes successfully updates the band's sound and in many respects reclaims the mainstream, with several tracks shedding the lighter-hearted aspects that have characterised their history.
It is therefore quite shameful that this album has not achieved wider attention other than some initial rustlings in a couple of the quality newspapers. The album is strongly recommended as an entrée to the Stackridge legacy for the undecided as it signposts more than anything the band's wonderful musicality.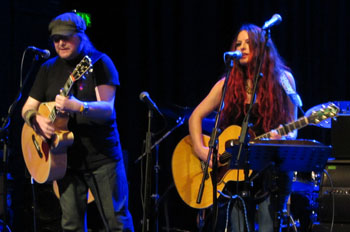 Photo by David Randall
On the opening night of the tour the engaging duo Blackheart supported. Chrissy and Richard have been treading the boards constantly in recent years and are preparing the release of their third album. They assured me that it will be a little more experimental than previously. Blackheart are a quality act but I wonder whether their essentially pleasant pop songs would be helped by a full band arrangement in the live situation, it would certainly give them more impact. Hopefully, with the new album, they'll reach out to a wider audience.
With 'Crun' Walter not available for this tour and Mutter Slater otherwise engaged it was left to James and Andy to carry the Stackridge torch.
The band proceeded to make the next hour or so their own showcasing several songs from the excellent 'Victory..' and a generous helping of 'classics' some of which appear on the latest 'Best Of' compilation.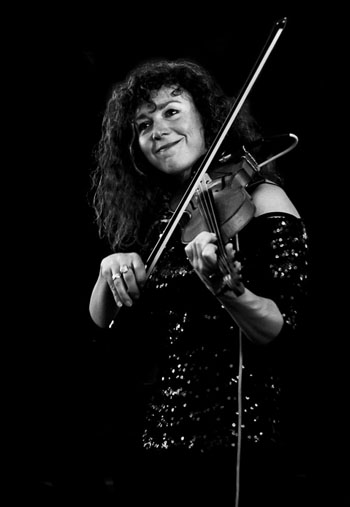 The absence of Mutter Slater – in the nicest way possible - gives the band a new twist. The attention now is very much on Clare Lindlay who plays a cracking violin but also multi-tasks on acoustic guitar and backing vocals. I was surprised too at how much Andy Davis takes the lead vocals and his guitar work - including some tasteful electric – was exemplary throughout.
For this tour James Warren has taken up the bass so, really, it was business as usual but also business with new potential. Given that Stackridge have always been a bit difficult to pigeon-hole, the latest album is perhaps their most consistent and accessible. The current line-up did full justice to the repertoire but in particular the new songs: we were treated to glorious versions of 'Lost And Found' and 'Boots And Shoes' amongst others.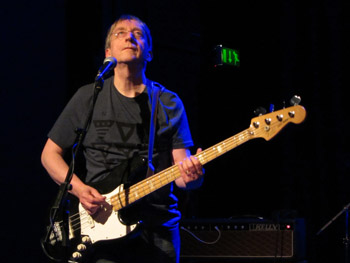 Photo by David Randall
Amongst the other highlights tonight, of course, was 'Something About The Beatles', a truly wonderful song that is both a tribute and a poignant reminder of a past age and James Warren's "pension plan" 'Everybody's Got To Learn Sometime' which featured a particularly appropriate violin solo from Clare. And it was her violin that impressed again on the two encores including 'Dora The Female Explorer'.
One of the great things for me personally recently has been the discovery of such great music in the Stackridge catalogue as I researched a two part special for our radio channel. I was never a fan back in the day and the latest album got me hooked. I am sure I won't be alone.
Stackridge are a great band who, if there was any justice, should be more widely known and more deeply engrained in the British rock psyche. Given the eleventh hour loss of 'Crun' and the absence of 'Mutter', this tour debut could be considered a triumph of faith over adversity but more than anything – with the present line-up and the new dynamic (and those new tunes) - wider acceptance beckons.
L-u-m-m-y!


Review by David Randall
David Randall presents 'Assume The Position' on Get Ready to ROCK! Radio, Sundays 22:00
Photos by Adrian Gee except where indicated
Photo Gallery by Adrian Gee (27 April 2012)
You can use the direction keys on your keyboard to navigate easily through the photo gallery
Interview by Pete Feenstra, 27 April 2012
---
More information and tour dates
'Preserved - Best Of Volume Two' is released by Angel Air on 23 April.
---