SQUACKETT A Life Within A Day Esoteric (2012)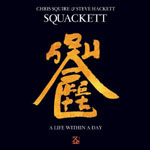 Wherein heritage prog seers Chris (Yes) Squire and Steve (Genesis) Hackett bang heads and bring us 'A Life Within A Day' - a title perhaps tilted at the four-gestation this took to fruition.
It's faintly whimsical almost, as is the duo's chosen nomenclature for the project. Hackett Squire? Accountants - or worse, lawyers. Squire Hackett? Too close to BBC TV period drama for safety. The silly Squackett may sound like something served battered with fries but the analogy falls apart fast when you start listening, for this is rich and robust stuff that doesn't trade on former glories.
Yes, there are nods over the shoulder to the sound that respectively trademarked two great bands, but the focus is very much on creating something fresh, contemporary to the current shapes and forms of the genre rather than reformatting the past.
Opener title track is ripe with strings, programming and jokey bombast boasting a Hans Zimmerman-like percussive bed over which Squire's thonking basslines share centre stage with some frenzied lead from Hackett worthy of the late Ollie Halsall in full flight (no faint praise).
This breathless carousel is succeeded by a well-balanced set ('Divided Self' is so catchily upbeat it's ridiculous; 'Sea Of Smiles' is the single) that never flags.
Of course it's fun to spot the musical markers of their early careers as well as Steve's solo work, not least in vocal harmonising that summons eerily at times a sense that the pipes of Gabriel and Anderson are about open up.
Quite where they go next is anyone's guess but, more please. This stands up strong and square against front-line material being released by musicians half their age. It comes in a battery of formats, too: standard CD; limited edition two-disc deluxe edition with hardback cover and 5.1 surround bonus disc, and limited and numbered vinyl (to be filed alongside those treasured old Charisma and Atlantic LPs).
****
Review by Peter Muir
Peter presents 'Progressive Fusion' on Get Ready to ROCK! Radio every Sunday at 19:00 GMT
---
| | |
| --- | --- |
| | Print this page in printer-friendly format |
| | |