Double Dose of Phil brings mixed feelings...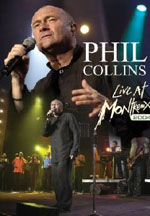 This is a DVD package of two halves recorded eight years apart at the Montreux Jazz festival.
The first of the two discs finds Phil on his 'First Final Farewell Tour' and features 24 tracks. I like a bit of Phil and have been a fan of his Genesis work for many years, in fact the first gig I attended was Genesis in 1982 and that fuelled my love of rock. His solo work though is another matter, there have been some good tracks, 'In The Air Tonight', 'Take Me Home' and 'I Missed Again' to name but a few, but these though are more than countered by 'Groovy Kind Of Love', 'Two Hearts' and the god awful 'Another Day In Paradise'.
All these tracks and more are featured on the first DVD. As always Phil has amassed a fantastic band including long time cohorts Chester Thompson on drums and possibly the most underrated guitarist on the planet, Daryl Stuermer, so musically the DVD is spot on.
Over the 24 tracks though there are many highs and lows and it really is dependent on where you stand on Mr Collins' solo output. Overall though, it is an entertaining watch and a reminder of how good Phil can be when he is on form.
The second DVD though is a bit more of a trial as it finds Phil in big band mode back in 1996. Again the musicianship is first rate, but sitting through the swing and jazz versions of the Collins back catalogue was a bit of an ordeal. There are a couple of Genesis tracks aired as well, 'Invisible Touch' and 'The Los Endos Suite'. I love 'Los Endos' but here it is turned into a jazz odyssey, not good.
For a Philophile this package will be heaven, but this proved to be a bit too much of a good thing for me. However the first disc is well worth a watch, although 'Groovy Kind Of Love' was what the 'skip' button was made for.
***½
Review by David Wilson