MITCH LADDIE Burning Bridges Mystic (2012)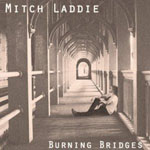 'Burning Bridges' is an aptly titled second album from the young rock-blues guitarist Mitch Laddie. He's broken with his past and taken gigantic steps in developing his own style on a confident album that bristles with deep tones, steely riffs and intense playing.
He's equally at home playing rock, blues and fusion and 'Burning Bridges' has all three styles in abundance on a self produced, coherent album on which nothing is laboured or overplayed and the power of suggestion reigns supreme. Sure he sometimes likes rock out with a dirt sounding tone and lean into to some heavy riff driven grooves full of spiralling solos on road tested nuggets. But in is role as a producer he's taken the songs a step further by polishing them in the studio without losing the inherent fire and spontaneous band interplay. The result is his most assured work so far.
The key to Mitch's breakthrough comes from his willingness to jam on a riff and see where it takes him. There are hints of grunge, full blown hard rock, tightly wrapped funk, and outright slash and burn rocking on songs like 'Take A Bite'. But there's a complexity at play, as evidenced by the diffidently explored funk of 'Would You' and the staccato, stop-start guitar lines of 'Gone', two songs which are heavily reminiscent of Carl Verheyen. And there's enough thoughtful sequencing, and a subtle use of dynamics to contribute to the overall flow of the album leads to the stellar fusion finish of 'Mr. Johnson Revisited'.
'Burning Bridges' opens with 'Time Is Running Away' - with distant echoes of Oli Brown's 'Psycho' with a much heavier undertow - before his guitar explodes all over the track. The impressive start gets even better on to the live favourite 'Paper In Your Pocket', which is an object exercise in dynamics as his rhythm section pushes him every inch of the way.
And in those rare moments when Mitch's' diction is clouded by the arrangement, he lets his magical guitar playing take the strain, adding a fluent run here or a sudden stop there, before achieving closure with an avalanche of riffs. 'Burning Bridges' is of course a guitar album but one that crosses genres and extends basic song structures in interesting and unexpected ways, whether on the metronomic muscular funk of 'What Are You Living For' or the smoking riff led groove of 'Getting It Right'.
Each song acts reveals itself like a layer in an onion. You peel away one layer and you find there's more to explore. And it's Mitch's sense of adventure that makes 'Burning Bridges' such a satisfying album. Listen to the way the guitar break on 'What Are You Living For' gives the song a belated lift and allows him to indulge in an angular solo that enhances rather than obfuscates the track. Listen also to the mesmerising delicate touch on the acoustic title track or the stuttering solo on 'Getting It Right' and you are hearing a guitarist who refuses to deliver a full blown solo until he's explored every possible dynamic along the way. The short tension breaking solo when it does finally arrive evokes mid 70's jazz fusion era Jeff Beck, but Mitch quickly locks into the groove and lets the piece breathe before a perfunctory but succinct ending.
The trio stretch out and shift considerable amounts of air molecules on the tougher 'Inner City Blues' before the contrasting late night jazzy blues of the heartfelt 'Give You The World'. It's a soulful and sophisticated song with Mitch's best vocal, proving he's equally confident when giving himself space and time as when he's rattling off a volley of notes. It might not quite be the show stopping ballad he was aiming for but it's pretty damn close and sounds like a new mature strand to his song writing cannon. Mitch adds some expressive phrasing and a melodic solo full of poise and a rich tone on a mature composition that belies a 21 year old on his self produced second album.
But the best is yet to come on 'Mr. Johnson Revisited', which presents him with a perfect calling card of sonic beauty. The closing track evokes the feel of a painter filling a canvas with the most delicate of brush strokes, unhurriedly exploring different hues and textures with the deftest of touch. Mitch derives equal measures of emotion and technique from the song through different tones, pregnant pauses and an intuitive grasp of dynamics. He finally adds a sprinkle of harmonics on a perfect track shot through with the ghost of Pat Metheny.
'Burning Bridges' isn't so much a slow burner as an album with hidden depth that offers more with each repeated listen. It's an album that confirms both his chops and an improving vocal style but above all establishes Mitch Laddie as a song writer of substance. Rock-blues never sounded so innovative and refreshing.
****
Review by Pete Feenstra
---
| | |
| --- | --- |
| | Print this page in printer-friendly format |
| | |