MINUTIAN Repercussions (2011)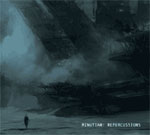 Hailing from Finland, the dark heart of black metal, Minutian are a five piece prog/metal outfit and Repercussions is their debut album - and a mighty fine thing it is too.
As I sat down to give this a whirl I had the volume turned way down expecting the usual sonic assault of grinding guitars, double kick-drum buffoonery and a vocalist sounding like a puking dog.
It only took a minute or two before the volume knob was being rotated clockwise however, because, do you know what, this is prog metal of the highest order. As the final track faded out I was left slack-jawed by what I'd heard - surely metal can't sound this good?
To these ears the closest touchstone would probably be Swedish neighbours Katatonia or Opeth in their most recent guise as progressive flag-bearers.
There's plenty of metal in here but it's not the sense-numbing variety - there's no primeval grunting passing itself off as vocals - this is intelligent metal with a liberal sprinkling of progressive time-signature changes, some very expressive quiet passages and, godammit, a large portion of musical imagination.
Seven tracks in all with only one clocking in at less than five minutes (prog, huh?) and all have their merits - be it rousing guitar work, inspired vocals or anthemic tunes, interest is held throughout by sheer dint of the quality and variety of the music. The band are as tight as a gnat's chuff too, it's very clear the tracks have been well rehearsed and well thought out and everyone plays their part to perfection.
This is a stunning debut, and if they can avoid the elephant trap that so many prog/metal bands fall into of pushing the metal and discarding the prog, I reckon a place at the top table could beckon - it's that good.
****
Review by Alan Jones
Alan sequences "The Eclectic Mix" on the third Sunday of every month on Get Ready to ROCK! Radio, and usually manages to include some prog.
---
| | |
| --- | --- |
| | Print this page in printer-friendly format |
| | |