MICHAEL 'IRON MAN' BURKS Show Of Strength Alligator ALCD 4951 (2012)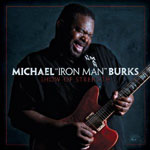 With his 'Iron Man' persona, muscular playing style and album titles such 'I Smell Smoke' and 'Show of Strength', you could be forgiven for thinking the late Michael Burks was a powerhouse player who eschewed subtlety. In fact nothing could be further from the truth, as 'Show of Strength' confirms the blues world will be a poorer place without his presence..
Arkansas bluesman Michael Burks really was on the cusp of a career breakthrough with this album. His death at 48 has robbed the blues world of a potential star in the making. He had his own blues lineage - spanning two generations of his family – and he had the voice, the chops and the songs to craft his own unique unhurried style. 'Show of Strength' is a mature slice of contemporary blues-rock that bristles with confidence and real feel.
His stories ring true and are delivered without any semblance of cliché. He's a contemporary blues man who when not penning an optimistic relationship song like 'Take A Chance On Me, Baby', dips into his own autobiographical past on 'Little Juke Joint'. He is equally unafraid to lay his emotions on the line with the slow blues of 'Since I've Been Loving You' and his soulful rendition of Charlie Rich's 'Feel Like Going Home'.
Burks mines his own life experiences for stories that resonate with the listener. The blues in Michael's hands is an articulate, emotive and very powerful language, tracking the interrelationship between his soulful singing and his big toned solos that cut incisively through deep grooves.
He opens with an understated hint of melodic funk on 'Count On Me' and adds a wah wah tinged, rich toned solo on a slow building slice of mature blues, 'Take A Chance On Me, Baby'. And even in those moments when songs like 'Can You Read Between The Lines' are in danger of becoming subsumed by the arrangement, he rescues the piece with a defining solo.
So far so good, and having delivered his trademark warm vocals and stinging solos with subtle support from organist Wayne Sharp, everything magically comes together on 'Cross Eyed Woman'. It's a slide led, deep toned, brooding track with real intensity and a big production feel. And it's a measure of Michael's effortless vocal phrasing that he intuitively stamps his imprint over a wall of sound.
The harp led shuffle 'Little Juke Joint' is a highpoint of his story telling; 'My daddy built this place with his bare hands, that's where I grew up from a boy to a man', while his adds incendiary soloing on 'I Want To Get You Back'. There's an intricate balance at the heart of this album which ensures the primacy of the songs and a consistent flow.
He also explores some subtle dynamics with different tone colours and a variety of attacks that are always an integral part of the song. The result is an album with real crossover appeal but with a requisite intensity that will satisfy both guitar heads and blues fans alike.
And while his flying V and unhurried notes hint at the ghost of Albert King and his occasional use of sustain and crisp dynamics recalls Albert Collins, there's simply so much emotion in his all-round performance that you could argue Michael Burks was set to carry on where Robert Cray seemed to stall a few years ago. He's a song craftsman, an expressive guitarist and he has that rare ability to make even the most familiar story line seem both vital and universal.
The only slight disappointment for me was that he only contributed 5 (albeit the best) songs on the album. For the rest, it is Michael's emotive phrasing and assertive playing that brings the rest of the material to life.
Finally, there's also hint of unforeseen irony in the album title, if only because his muscular playing ability and deep emotional reach has now been taken away from us. This is an album shot through with an inner strength and the deep emotional conviction of a bluesman who had the ability to share his feelings with us in an open book way. The sad thing is that though 'Show of Strength is his best album, it is also his last.
*****
Review by Pete Feenstra
---
| | |
| --- | --- |
| | Print this page in printer-friendly format |