JOE BONAMASSA Beacon Theatre - Live From New York Provogue (2012)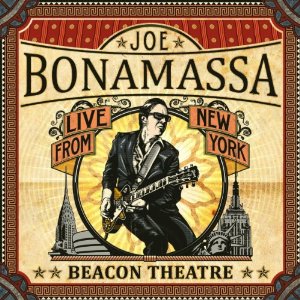 Joe Bonamassa's live albums are like pit-stops along the way of an ever expansive career and act as a timely barometer of his remarkable ascent to the top of the blues rock tree.
The year 2000 found him raw, hungry and honing his style in hinterland of Fort Wayne, Indiana on 'A New Day Yesterday Live' and eight years later he expanded his range and tones on 'Live From Nowhere in Particular', while the 2009 'Live From The Royal Albert Hall' DVD confirmed his place in the British rock blues establishment alongside the likes of Clapton and Paul Jones.
The double 'Beacon Theatre- Live From New York' celebrates his success on home turf. He's in the good company of guests such as Paul Rogers who represents his connection with British Blues invasion. There also a node to his extra curricular soul activities in the shape of Beth Hart, and the increasing emphasis on song writing is represented by the presence of Nashville alt-country rocker John Hiatt.
This - Beacon Theatre - Live From New York- double CD is culled album from the DVD of the same concert and covers all the angles of Joe's nascent maturity, from his much improved vocals to the characteristic fiery guitar work, but with a greater emphasis on tones and songs. 'Slow Train' for example, opens with a mighty crescendo and carries real weight, substance and sizzling shreds.
Apart from the actual performance itself, the key to any successful live recording is the sense of continuity and the connection between artist and his audience. In that respect Joe is ahead of the field as he connects both as a person and a guitarist who is able to shift his mode of communication through light and shade and changes in sound that evoke the meaning of a song.
He brings real poise to Gary Moore's 'Midnight Blues', stamps his quality on the heavy slide led 'The River' and adds a brooding guitar figure behind Beth Hart's reading of Brook Benton's 'I'll Take Good Care Of You'
And while he doesn-t quite pull off 'Bird On A Wire' to touch either Cocker or Cohen's versions, he works a nice contrast between Hiatt-s gnarly vocals and his own soaring guitar line on the Hiatt/Hart duet 'Down Around My Place'.
Better still is the Joe and Will Jennings penned 'Blue And Evil', which is one of those song where he manages to incorporate a heavy Zeppelin influence into the arrangement. Paul Roger's appears as if in aspic, revisiting the Free material that influenced Joe and there-s still time for one of his very best songs 'Mountain Time', complete with chiming guitar lines. The closing rendition of Warren Haynes' 'If Heartaches Were Nickels', proves once again that Joe knows a good song when he hears one.
The ultimate litmus test for a live album such as this is simply, would you hurry to play it again? The answer is a resounding yes.
*****
Review by Pete Feenstra
---
| | |
| --- | --- |
| | Print this page in printer-friendly format |