JOE BEIER Joe Beier (2012)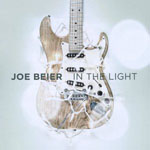 Joe Beier's self titled album guitar driven instrumental music that works hard to speak to us from the heart. Joe's whammy bar inflected tones help shape 13 compositions that range from the extravagant to the restrained. This is an album that opens in a celebratory mood and builds its solos diligently and contextually before reaching for higher ground, via contemplative moments when delicately shaped contours speak as eloquently as a speed drilled avalanche of notes.
Ever since the advent of Vai and Satriani etc, it is no longer the case that guitar led instrumental albums easily impress with mere technical ability. After all, an hour or so of guitar mangling can quickly become as staid as lift muzak. And with that firmly in his mind, Joe Beier's self titled album is a bold attempt to communicate inventively via his delicate touch, tone and thoughtful compositional work. And for the most part his does so successfully, kicking things off with a Celtic metal tinged jig on 'Battle of Benburg'. On the excellent 'Little Cat Walk' he engages us as in a conservation before subtly taking the number up a notch with an uplifting sweep, dynamic pause and a gliding outro. He displays more delightful touch and tone on the brush stroked 'Secret Ride', which provides a great example of the less is more approach, as he teases out the most delicate of notes over a compact backing. It's an album highlight full of feel, poise, restraint and a sense of place.
And having grabbed our attention through his intricate playing, Joe provides real contrast as he leans into a heavy grungy blues outing on 'Escape From Down Under'. The whammy bar explorations snake in between the hammered riffs and mock whispered vocals on another cleverly conceived composition.
Inevitably with guitar instrumental music, there are obvious influences like Satriani, Timmons, MacAlpine Gilbert and even Lukather, but the success of this album lies in its imaginative musical journey, with enough contrasting moods and dynamic thrusts to sufficiently engage the listener and then take things to another level. 'Aftermath' is another highlight and provides another example of Joe's ability to construct epic sweeps. He quietly slips into a groove and then builds an ascending guitar line that floats and hovers before eloquently rising to a peak with an emotive solo over layered keyboards.
And there's further shape shifting on the trembling notes of 'Waiting In Tears', the film score feel of 'Forever More' and the gentle funk and fluid runs of 'Flying Into the Darkness'.
'Fire Under The Tree' is perhaps the closest he gets to really cranking things up with some sinuous shredding, but even here there's a discernible change of emphasis in tone and colour and some subtle use of dynamics. As with most of the album, Joe never wastes a note and when he does cut loose on the outo, it's with an intense wall of sound of sound that brings the song to a notable climax.
He finishes with some stop-start, scintillating shredding on the melodic 'On The Journey' complete with a big finale worthy of what has gone before.
****
Review by Pete Feenstra
---
| | |
| --- | --- |
| | Print this page in printer-friendly format |