JOAN ARMATRADING Starlight Hypertension (2012)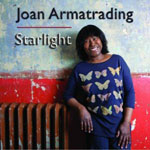 Joan Armatrading should be applauded on a number of levels for her latest album, Starlight.
Firstly, for continuing to be such a prolific and productive artist as she enters her 62nd year. It would be all too easy to rest on her laurels, take the semi-retirement option, or simply go through the motions. Instead, Starlight sees her pushing boundaries and charting new territory with a jazz flavoured offering.
Secondly, the playing (all her own - guitar, bass, keyboards and drum programming), the recording, and the production (again, all her own) is exemplary and Starlight is one of the best sounding records you'll hear this year. The instruments are beautifully clear and separated, and her emotionally charged vocals weave their way effortlessly between them.
But, and sadly, there is a 'but', the material may not be everyone's taste. Written to complement her recent releases 'Into The Blues' (2007) and the pop/rock 'This Charming Life', Joan has steered a course for jazz with 'Starlight'. It's a 'late night' set of 10 new songs that focus on matters of the heart and charts the Sting school of jazz, that is 'jazz lite' and reaching so far as material that could easily work for Michael Buble ('Close to Me').
The result is a set that, for those like me who have struggled to come to terms with the jazz, is a tricky one. I love a melody, a great chorus, or just a song you find yourself singing in the bath. And Joan has delivered so many such songs over her previous 17 studio albums. But for me, Starlight struggles to work on that level - it meanders purposefully - as jazz albums do - but ultimately it fails to burrow under your skin in the same way as so much of her former work.
But it may just be me. And I sincerely hope I'm in a minority.
***
Review by Pete Whalley
Joan Armatrading is Featured Artist at Get Ready to ROCK! in June 2012. More
---
| | |
| --- | --- |
| | Print this page in printer-friendly format |