JAN AKKERMAN Talent For Sale Esoteric (2012)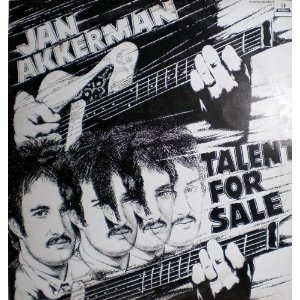 'Talent For Sale' was first issued in Holland in 1968, in the UK as 'Guitar For Sale' in 1973, and reissued as 'A Talent's Profile' (coupled with the follow-up) by EMI in 1988. (The cover image to that first CD release is on this new disc).
There are no bonus tracks here, although it does restore the original cover art and the 24-bit mastering restores some clarity. But one wonders whether this reissue should have afforded an opportunity to include some Hunters material especially as this Akkerman sixties band has never been released in the UK and the later singles were on the same (EMI) Imperial label.
The album is important in that it pre-dates Akkerman's rise to world attention with Focus and it was recorded in the period between the break up of The Hunters and his more progressive work with Brainbox.
Akkerman-watchers will surely know of its existence and it does complete the pre-Focus story of the guitarist, even if there are few indications of his early seventies work. Essentially, it is a fairly safe and perfunctory selection of instrumental covers and very much of its time (or even earlier) with musical accompaniment from his Hunters band-mates Ron Bijtelaar and Sydney Wachtel. Akkerman was heavily influenced by The Shadows in the sixties and you could best regard this effort as "Hank Marvin on speed".
The Steve Winwood song 'On The Green Light' is perhaps the closest in spirit to Akkerman's next solo album 'Profile' which - recorded in the hiatus between Brainbox and Focus - is the best representation of his music at this time, although Akkerman himself was never totally happy with 'Profile' not least the way it was released to cash in on his Focus success in 1972.
On Booket T & The MGs' 'Green Onions' the rhythm section is far too pedestrian. Guitarophiles should contrast and compare this version with Roy Buchanan's wig-out 10 years later. There would, though, be time enough for Akkerman's idiosyncratic guitar fireworks but not, alas, in 1968.
Self-appointed Akkerman biographer Wouter Bessels adds nothing to the Akkerman story in the fairly extensive liner notes and it is a shame that he couldn't have interviewed the guitarist to provide authentic context or some of those involved in Talent For Sale's creation, although producer Tim Griek died in 1988.
Even the two original compositions 'Revival Of The Cat' and 'Moonbeam' don't reveal too much of the Akkerman style: 'Talent For Sale' is perhaps best regarded as a cautious portent of greater things to come
***
Review by David Randall
David Randall is the author of 'In And Out Of Focus: The Music of Jan Akkerman & Focus", published in 2003. He presents 'Assume The Position' on Get Ready to ROCK! Radio every Sunday at 22:00 GMT
---
| | |
| --- | --- |
| | Print this page in printer-friendly format |
| | |