Just witnessed your best live gig?.. send us a review!
GALLUS COOPER, Ivory Blacks, Glasgow
17 August 2012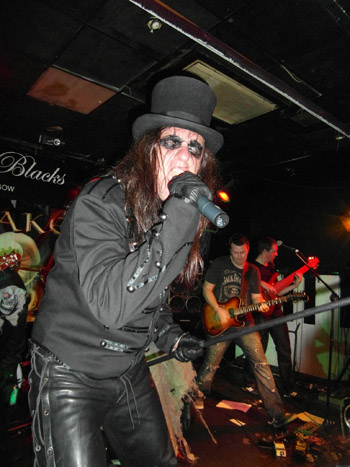 Tribute acts - discuss. There are usually two camps when it comes to tribute acts, those that see them as a travesty and wouldn't be seen near one of their gigs, or those that accept them for what they are, a faithful homage to their idols and a bit of fun. I have seen a few crackers over the years, One Night Of Queen and Regenesis spring to mind and Gallus Cooper are definitely one to add to that list.
I saw Gallus briefly a few weeks before at The Two Rivers Festival where I had been impressed by their short set and when I got an invitation along to catch their full show I was keen to see just how far they could go with the theatrics.
Before Gallus we were treated to Whitsnake who worship at the alter of Mr Coverdale and co. Sporting cheap nylon wigs, which was a brave move in the sauna like heat, the guys played through 13 Whitesnake classics with some panache.
From 'Ready And Willing' to 'Still Of The Night' the band put in an enthusiastic set covering 'Snake's career. Ok the wigs were unnecessary, there were a few fluffed time changes and I have never seen David Coverdale playing lead guitar before, but the set was arguably better than the actual Whitesnake tour last year !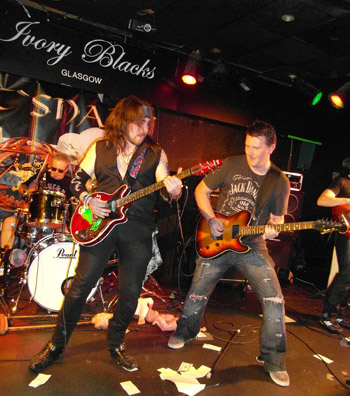 Gallus Cooper on the other had are a polished, well rehearsed unit who know their stuff and have the talent to carry it off. As promised tonight's show was the full monty (well not quite as Gallus informed me later - the girl who plays Miss Rozetta couldn't make it ) and it was impressive stuff.
Opening with 'Brutal Planet' the band impressed from the off. The dual lead guitar work of Davey and Kenny was fantastic, both are more than capable of taking on the Cooper back catalogue.
Gallus was in good voice, stalking the front of the stage and making it his own. 'Be My Lover' and 'Billion Dollar Babies' followed with the crowd singing along with gusto. It was when we got to 'Welcome To My Nightmare' though that the first of tonight's 'guests' appeared in the shape of two knife wielding zombies sent to torment Gallus.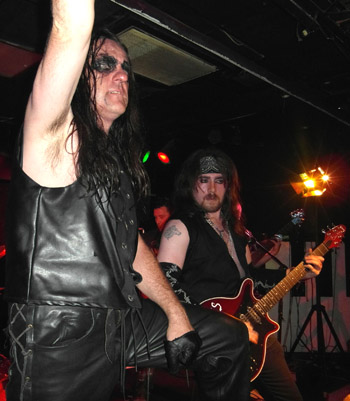 The set was a good mix of old and new Alice classics all faithfully reproduced with Gallus playing the part perfectly. More theatrics followed in the shape of 'The Black Widow', there were also demonic clowns, Jason from Friday the 13th and an accusing executioner which all added to the fun. 'Feed My Frankenstein' was one of the highlights as it was accompanied by an appearance in the crowd of Frank himself much to my amusement and my daughter's horror, she has never been keen on dressed up people and this one was a cracker !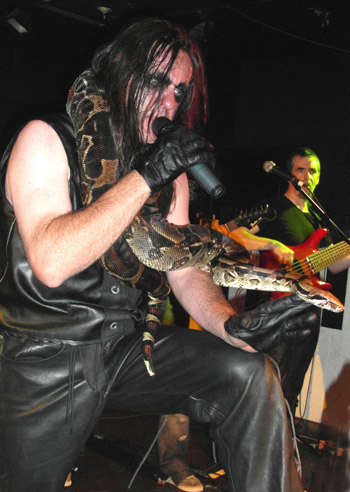 No Alice show though would be complete without an appearance from a snake and a Gallus show is no different, so during 'Is It My Body' Dalli was draped around Gallus's shoulders much to the delight of the crowd, apart from a women next to me who was ready to run a mile, not a snake fan methinks!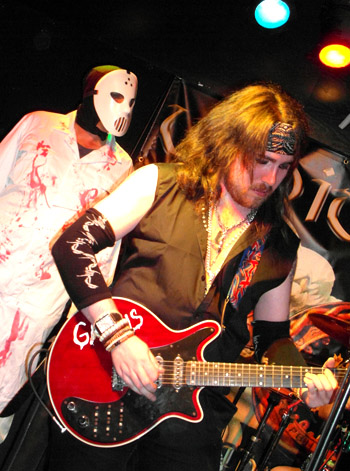 The set closed in traditional style with the one-two of 'School's Out' and 'Elected' which featured President Obama who ended up in the clutches of Gallus and big balloons being thrown out into the crowd.
This was a great show, Alice on a budget maybe but the guys push it as far as they can to provide a show that I am sure the great man himself would approve of.
Gallus and crew have appeared up and down the country and have dates scheduled through the rest of this year and into next year, if you fancy a highly entertaining night out then get along to a gig in your neck of the woods or Gallus will send the scary clown round …


Review and photos by David Wilson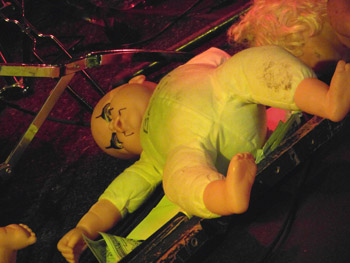 ---