Just witnessed your best live gig?.. send us a review!
FM/Romeo's Daughter/Deborah Bonham
Shepherds Bush Empire, London 10 March 2012
In the eighties, FM made the most valiant attempt by a British band to emulate the AOR sounds that were huge at the time. They enjoyed modest success, but neither in this or their later incarnation as a harder edged, bluesier band did they make the elusive breakthrough. In recent years they have reformed and been rejuvenated, but for those of us who were original fans, their 1986 debut album 'Indiscreet' holds almost mythical status.
---
This was definitely an occasion special enough to squeeze the original tour t-shirt with the infamous pink logo into a stomach less slim than it was in those days!

---
Indeed singer Steve Overland mentioned that the band still receive fan mail about its role in their lives, including people even walking down the aisle to their ballad 'Frozen Heart'. So it was fitting that its 25th anniversary was marked by three shows which played the whole of the album in full for the first and probably only time. This was definitely an occasion special enough to squeeze the original tour t-shirt with the infamous pink logo into a stomach less slim than it was in those days!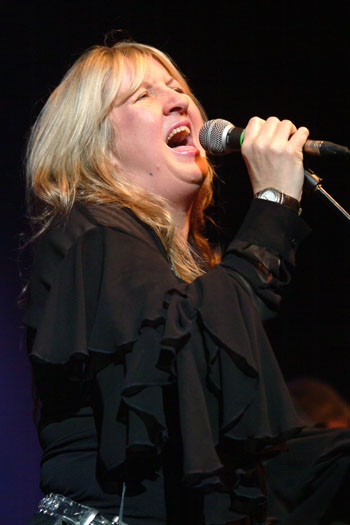 The show was also excellent value with three bands for under £20. Deborah Bonham and her seasoned band played a surprisingly short 20 minute set, consisting entirely of songs from her forthcoming album. They were unexceptional blues rock, but her warm voice and personality to match rendered them enjoyable enough.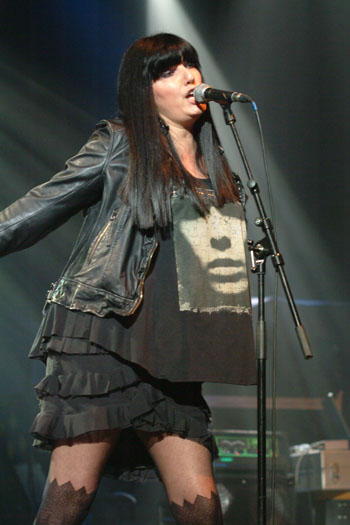 Romeo's Daughter have long professional (and, in the shape of statuesque singer Leigh Matty, personal) links to FM and it was inevitable they would be the main support.
Having just released their first album in over 20 years, 'Rapture', they were naturally keen to promote it but I wonder if tactically it was a mistake for half the eight songs in their set to be new ones that people would not have been familiar with, at the expense of old favourites like 'Heaven In The Backseat'. Moreover, other than 'Bittersweet' I am fairly sure the new songs were not even introduced.

Nevertheless the punchy 'Attracted To The Animal' and 'Cry Myself To Sleep at Night', with some understated but superb lead guitar work from Craig Joiner impressed as always, before they got the crowd to clap along, if not leave their seats, to rocky closer 'Wild Child' which, lest we forget, was of sufficient quality for Heart to make the lead off cut on 1990's 'Brigade' album.
---
...the atmosphere was excellent all evening, having a real air of a gathering of the (not so young) faithful.

---
FM came on stage to a voice over taking us back in time to 1986 and the pink panther theme tune. Rather oddly, seats had been installed on the floor of the Empire - with all the balconies filled in a bigger than expected turnout - but fortunately the audience disregarded them and the atmosphere was excellent all evening, having a real air of a gathering of the (not so young) faithful.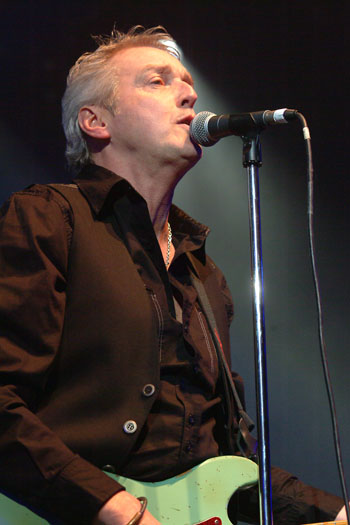 There are various ways to skin the 'classic album performance' cat, and they chose to start the show with the whole of 'Indiscreet', in order. 'That Girl', 'The Other Side of Midnight', 'I Belong To The Night' and 'American Girls' are all classic singalong anthems given an extra seal of quality by Steve Overland's singing, which it is hard to believe never became hit singles.
They were treated respectfully close to the original, sensitively interpreted by excellent more recent recruit Jim Kirkpatrick on guitar.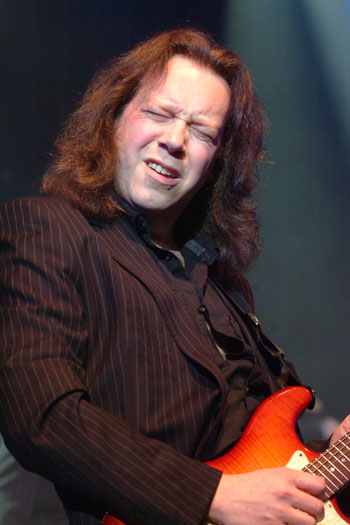 For me the highlight was hearing some songs from the album that were rarely played, even back in the day. 'Love Lies Dying', probably the weakest track, was enlivened by a great solo from Jim, while 'Hot Wired' featured a classic twin guitar break with synchronised stage movements to match. But it was old favourites 'Face to Face' and 'Frozen Heart' that seemed to get the biggest response of all.

After 'Heart of the Matter' concluded the album with only 50 minutes on the clock, I was curious how they would treat the rest of the set, but the choices complemented the concept perfectly, beginning with two songs from that period that did not appear on the album - a storming 'Dangerous', with some meaty guitar solos, and the more keyboard heavy single 'Let Love Be The Leader'.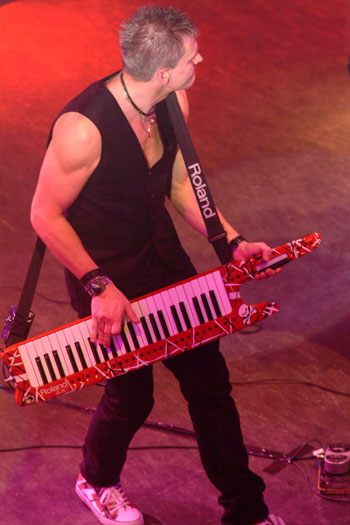 They then played a quintet of songs from only marginally inferior follow up 'Tough It Out', beginning with the rousing and again rarely played title track. 'Don't Stop', 'Bad Luck' and 'Burning My Heart Down' are staples of FM shows to this day, and unsurprisingly there was a party atmosphere as people left their seats, many making sure they were photographed in front of the stage, but for me the melodic bliss of 'Does It Feel Like Love', with Steve stretching his vocal chords with a short solo slot, was another rarity worth waiting for.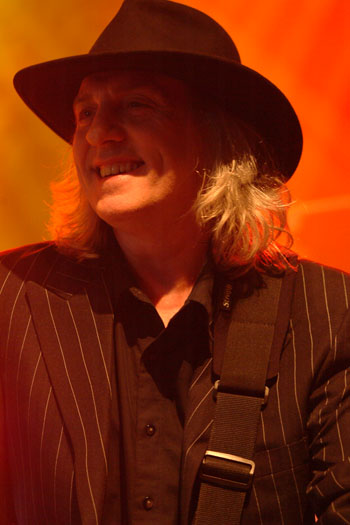 Indeed the attention to detail that went into constructing this setlist was proved when they came back for the encore they always used to play in the early days, a cover of 'Hot Legs', with some bluesy guitar from both Steve and Jim, which perfectly suited the vibe that had developed.

It must be said that the current FM line up are no mere nostalgia trip, making new music and sounding fresh and vibrant. But as a one-off, this was a memorable re-enactment for those of us who were there in their early years, convinced that Britain's best ever AOR band would one day make it big. If that old T-shirt is now to be gently retired, this was a fitting requiem.
Review by Andy Nathan
Jason Ritchie writes:
A night of nostalgia as FM play the entire 'Indiscreet' album but first we have two support bands. The Deborah Bonham Band always deliver an enjoyable set of blues rock and the good news is there is a new album on the horizon due in September.
Interestingly the set was nearly all new songs from the upcoming album and on first listen a good mix of rockers and a couple of slower, bluesy numbers. Good to see some mandolin action on stage as well for a couple of the songs.

Romeo's Daughter are back on the road after a lengthy lay-off and they have a new album 'Rapture' just out. They played 'Trippin' Out' (good, solid melodic hard rock) 'Bittersweet', 'Lightning' and 'Keep Walking' of their new album with the oldies, 'Velvet Tongue', 'Attracted To The Animal', the fantastic 'I Cry Myself To Sleep' and 'Wild Child'. The only disappointment was no 'Heaven In The Backseat'. Based on the new songs Romeo's Daughter look set to have a winner on their hands.

FM took to the stage to the strains of 'The Pink Panther' theme and proceeded to play all of the 'Indiscreet' album, one of the few 'must have' British AOR/melodic rock albums. What a treat to hear 'American Girls' again and 'The Other Side Of Midnight'. 'Face To Face' and 'Frozen Heart'.
I was lucky enough to hear before on their showcase gig a couple of years ago at the Roadhouse. Vocalist Steve Overland was in fine form, although if he fancied a breather the packed out crowd would happily oblige and keep on singing. Guitarist Jim Kirkpatrick has been a good addition to the band and plays the classics like he was in the band back in the day.

The rest of the set was made up of other classics like 'Tough It Out', 'Don't Stop' and 'Bad Luck', which closed the set. Encore time was a cover of 'Hot Legs' rounding of a great night of music.

A night of pure nostalgia meaning sadly no songs off their excellent comeback album 'Metropolis' but with a new album due later this year I am sure the band will be back and have a setlist with a bias more to their newer songs. Sadly no Didge Digital guest spot like the Manchester gig but a great night and long may FM continue.

Photos by Noel Buckley
You can use the direction keys on your keyboard to navigate easily through the photo gallery
---