Just witnessed your best live gig?.. send us a review!
FIREWIND/Leaves' Eyes
MOHO Live, Manchester 14 September 2012
Photos by Noel Buckley
It is a shame that two great bands still have to play such a low ceiling dive as Moho Live, but economics prevail. And whilst the tour bus is well upholstered it must be quite a contrast for Firewind's mainman Gus G fresh from his more first-class travel excursions with Ozzy.
But both bands tonight are realistic and - on paper at any rate - it was a miss-at-your-peril double-bill.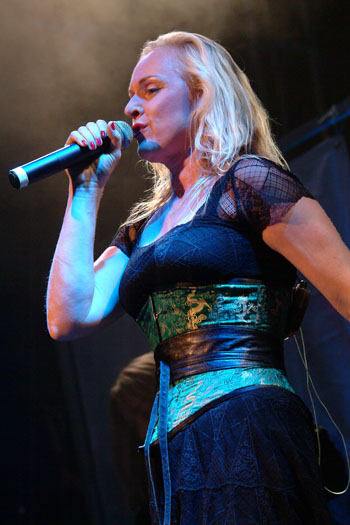 In view of the UK's current love affair with all things Scandinavian, perhaps Leaves' Eyes time has come. Fronted by the ice maiden charm of Norway's Liv Kristine, the band have sometimes been termed Nightwish-lite but their brand of symphonic metal with a folk twist is less bloated than her Finnish neighbours. And all the better for it.
In a generous hour long support set, the band obviously majored on the more immediate songs in their near-10 year repertoire. Opening with the stirring 'Spirit's Masquerade' it was like they'd just moored their longship at Salford Quays and had stormed up the A56, not least when Liv's other half Alex joined her on stage for the characteristic 'beauty and the beast' vocal duet on 'Ocean's Way' and 'Melusine'.
Leaves' Eyes leave the uninitiated listener wanting to investigate more and this should happen with greater regularity during this European tour, and songs like 'My Destiny', 'Elegy' and 'Take The Devil In Me' instantly engage an unknowing audience.
Set-list: 1. Spirits' Masquerade 2. Velvet Heart 3. Ocean's Way 4. My Destiny 5. Melusine 6. Empty Horizon
7. Take the Devil In Me 8. Elegy 9. To France 10. Froyas Theme11.Mot Fjerne Land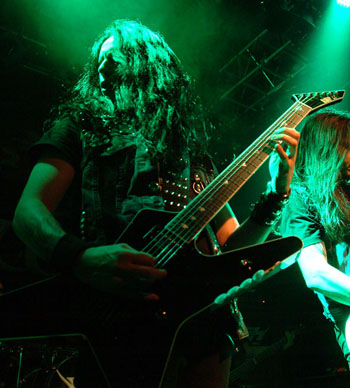 I last saw Firewind on a three way bill with Stratovarious and Eden's Curse, at a similar low-ceiling Manchester venue. Since then, of course, Gus G has been rubbing shoulders with Ozzy on tour and album - a signal that many took to mean the early demise of the band he had nurtured for a decade. But - as if to stall the doubters - this year the Greek power metallers released the excellent 'Few Against Many' which even bowled over our normally blues-orientated Features Editor Pete Feenstra.
Whether as a result of Gus G's Ozzy experience and recent exposure to a more riff-based set-list, the latest album is more guitar and riff-orientated, perhaps more accessible than previous offerings as a result.
A good selection were aired here in the shape of 'Losing My Mind', 'Wall Of Sound' and, for me, the standout 'Glorious' which has a simply wonderful, gargantuan, riff.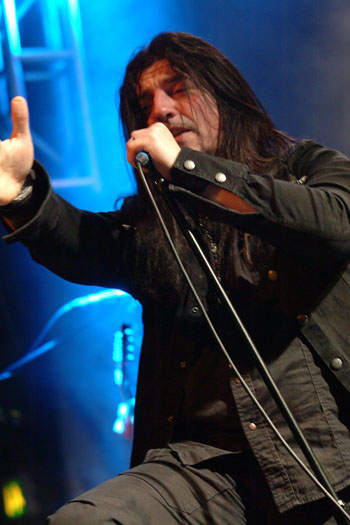 Of course the band paid their dues to earlier albums including 2008's 'The Premonition' ('Into The Fire'') and even the debut 'Between Heaven And Hell' ('Destination Forever').
The commercial-sounding 'Mercenary Man' reminded us that there is still - overall -a paucity of truly killer songs and the power-metal niche can put off the casual listener.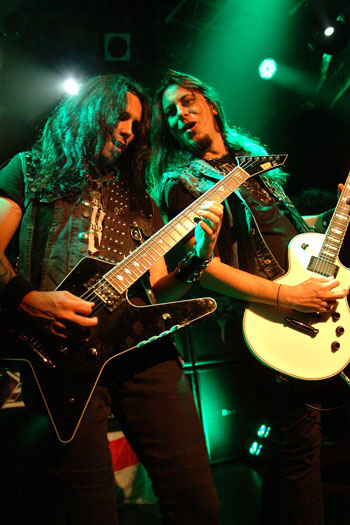 But if that also explains the lack of wider acclaim all that might be corrected on the back of the new album which is more mainstream-sounding and with of course the Ozzy connection.
Set-list: 1. Wall of Sound 2. Head Up High 3. Destination Forever 4. Few Against Many 5. Insanity 6. World on Fire 7. The Fire and the Fury 8. Losing My Mind 9. Mercenary Man 10.Angels Forgive Me 11.Glorious 12.Till the End of Time 13.I Am The Anger 14.Tyranny Encore: 15. Into the Fire 16. Breaking The Silence 17. Falling To Pieces


Review and interview by David Randall
Photos by Noel Buckley
You can use the direction keys on your keyboard to navigate easily through the photo gallery or - in Windows - flick from one photo to the other using the mouse wheel.
---