EDISON'S CHILDREN - In The Last Waking Moments (2012)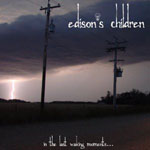 I've always found a good maxim for life is that the most interesting people and things are those that have a few faults or imperfections. Women, footballers, art, music - it seems that in order to enhance the brilliance there has to be a fallibility or two - the flawed genius if you will.
And thus it is here with Edison's Children and their first full album 'In The Last Waking Moments' where the majesty of a superb contemporary progressive rock masterpiece is occasionally interrupted by moments of complete aberration. These moments are, thankfully, few and far between, but in a strange way serve to enhance the overall feeling that this is a remarkable, even beautiful record.
Hardly surprising when you realise that Edison's Children are Pete Trewavas, bass player extraordinaire from Marillion and Transatlantic, and Eric Blackwood, guitarist from Sunblister and many other NY alt-rock bands.
Throw into the mix appearances from Steve Rothery (Marillion), Robin Boult (Fish) and Andy Ditchfield (DeeExpus) and you suspect something special is afoot.
In The Last Waking Moments has been around two years in gestation and all tracks have been written by Trewavas and Blackwood. It is obvious from the outset that this two years has been well spent as the aural delights reveal themselves one after the other - in turns haunting, infectious, Floydian, intensely melodic - all of which combine, with the odd hiccup, to create a significant piece of work.
Things get underway with 'Dusk', an intense acoustic piece closing with a very Marillionesque solo from Blackwood. This is followed by 'Fracture', again a very dense track sounding very like Polish proggers Riverside.
One of the album's highlights, also released as a single, is next up, 'A Million Miles Away' replete with gossamer-like riff and thoughtful lyrics would, on most albums, be the signature track. Not here though - it's just one of many.
We must mention the hiccups and the worst of these is 'Outerspaced'. What were they thinking of? It would have been left on the cutting room floor of even the worst Hawkwind album - its horribly discordant bass riff overlaid with a semi-screamed vocal is so at odds with everything else it sounds like it must be some sort of contractual obligation.
But there's the rub. It IS so much at odds, that it fits in - it's that blemish that enhances the belief that they knew exactly what they were thinking of.
Normal service resumes with the outstanding 'Spiraling' and continues almost unabated (with the possible exception of the Ozric Tentacles-like 'The Other Other Dimension' - not bad, just different) to the album's jewel in the crown 'The Awakening' - fifteen minutes of ambient prog heaven.
Taken in the round, this is an exceptional progressive rock album assembled by two top musicians at the zenith of their powers. If they do it again, and take some Gaviscon for the hiccups, we could be looking at a magnum opus of iconic status.
*****
Review by Alan Jones
Alan sequences "The Eclectic Mix" on the third Sunday of every month on Get Ready to ROCK! Radio, and usually manages to include some prog.
---
| | |
| --- | --- |
| | Print this page in printer-friendly format |
| | |