Just witnessed your best live gig?.. send us a review!
DAVE JACKSON BAND
100 Club, London, 8 February 2012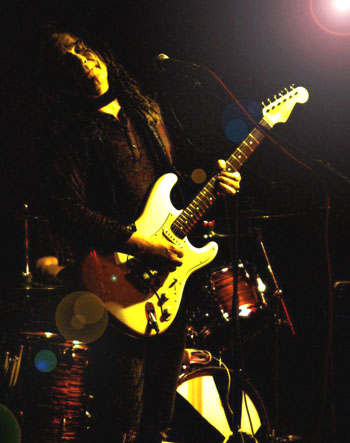 Photo: Stephanie Moore
Dave Jackson is a cool dude. A former New Orleans based pianist turned Born again blues man', he's a guitarist who knows the value of dynamics, the potency of a sustained note and the effectiveness of a vocal growl.
With his long mane of jet black hair, a black choker and a tendency like Lemmy to set his mic slightly above his natural singing level, he cuts an image of an early 70's guitar hero.
A power trio, the Dave Jackson band is one part Kossoff and one part Rodgers. They jam like Cream and sometimes venture into a space rock wall of sound reminiscent early Hawkwind. Dave's vocals shift from the brusque to the soulful as the arrangement dictates, in a groove laden, laid back approach that disguises a razor sharp musical edge.
Armed with a busy gig sheet, a repeat booking at the Colne Festval and a self titled debut album, this was the band's first 100 Club headline show and they wasted little time in slipping into a steam roller boogie Done Me Wrong', which originated in New Orleans but was transformed by a hypnotic riff and a relentless bass line into powerful drone that carried all along in its wake.
And as if confirming the early 70's feel, the lyrics were all about well worn blues themes with stories of a no good woman', drink and inevitably the devil, as on the devil stole my woman now she don't need what I got'.
Dave's disarming smile and understated introductions made light of his tales of one night stands and the perpetual travelling blues man. Typically he sang one or two verses before leaning into the groove and firing off a locker full of riffs.
Ricks Cabaret - another Crescent City tale - worked particularly well with it's strident Skynyrd style intro and extended familiar themes over some incendiary band interplay; Another town, another bar, where no one asks who you are'.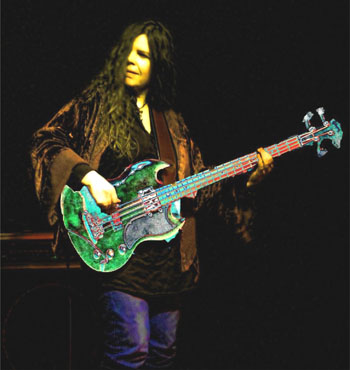 Photo: Stephanie Moore
The bone crunching rocker Ain't Lookin' proved to be a template for the evening, with Dave's repeated exclamatory vocal phrases hovering over the inspired jamming between his guitar and the astonishing free form bass playing of his partner Jan. She may answer to the name Janet Jackson but her bass playing enjoys the heavy blues styling of Andy Fraser, the front line presence of Leo Lyons and spontaneity of Jack Bruce.
And stuck bang in between the two is the rock solid figure of Reg Patten, a drummer given to occasional Mitch Mitchell style flurries, without once offering the slightest suggestion of deviating from his pristine time keeping. And it's the combination of rumbling bass with occasionally accented notes and a crisp percussive back beat that provides Dave with a launch pad to stretch out.

All the material up to this point had come from the band's self titled debut album, but Dave threw caution to the wind by announcing the title track of their forthcoming second album 7' (echoes of Chickenfoot's second album entitled 111'), which was introduced as something we've never rehearsed before', and after a pregnant pause he added, we don't tend to rehearse much at all'.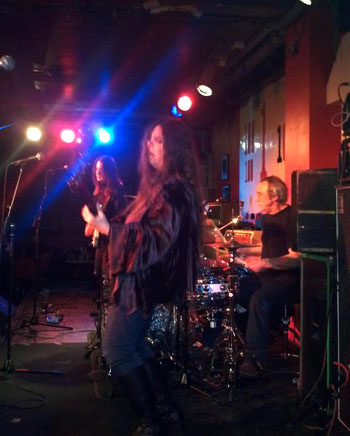 Photo: Ken Hampson
It turned out to be a slow burner with nice changes and a sinewy solo, while Tired & Wasted' was a slow blues on which Jackson worked hard to enunciate the dynamics and feel of the song.

The set picked up some welcome momentum on Dave's signature tune 'Born Again Blues Man', complete with a cleverly employed subtle tempo change just before the thematic vocal intro; I've been blue since I was born, Hobo man, black cat bone; Keep on rollin', rollin' on down the track, Trouble on my shoulder, guitar on my back I'm a bluesman, a born again bluesman' .

It was at this point that the band won the crowd over as the rhythm section roared and Dave made maximum use of his Marshall stacks to take off like a 747, layering his intense but fluid guitar lines eloquently to create an enveloping wall of sound.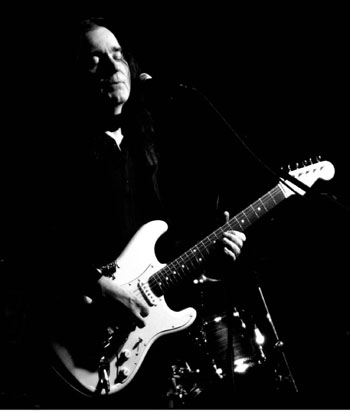 Photo: Stephanie Moore
The band weaved in and out of the arrangement much like Tony McPhee's more adventurous solos and they upped the volume to drag the song into uncharted territory, only returning to base once they'd satisfied themselves with the full possibility of the riffs. And it's those spontaneous Bevis Frond type moments that make this band so interesting.
Finally this being their first 100 Club appearance they dipped into some psychedelic rock-blues history for a powerful rendition of Cream's 'I'm So Glad' and finished with an extended and mesmerising, slow version of Voodoo Chile'. Dave filled the legendary venue with luscious deep toned notes and wah wah that perfectly explored the musical arc conjoining the song's traditional Catfish Blues origins with Hendrix's brooding psychedelia.
As with all great gigs the evening shot by in flash. The band ran out of time and couldn't complete a well deserved encore, but the job had already been done.


Review by Pete Feenstra
---
Album review & video interview
---