Just witnessed your best live gig?.. send us a review!
CHICKENFOOT
Brixton O2 Academy, 14 January 2012
'Supergroups' in rock have a mixed pedigree, frequently amounting to less than the sum of their parts, or leaving fans of the members' previous bands feeling disappointed. However, along with Black Country Communion, Chickenfoot promise to give them a good name, and have also proved their longevity. 2009's debut and a memorable show at Shepherds Bush Empire was followed last year by a follow-up in the cheekily entitled Chickenfoot 3 and on this, one of two UK dates, the Brixton Academy was packed to the gills.
The evening was warmed up very nicely by Red White and Blues, who are putting in substantial roadwork supporting the likes of the Quireboys and Whitesnake.
After Skin's reunion came to an end, guitarist Myke Gray has renewed acquaintance with former Jagged Edge bandmate Matti Alfonzetti, who as well as supplying bass has the classic, deep bluesy voice of a prime time Coverdale.
The impact of the four piece band, with Myke sharing guitar duties with the curly haired Adam Wardle, was initially lessened as they played in near darkness and openers 'Shame Shame' and 'Set My Sights on You' were spoiled by a muddy mix, but 'Rescue Me' and in particular 'Counts for Nothing' impressed with a slow burning bluesy feel, reminding me of the Union and Aphrodisiac-era FM.
'Shine' was more straightforward with a rhythmic groove powered by Daren Lamerton's drums while their eponymous track had lashings of dirty rock n roll slide guitar in the mould of George Thorogood or the Georgia Satellites.
Although time was against them, they still slipped in the good time AC/DC influenced riffage of 'Stand up for Rock n Roll'. They unashamedly tread no new ground, but on the evidence of this live act Red White and Blues will make many new friends in classic rock circles.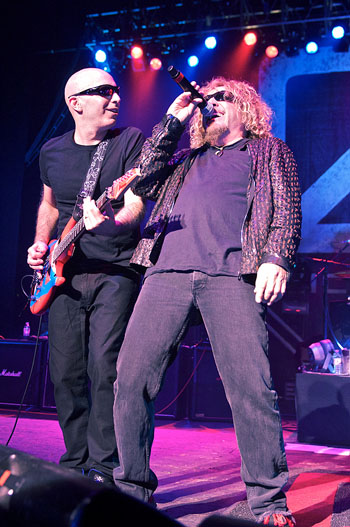 With a simple stage set and their large webbed foot logo behind, Chickenfoot let the music do the talking, and hit the ground running opening with a trio of the more straightforward hard rockers from Chickenfoot 3 in 'Lighten Up', 'All Right All Right' and 'Big Foot', which got the best reaction yet, and 'Sexy Little Thing' from the debut with a great groove.
Sammy Hagar, who this year reaches pensionable age, is somehow unchanged over the years, full of energy and still with a strong voice - proof that his patented Cabo Wabo must have anti-ageing properties.
But 'Soap on a Rope' was in a slightly different mould- less of a song, more a structure against which the band members could show off their prowess as the three almost competed to outdo each other with their virtuosity, while at the same time keeping things tight and purposeful.

---
Joe Satriani's technical virtuosity on guitar is unparalleled - even if he and Kenny with their shaven heads and wraparound shades gave them the air of the martians in the old Cadburys Smash adverts!

---
On this tour Chad Smith had to duck out because of Red Hot Chilli Peppers commitments but noted session drummer Kenny Aronoff, his bony hyperactive arms beating the hell out of his kit, was a worthy stand in even if he lacked Chad's charisma.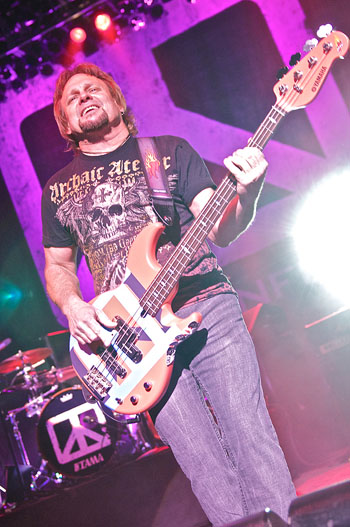 Michael Anthony's bass - not to mention his vocal support for Sammy - forms a comparatively large part of the Chickenfoot sound compared to other bands, while Joe Satriani's technical virtuosity on guitar is unparalleled - even if he and Kenny with their shaven heads and wraparound shades gave them the air of the martians in the old Cadburys Smash adverts!
While 'My Kinda Girl' had a very Van Halen vibe to it, other songs like 'Up Next', 'Turning Left' and 'Down the Drain' give the band the opportunity to jam, but what was most impressive was that their instrumental talent was never allowed to descend into self-indulgence and indeed solo slots were conspicuously absent.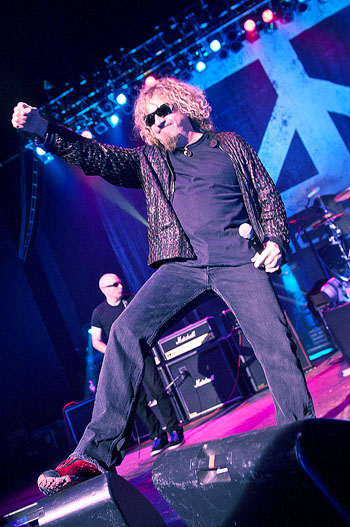 'Three and a Half Letters' was without doubt the heaviest song of the night - though as Sammy Hagar read out, as on record, letters from despairing job seekers in the USA, I am not sure then turning one into a paper dart and throwing into the crowd struck quite the right tone!
A highlight was the bluesy 'Something's Going On', with some great work from Joe on his 12 string. It says much for his talent that Sammy, no mean guitar player himself, largely sticks to singing but when he strapped on his guitar halfway through set closer 'Future in the Past', to my more traditional ears he peeled off my favourite solo of the night.
Before the encores, Sammy expressed his gratitude for the crowd's response, saying how much it meant as they had formed the band to play what they wanted to with no thought for commerciality.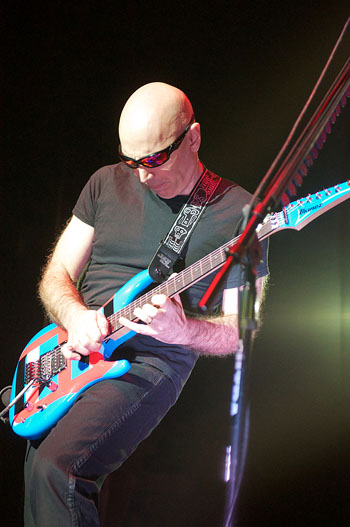 It was then somewhat ironic that the first encore, 'Different Devil', is a melodic, hook filled number not too dissimilar to that which brought him 1980's hits both solo and with Van Halen. 'Oh Yeah' from the debut finally got an appreciative, but somewhat reserved crowd, singing and punching the air and featured a longer solo from Joe before segueing into a cover of 'Foxy Lady' which they did full justice to.
Any reasons not to be cheerful? Well, I thought the sense of surprise and fun that had marked their Shepherds Bush gig in 2009 was not there to the same extent, and of course I would have loved to see them play old Van Halen, Hagar or even Montrose numbers that I and many of those present have lived with for so many years.
But that is to miss the point. Rather than fall back on past glories, these seasoned musicians are giving us a new classic rock band for us to develop a love and appreciation of. And they do so as a team, when it would be easier to descent into self indulgence. Truly on this evidence, Chickenfoot are 'finger lickin good'.


Review by Andy Nathan
Photos by Bob Singleton
You can use the direction keys on your keyboard to navigate easily through the photo gallery
---