BEGGARS OPERA Lose A Life Repertoire (2011)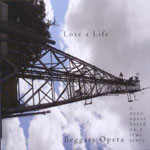 Subtitled 'a nano opera based on a true story', this concept piece from the veteran Scottish progressive act tackles the theme of living with the condition of 'electrical sensitivity' - or put another way an inability to live healthily near mobile phones, laptops, screens (the list is inevitably exhaustive).
Guitarist and song-writer Ricky Gardiner is a sufferer and explores the issues in association with keyboard playing and lyric-writing partner, Virginia Scott and son Tom on drums. On the surface, this could suggest that an embarrassment but not necessarily of riches awaits the casual listener. The contrary proves the case: 'Lose A Life' is a rather impressive slice of symphonic prog that eschews any self-regard nor over-references former glories (the band made some good-to-excellent albums for Vertigo in the early '70s) but opts for a sharp, contemporary sound, marrying Scott's individualistic vocal (a Celtic Björk) to some occasionally hard guitar, married to shimmering, extenuated Floyd-esque passages, from Gardiner.
It's told at a slow and considered pace without recourse to rant and is indicative of how developmental this outfit always was; all their albums have measured change. The outcome makes for an enterprising and unusual listening experience that shapes up well today.
Standouts run from slow-burn opener 'Electrofire Invasion' via the busier 'Masts on My Roof' to the instrumental closer 'Tango for the End of Time'.
If there's a carp it's how the album would have benefited from an occasional change of pace. They do get their collective rocking mojo working on an earlier work 'Close To My Heart' (***), now also available on Repertoire: equally contemporary in feel, it's a more standard release, without the focus and passion of this strange, compelling audio story.
****
Review by Peter Muir
Peter presents 'Progressive Fusion' on Get Ready to ROCK! Radio every Sunday at 19:00 GMT
---
| | |
| --- | --- |
| | Print this page in printer-friendly format |
| | |