BACHMAN TURNER Live At Rosewood Ballroom,NYC Eagle Rock (2012)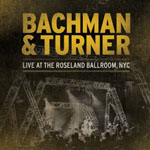 Randy Bachman and Fred Turner reunited back in 2009 (although no Overdrive due to legal reasons) and released a new studio album in 2010 and now release this double live CD.
It is a good mix of BTO classics and songs from their self-titled 2010 album. Of the newer songs 'Slave To The Rhythm' has a great chorus coupled with some heavy riffing (the band have the Skynyrd approved triple guitar line-up).
Foot stompin' versions of 'Let It Ride' and 'Rollin' On Down The Highway' show that Bachman and Turner have lost none of their power.
Randy Bachman's pre-BTO band the Guess Who are represented by 'American Woman', which loses some of its original laid back sound for a more direct AC/DC sound and it sounds good.
They do a decent cover of Johnny Kidd's 'Shakin' All Over', where special guest Paul Shaffer joins them on piano. Of course the instantly recognisable 'You Ain't Seen Nothin' Yet' is here and they close the set with 'Takin' Care Of Business'.
For a live album the crowd are surprisingly muted at times and given the excellent sound throughout they may have been given the Judas Priest treatment?
An enjoyable live set from a pair of musicians who have clearly found their mojo again and certainly want to keep on rocking into the sunset.
****
Review by Jason Ritchie
---
***** Out of this world | **** Pretty damn fine |
*** OK, approach with caution unless you are a fan |
** Instant bargain bin fodder | * Ugly. Just ugly
get ready to rock is a division of hotdigitsnewmedia group