AXEL RUDI PELL Circle Of The Oath SPV (2012)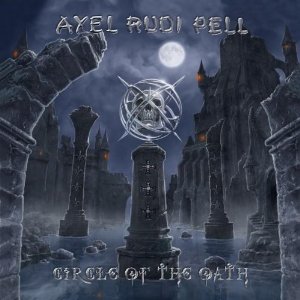 I have never, ever, understood the wider appeal of Axel Rudi Pell. And, believe me I've tried. Heavily influenced by the great Ritchie B but lacking his innovation, he regularly produces competent if sometimes lacklustre hard rock albums and always surrounds himself with some great musicians. Not least the great Johnny Gioeli on vocals, and previously Jeff Scott Soto and Rob Rock.
But then I have never understood why observers regularly proclaim 'superlative' guitar playing. To me Axel Rudi Pell has always sounded like a bedroom amateur in a quest to play rock guitar. But how can you explain that he evidently transfixes audiences (chiefly in Europe) who lap up his brand of classic, melodic and riff-driven rock? Mass-hypnotism?
Pell's music has a definite European (The Scorpions come to mind) and at times power metal flavour and I would suggest this has precluded wider world domination. I don't think this would be gritty enough for the Americans and I would suggest they'd put the shutters up at the LA Guitar Institute. This may sound awfully cruel, but frankly someone's got to say it.
Pell doesn't do shred and although the music calls for it, judiciously of course, what we get is his idiosyncratic substitute which brings me back to the bedroom analogy. It sounds juvenile to these ears but I am sure guitar geeks will have a technical name for it so answers by email, please.
If you didn't know the musical pedigree of this band before listening you may dismiss this merely as a competent but not startling hard rock album. But knowing that pedigree is actually quite shocking. Even the 'epic' nine-minute title track, nodding to Zep via Whitesnake, fails to hit the button for this writer although the power ballad 'Lived Our Lives Before' will get the lighters burning.
If you like Pell, and there's no doubting he can put together a good riff or two ('Bridges To Nowhere', 'Hold On To Your Dreams') you will like this but anyone expecting something a little less derivative or some 'superlative' guitar playing may be disappointed. Those who are persuaded should seek out the digi-pak version with bonus track and poster.
***½
Review by David Randall
David Randall presents 'Assume The Position' on Get Ready to ROCK! Radio every Sunday at 22:00 GMT
---
| | |
| --- | --- |
| | Print this page in printer-friendly format |
| | |