AISLES In Sudden Walks (2009)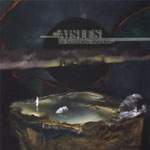 If ever you needed confirmation that the world of progressive rock music is in rude health just now, with Poland, Germany and Scandinavia all throwing up top bands and albums on an almost weekly basis, along come Aisles from, of all places, Chile, to stake their own claim on the genre.
Although released in 2009, the band have signed to Melodic Revolution Records and have re-released 'In Sudden Walks', their second album, in the hope of finding a wider market.
And find a wider market they should, because after a rather shaky start, this is a fabulous neo-progressive album of the highest calibre.
Whilst there is no doubting that the influence of the likes of Hogarth-era Marillion, 'Floyd and 'Wind And Wuthering' era Genesis hang heavy, such is the quality of the songwriting and musicianship that any accusations of blatant plagiarism are quickly dispelled.
Six tracks in total, with three nine-minute epics and one fifteen minute blockbuster, each one a gem in its own way and a very low self-indulgence count throughout.
Things get under way with 'Mariachi', which, as mentioned previously, is a shaky start. It's not that it's bad, it's just a bit odd. The piece is littered with spoken words, in Spanish, which sounded to me like I'd walked into a porn film in a sleazy cinema in downtown Santiago - replete with female groaning. Je t'aime moi non plus anyone? Fortunately one is able to filter this out as the track explodes into soaring keyboard/guitar heaven and all is forgiven.
From here on in however, the band don't put a foot wrong.
'Revolution Of Light' follows with its IQ-like prog/pop sound, then things start to get seriously good. A triptych of tracks: 'Summer Fall', 'The Maiden' and 'Smile Of Tears' carry the album forward to a rather beautiful place - with plaintive piano, picked acoustics and soaring vocals to the fore, occasionally backed up with muscular keyboards and electric guitars - but never so strong as to ruin the ambience.
Things come to a fitting conclusion with the fifteen minute epic 'Hawaii', a melancholic look forward to the year 2300 and man's final acts on planet Earth - a track so mournful yet, at the same time, so uplifting. Enough to bring tears to a glass eye and a fabulous way to finish.
Apparently the band are in the process of putting together their third album - if it comes out any better than this it will be of real significance and deservedly thrust them towards the prominence they richly deserve.
Outstanding.
*****
Review by Alan Jones
Alan sequences "The Eclectic Mix" on the third Sunday of every month on Get Ready to ROCK! Radio, and usually manages to include some prog.
---
| | |
| --- | --- |
| | Print this page in printer-friendly format |
| | |