24 PESOS When The Ship Goes Down Ourgate Records OPG0012 (2012)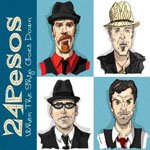 Despite its gloomy title 'When The Ship Goes Down' is a towering work of American roots music full of bristling swagger, well crafted songs and exhilarating playing.
24 Pesos hail from South London but they have the feel, the drive, the chops, the songs and the unrelenting energy to kick open the blues barn door.
'When The Ship Goes Down' is the kind of album many aspire to, but all too few are capable of making. There's a great crossover appeal from a down home rootsy base that stretches to a broad based bluesy feel, and visits some of the dirtiest funk outside of New Orleans, all topped by 4 part harmonies that slip from up in the mix choruses to slick backing vocals.
This is a band who in their own words are; 'down by the roadside playing my blues 'til midnight, ain't never stumbled, and I ain't going to fall, gonna jump that southbound train, bang on the devils door' ('Melon Man'). The mesmerising mix of low down dobro, concentrated slide guitar, effortless rhythm parts and sweeping Hammond organ lines fill each track with an Americana influence to match Julian Burdock's road tested narratives.
And in Julian Burdock the band also have a confident booming vocalist who intuitively knows how to phrase - he even adds some exclamatory guttural grunts on the historical blues imagery of 'Leadbelly' - he knows when to drop down, when to accent a vocal and when to shift his timbre at the drop of a hat.
He's equally good on several fleeting harp bursts, evoking the busy playing style of Blues Traveller's John Popper on 'Leadbelly'. And he's in good company, with a band that is powered by the stellar funky rhythm section of Silas Maitland on bass and Mike Connolly on drums, while Moz Gamble's frequent ascending Hammond lines gives songs like the big production 'Peace In The Valley' real presence and a powerful sonic quality.
Not since Nu Blues has a Brit blues band recorded something as relevant, edgy and exciting as this record. Much credit must go to Silas Maitland for his excellent production work through which he captures the band's essential vitality while highlighting the intricate playing, the burning slide solos, the unrelenting brooding grooves and the snaking ebbs and flows of a free flowing album.
The songs are packed with little tension building moments that explore the staccato funky lines of 'Mean Hearted Woman' and the perfunctory shift from slide led blues to Be Bop in the blink of an eye on 'Walk Away'.
But then again this is an album that is the beautiful sum of its considerable parts as evidenced by the outstanding repeated hook on the restless funk of the afore mentioned 'Leadbelly'. Then there's also the pristine harmonies and Lowell George influenced slide guitar on 'Aint Gonna Beg No More' and the heavy duty funk of 'Did Your Daddy Wrong' with its accompanying caustic lyrical refrain; 'Said you loved no other, then you took another lover, Did your daddy wrong'
Best of all is the title track which is full of sonic splendour with a beautifully nuanced slide, a processed voice, and an aching defining bass line that underpins the track like thick treacle. And having glued it all together as a lilting groove the band heads towards a repeated rhythmic chorus as effective as a chain gang in the Mississippi midday sun.
This is a track that offers the band potential radio plays and an audience well beyond the usual 12 bar blues horizons, while the following instructively titled 'Everyone's Got The Blues' is the kind of track that the Arc Angels or indeed Storyville might have cut. Julian adds some thrilling guitar work and a mid-number blues rap that concludes with the line; 'whatever kind of trip you're on, everyone's got the blues'.
24 Pesos continually push the boundaries to populate their album with essential grooves, killer solos, catchy hooks and an attitude backed by undoubted talent. They are reversing blues history, for where the British blues invasion has recently been recycled, rebottled and sold back to Europe, 24 Pesos have taken the blues as a starting point and added their own gumbo on an album that leaps from the tracks.
They are undoubtedly influenced by Little Feat and work their way from Mississippi through to Texas, via low down N'Orleans funk and ultimately broaden their parameters to embrace Americana roots music and arguably offer the latter day Brit equivalent to Los Lobos's 'Tin Can Trust' era.
24 Pesos have cut an essential album full of integrity, originality, power, poise and even elegance. It's a slice of intense contemporary blues of the highest order and you should seek it out.
*****
Review by Pete Feenstra
---
| | |
| --- | --- |
| | Print this page in printer-friendly format |
| | |