Just witnessed your best live gig?.. send us a review!
Z ROCK
Robin 2, Bilston 5-6 May 2012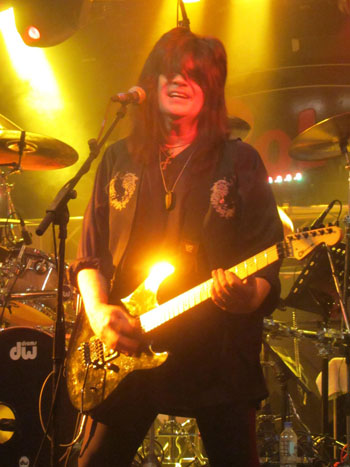 Having been going since 1999 Z Rock is actually the longest running melodic rock festival in Europe. But since the healthy festivals of the early days, it has been plagued by artist disputes that have spilled over into internet forums, shifting line ups and increasingly poor attendance.
With the first UK shows from two acts who garnered a lot of coverage in the 80's - Prophet and Paul Sabu - and a very suitable new home in the well appointed Robin 2 in the Black Country, I hoped that this year might start to revive the festival's fortunes, but the event was notable for a turnout that at no point in the weekend could be measured in three figures rather than two.
Day 1 - 5 May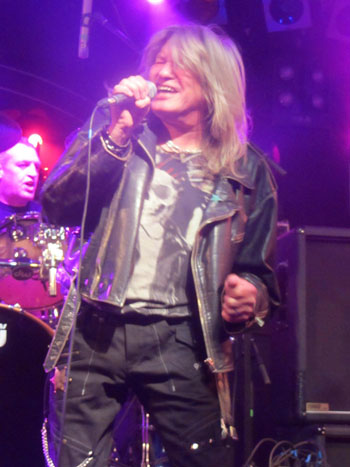 Stampede opened proceedings and I was already disappointed that guitarist Lawrence Archer was no longer part of the line-up, while to add to their woes their rhythm guitarist had been involved in a motorcycle accident so new guitarist Rob Woolverson had to combine rhythm and lead duties.
Mixing material from their original days in their early 80's with those from the comeback 'Sudden Impulse' CD, there was a workmanlike and slightly dated feel to many of the numbers, but singer Reuben Archer, who at 68 embodies the spirit of rock n roll and refusing to grow old, plugged away gamely, even getting the sparse crowd to sing along to Send Me Down an Angel.
The Aerosmith-like 'Having Fun', 'Missing You', with some pleasingly fluent lead guitar work, and the excellent title track from 1983's 'Hurricane Town' were all highlights of what ultimately turned out to be a well-received set.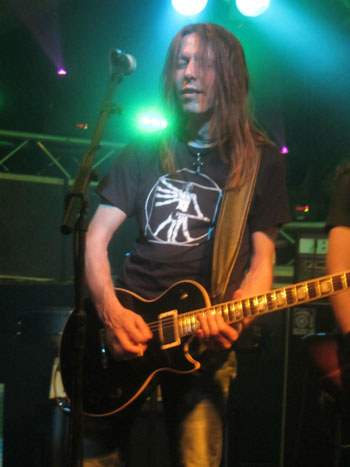 With Redrum shifted to the following day after a crucial keyboard failed to arrive, Shakra were next up on their debut UK appearance. I was looking forward to seeing the Swiss rockers, who have been likened to fellow countrymen Gotthard, but with the odd exception, such as 'Now or Never' and set closer 'Rising High', a succession of unmemorable songs, with no variation in tempo, left me unmoved.
Singer John Prakesh had a fine set of pipes, capable of hitting the high notes and reminding me at times of Jeff Scott Soto, but their riffery was more metallic than I expected and, combined with a rather dull stage presence, they left me disappointed, although there were some who really enjoyed their set.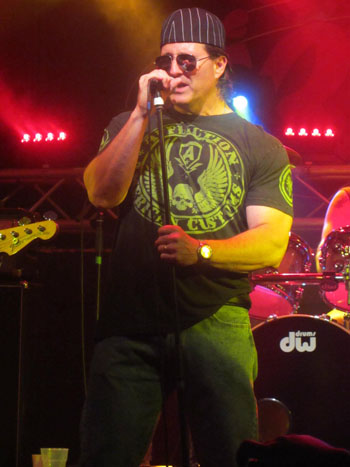 Legion, one of the few bands still releasing new material on the Z label, had failed to impress me last year and this was no exception. Singer Phil Vincent looked only marginally less stiff on stage while the hard working Vince O'Regan's shredding seemed to take the songs off at a tangent. Though Trouble was a decent song they failed to win me over second time around.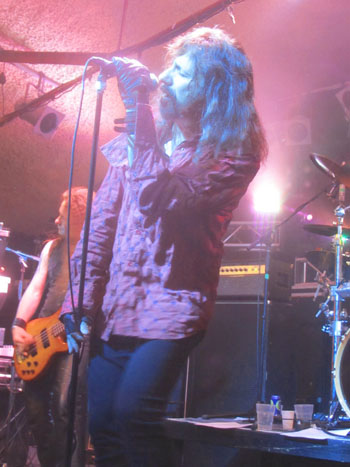 Vince and other band members then did a double shift, backing American singer John Blaze in Arabia, who had been the surprise package of last year's Z Rock.
The New Yorker is an extrovert performer and from the moment they opened with perhaps their strongest number 'The Heart is a Lonely Hunter' they were the first act to really grab the crowd by the scruff of the neck.
Excellent ballads '1001 Nights' and 'No Place Like Home', and the title track of their new album 'Welcome to the Freak Show' impressed, but the set reached a high point with the catchy 'Till The Day I Die', reminding me of cult AOR band Aviator's Frontline, and 'So Tired', which would not have been out of place on either of the most recent Whitesnake albums.
However, not helped by a bizarre costume change with John returning in overcoat and beret, the set did however lose a bit of its early momentum before closing with covers of 'Brother Louie', which they seemed unsuited to, and Aerosmith's 'Walking the Dog', which hit the sweet spot.
For me and many others, the first ever UK appearance of the recently reformed Prophet was the festival's must see. The New Jersey-ites are the missing link in a trail of pomp rock that stretches from Kansas to Shotgun Symphony with a trio of releases, of which 1988's 'Cycle of the Moon' is a stone cold classic.
The diminutive, dapper gentlemen at the signing stall were unrecognisable from the big haired figures on the video I had dug up from YouTube in the week.
However from the moment they came on stage to 'Restless Hunger', their musical polish was outstanding, despite this only being their second show since reforming.
The massive choruses of 'Can't Hide Love' and the dynamic title track were early picks from 'Cycle of the Moon': lead singer (and James May lookalike) Russ Arcara was note perfect other than wisely not attempting some of his high pitched yelps of old, while Ken Dubman was a slick guitarist, his solo on Piece of Mind showing his skills to particular effect.
He and bassist Scott Metaxas took up stools and broke out the acoustic guitars with the latter also singing 'Tomorrow Never Comes', which provided a welcome change of pace before 'Street Secrets' rocked harder than on their debut album and 'Power Play', with some great keyboard guitar interplay also impressed, while songs like 'Asylum' and 'Frontline' took on a fresh dimension in the live environment.
Their should have been hit 'Sound of A Breaking Heart' demanded that the AOR poses came out before 'Redline Rider' ended the set on a more fast and furious note.
Their musical chops were amply demonstrated both by the instrumental 'Hyperspace', and an encore cover of Rush's 'Red Barchetta' and Prophet had exceeded any realistic expectations. Hopefully this will whet their appetite for a return to the UK to bigger crowds such as at a future Firefest.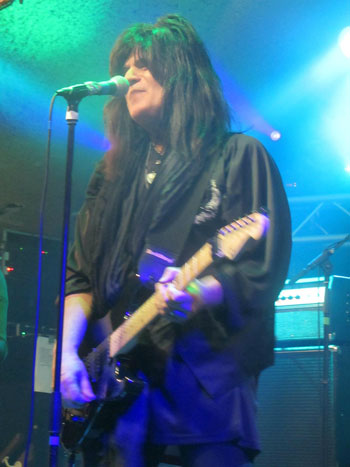 Paul Sabu is another cult figure from the eighties with legendary status among the cognoscenti. Lest we forget, his 1988 'Only Child' album was awarded an 'L' by Kerrang as they deemed their usual 5k ranking insufficient.
Making his UK debut, to the best of my knowledge, he was introduced as the king of AOR, but as one friend said to me, AOR requires keyboards. Instead, they and sundry other vocal and instrumental effects were all on a laptop, which stubbornly refused to load in time with the rest of his Anglo-Scandinavian band , with the result that the effect of opening with his 1985 classic Angeline was lost as they tried and failed to start several times.
For a while the set settled down and, though Paul - bizarrely dressed in what seemed like a pair of leggings- was now a little fuller of face and rather rougher of voice than of old, selections from 'Only Child like Just Ask', 'I Wanna Touch' and 'I Believe in You' brought memories flooding back. They were interspersed with new material from his 'Bangkok Rules' album, which paled in comparison, being less melodic with the bass too loud, or in the case of 'Back the Jacks', almost with an industrial feel.
However technical gremlins soon got the better of him, and a tired audience endured with great patience the ridiculous scenario where between every song the band spent several minutes tuning up and ensuring they were in sync with the laptop.
This was not helped by some utterly incomprehensible between song 'banter' from the man himself, which increasingly people ignored and chatted over. The logical solution was to admit defeat but they ploughed on and I sat through some rather boring new songs, waiting for the classic title track from 1985's 'Heartbreak' to bring a train wreck of a set to a merciful end.
Day 2 - 6 May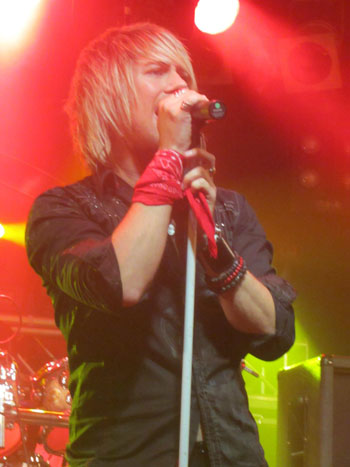 A gathering even sparser than the first day had an obvious talking point after the farce of the previous evening. However spirits were lifted by young Southampton based Summers, who belied their relative inexperience with a lively and assured performance. Inspired by the great bands of the eighties scene, but allied to a youthful freshness and a more contemporary image, they were highly listenable with instant hooks and clean solos from the two lead guitarists.
Their material was admittedly a tad clichéd, but hopefully they will develop their own style and the likes of 'Superhero', with a great pop rock hook, 'Shot in the Dark' and the Def Leppard style backing vocals of 'Sometimes' were particular highlights, while 'Let's Go Round' was a Poison for the new millennium.
It is heartening to see that the UK can produce bands like this to rank with the new breed of melodic rock - Reckless Love, Heat, Houston et al - coming out of Scandinavia.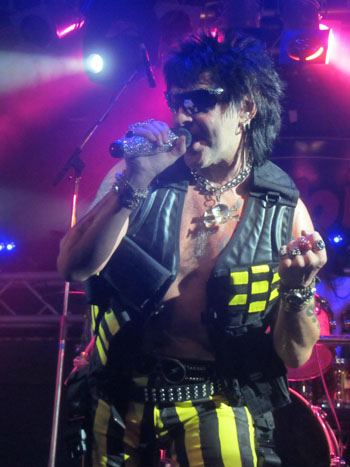 Wildside Riot, fronted by long forgotten former Wrathchild frontman Rocky Shades, were possibly out of place on the bill and yet I really enjoyed a thoroughly listenable set, not to mention being greatly entertained by Rocky: more specifically his Lenny Peters specs, and yellow and black strides which were straight from the mid eighties, which offset the stripy t-shirt of excellent young guitarist Joss Riot.
Their eponymous track kicked things off in lively style and 'That's What Sunday Mornings Were Made For' and the semi ballad 'My Paradise' were fine songs, while the Wrathchild oldie 'Trash Queen' brought back memories of when their sleazy glam sadly arrived on the scene a couple of years too early before their style broke into the mainstream.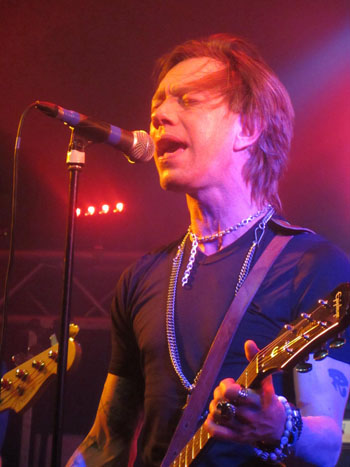 Hush were another band for whom I had low expectations having been disappointed by their appearances at the Gods many years ago. But in the intervening years the Norwegians seemed to have greatly brushed up their stage act and were responded to with enthusiasm as they played a selection from all 3 albums.
The anthemic 'Believe' got things off to a good start, and semi ballads 'Heaven Aint That Far Away', reminding me of Nelson's 'After the Rain', and 'Till We Become the Sun' impressed me, as did the keyboard heavy 'Talk To Me' and Bon Jovi inspired 'Restless Nights'.
Singer Patrick Simonsen, who bears a passing resemblance to Thom Yorke, has a rough-edged voice which either gives their sound a fresh dimension or detracts from the melodicity (is that a word?) of their music, depending on your point of view.
To many people's surprise, Paul Sabu was back and the compere announced he would be atoning for his self confessed foul up (expletive deleted) with a greatest hits set. Well, up to a point. Though he opened with a song not played the previous night, the WASP-covered 'Scream Until You Like It', with several of the vocal lines missing, the set was almost an identical mix of old and new to the night before, but in a different order.
I did enjoy new song 'Rocked and Loaded', but found myself even more aware of the pre-recorded parts while Paul's live vocals sounded off key in places and at other times had the harsh tones of a Gene Simmons.
Eventually the set descended into the same lengthy between song gaps, which, with proceedings running nearly 2 hours late as a result of lengthy changeovers, were as welcome as a tray of bacon butties at a Barmitzvah.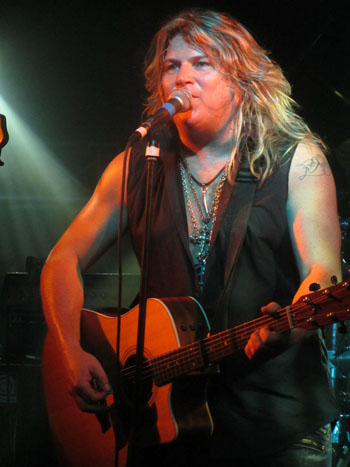 Some time was saved by Michael Bormann agreeing to appear simultaneously with his band Redrum and segue into a solo set originally planned as the headline. The former Jaded Heart singer may have put on some pounds over the years, but was a consummate professional and showman with his strong vocals delivered with barely a trace of an accent.
Redrum were highly entertaining, pulling metal poses, and were perhaps the rockiest band of the day but in the likes of 'Ready For The Big Ones' and 'Judgement Day' also had the tunes to impress.
One of the best heavy numbers, 'Come Take Me Higher', saw them double up with the new personnel who then joined Michael for a solo set, mixing solo material with Jaded Heart favourites like 'Inside Out', 'The Dream Is Over', and his vocal tour de force of the Beatles' 'Help'.
This set was perhaps slightly less cohesive than Redrum's, but still enjoyable and Michael showed what a showman he is by taking the drum kit for an encore of Jaded Heart's anti war epic 'Live And Let Die'.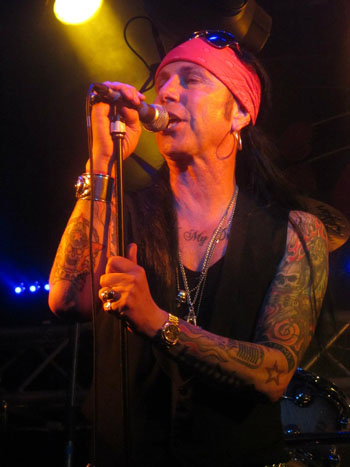 With time ticking on sleazy looking Swedish rockers Bai Bang had to make do with a 40 minute set, and also had their second guitarist unexpectedly having to fill in on drums.
However I was impressed with their stage craft and the humble attitude of singer Diddi Kastenholt, and their music, though basic, had good choruses, notably on the party anthems 'Come On' and 'Big Time Party'. However it was the more mid pocket Die for You and Diddi's ballad tribute to his late brother, 'Only The Best Die Young' that had more depth to them. They would be welcome additions to a variety of melodic or glam bills on this evidence.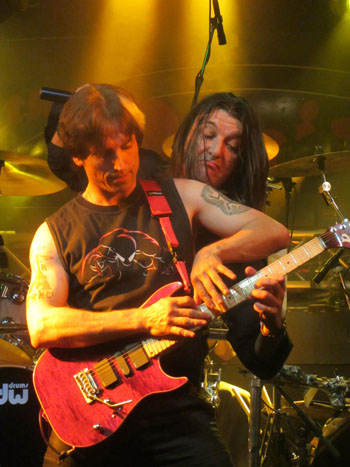 Having played the last two Firefests, Newman now have the big game experience to rise above the disappointment of having to wait until 11 o'clock to take the stage before a small and diehard crowd and you would not have known it from the energy with which Steve Newman approached his task.
The set spanned what has become a lengthy career, from the classic Brit AOR of 'If It's Love' from his 1997 debut, with a great solo from rapid fire guitarist Shaun Bessant; to an excellent early double from 2000's 'Dance In The Fire', 'Every Moment' and 'Pray For The Day'; to the lush balladry of 'Stay With Me' and 'Coming Home Tonight', with a huge anthemic sound to it.
The newer material such as 'Heaven Knows' and 'Primitive Soul' seem to have more space in their grooves, and not only the band but Steve's live singing voice seems to have come on in leaps and bounds over the past two or three years.
He seemed to appreciate the efforts of those who stayed at the front to sing along as a sadly truncated set still found room to end with 'One Step Close', which has become their signature song. I would love to witness more live shows in better circumstances from a dramatically improved outfit.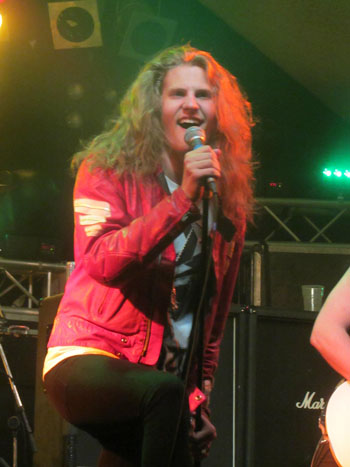 Sadly it was half past midnight when notional headliners Dynazty took the stage, and a curfew cut their set to a little over half an hour which seemed unfair on them.
The lean, long-haired young Swedes seem to have been building something of a name for themselves, and their sound was tight and aggressive, topped by soaring vocals from Nils Molin, with songs like 'Lights Out In Candyland' hitting you between the eyes.
They rather rushed their climax with the raw but catchy' Land of Broken Dreams' and 'Bring the Thunder', but had shown enough to demonstrate their time will come in more promising circumstances.
Z Rock 2012 may not be remembered happily, and yet Prophet's performance and a series of pleasantly surprising displays on the Sunday showed that both classic and current melodic rock is in a healthy state given the right opportunities.


Review and photos by Andy Nathan
You can use the direction keys on your keyboard to navigate easily through the photo gallery
---