Just witnessed your best live gig?.. send us a review!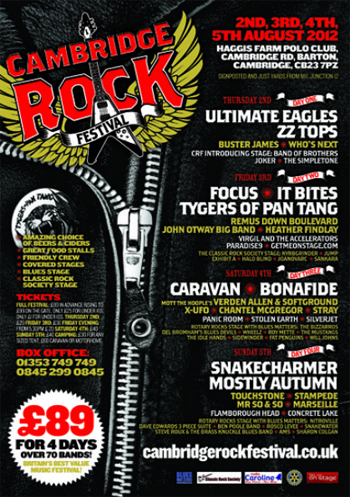 CAMBRIDGE ROCK FESTIVAL
Barton, Cambridgeshire 2-5 August 2012
Photos by Noel Buckley and Bob Singleton
Review by Bob Singleton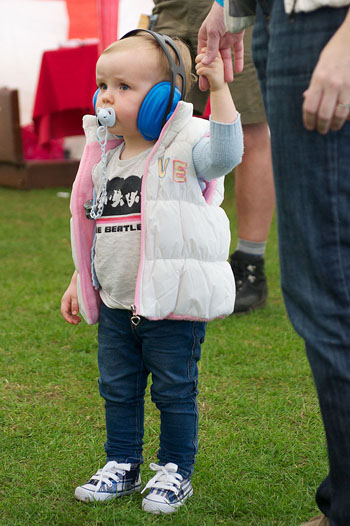 Photo: Bob Singleton for GRTR!
This was my first visit to the Cambridge Rock Festival. Unfortunately due to other commitments I missed the Thursday, but arrived in time to catch the second band on the main stage on Friday, and from there on in caught pretty much every act on the two main stages.

My first impressions upon arrival was "what a compact event"... smaller even than the Acoustic Festival of Britain held at Uttoxeter racecourse, which, for someone with a dodgy knee, was a godsend!
The three stages were all on one side of the site, pretty much in line, while the opposite side of the site was taken up by various eateries which far outnumbered the tents selling clothes, hats and trinkets. Tucked away around the corner from the main stage were a few stalls selling vinyl LPs... always a sign of a proper music event!

The main stage on the first day was home to a mix of classic rock, hard rock and prog rock bands, interspersed by the mad and the bad whilst the second stage that day was sponsored by The Classic Rock Society.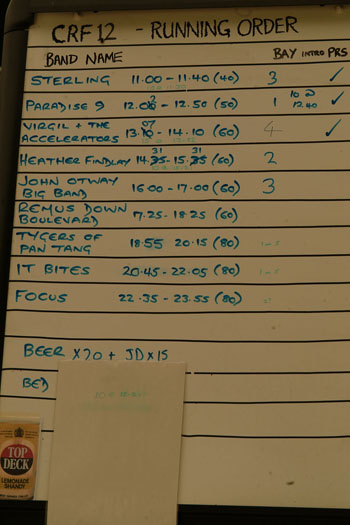 Photo: Noel Buckley for GRTR!
FRIDAY 3 AUGUST
On the second stage both Soulweaver and Winter In Eden deserve special mentions for their sets; indeed for me Winter in Eden eclipsed Kyrbgrinder who came on after them to headline the Classic Rock Society stage (by the way, was that a band member's son who joined them on stage for their encore... I swear I thought I saw a six year old at the mic!).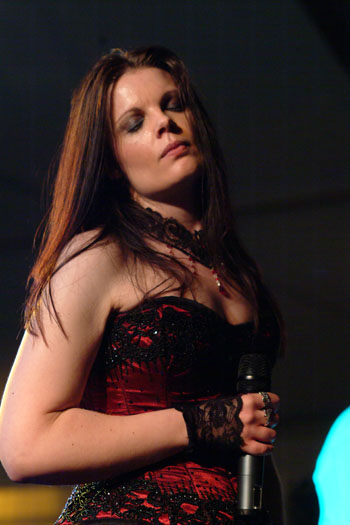 Photo: Noel Buckley for GRTR!
Playing many songs from their recently released second album "Echoes of Betrayal" Winter in Eden's mix of symphonic rock and metal meant the tent was full to capacity and the overspill outside made it difficult for me to even get close enough to shoot any decent photos. Earlier in the day Twelve Clay Feet had offered us some good, thumping, heavy rock with a few psychedelic overtones.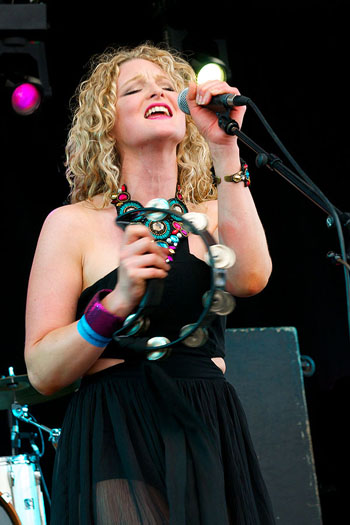 Photo: Bob Singleton for GRTR!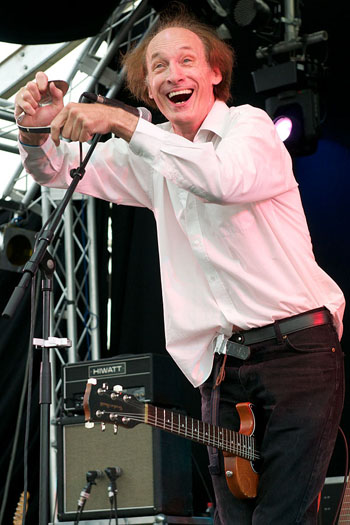 Photo: Bob Singleton for GRTR!
Highlights from the main stage were a mid afternoon set, comprising most of The Phoenix Suite along with Songs From The Old Kitchen, from Heather Findlay, a typically manic and mad performance from John Otway (which included several forward rolls whilst playing his guitar and, naturally, being pelted by flowers during Beware of the Flowers), and a stunning set from It Bites.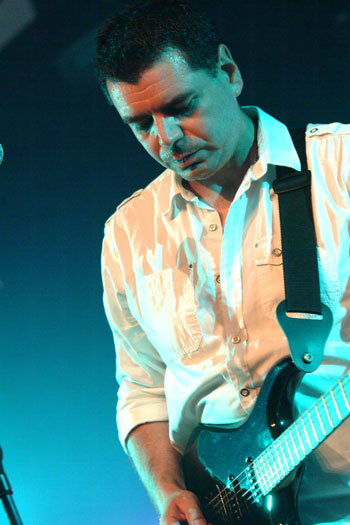 Photo: Noel Buckley for GRTR!
Earlier in the day Virgil and The Accelerators showed why they are hotly tipped by some as "the next big thing" with a set full of raw blues-rock power, which came as a welcome relief after the frankly dire Paradise 9.
Mid evening had seen so-so sets from Remus Down Boulevard and the Tygers Of Pan Tang, who seemed to be more of a pastiche of their former selves.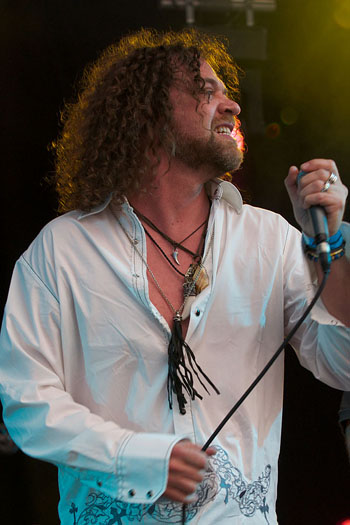 Photo: Bob Singleton for GRTR!
The grand finale on the main stage was provided by Focus whose set included House of the King, Harem Scarem, Bennie Helder, Sylvia and finished off in style with a long and well received version of Hocus Pocus.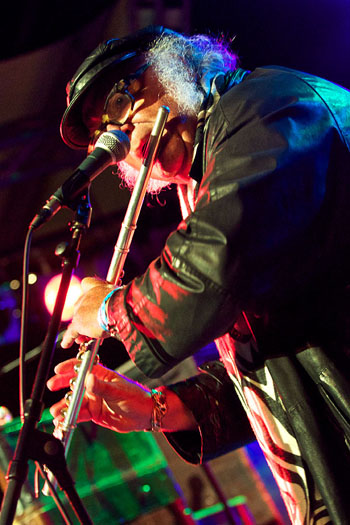 Photo: Bob Singleton for GRTR!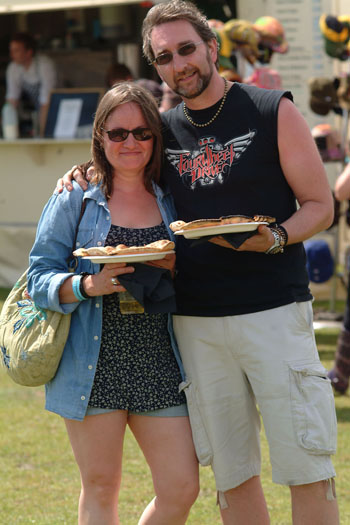 Photo: Noel Buckley for GRTR!
SATURDAY 4 AUGUST
Saturday started with rain, and grey skies and dampness dominated throughout with the sun barely coming out from behind the clouds for any great length of time. While the weather was gloomy, the main and second stages had line-ups that seemed designed to uplift the soul.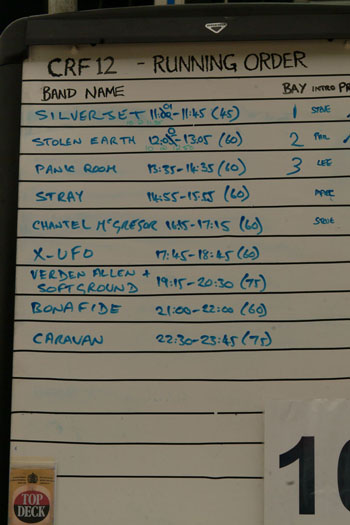 Photo: Noel Buckley for GRTR!
The main stage kicked off at 11.00am with Silverjet who played some grimy, swaggering rock'n'roll which helped to wake up the few bleary-eyed festival goers wandering around the site at such an early hour.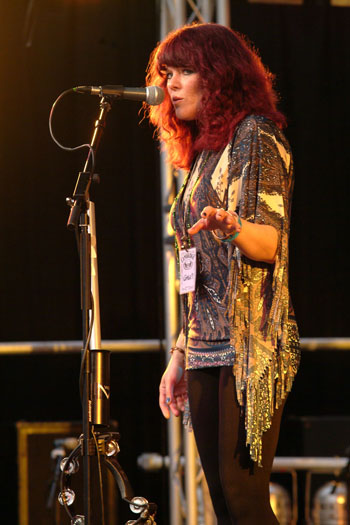 Photo: Noel Buckley for GRTR!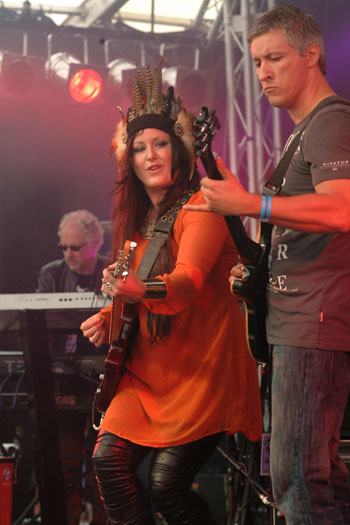 Photo: Noel Buckley for GRTR!
They were followed by Stolen Earth, fronted by former Mostly Autumn vocalist Heidi Widdop, who delivered a powerful and richly textured set of atmospheric rock.
Keeping the Mostly Autumn link going, Panic Room, fronted by current MA vocalist Anne-Marie Helder, soon followed on stage, delivering a powerful and passionate performance.
The clock was then turned back so as to welcome Stray, a band who, while never having really gone away, were hardly chart-topping material to start with.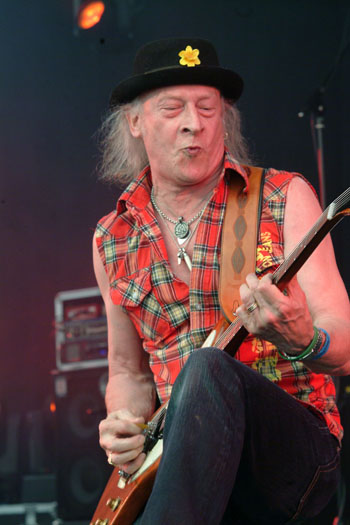 Photo: Noel Buckley for GRTR!
A decent enough pub band in the seventies, who clung on to the coat-tails of bigger acts to tour Europe and the States as support, their set reminded me why they'd never actually charted... there were simply far better acts out there back then, and nothing has changed in the intervening years.
Whilst generally enjoyable to listen to, there was nothing special in the songs or performance, but my colleague Noel Buckley (who roadied for them many years ago) would no doubt disagree. According to Noel, a song they hadn't played for years, Pretty Things, made the set list.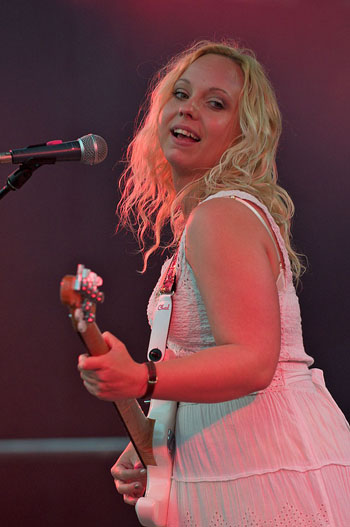 Photo: Bob Singleton for GRTR!
The clock was then turned back to the present as Chantel McGregor took to the stage. What can one say about Chantel that hasn't already been said?
Would I be covering old ground by saying that she combines the voice of Stevie Nicks with the guitar playing of a fusion of Hendrix, Trout, Bonamassa and Kotzen? I would? Oh well, sorry, but sometimes you can only regurgitate what you and others have been saying over and over again because, albeit in such a short time, it's all been said before.
Highlight of the set for me was the rocky Free Falling. If only Simon Cowell could have been in the crowd to see what real music is all about. Even the covers were done with passion, warmth and soul, unlike that farcical karaoke competition on the telly.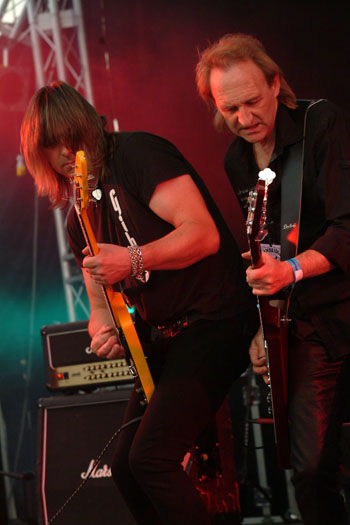 Photo: Noel Buckley for GRTR!
There then followed sets from X-UFO and Verden Allen. Playing a collection of old hits, such as Doctor Doctor and Lights Out, along with new songs such as Busted, X-UFO kept a damp crowd rocking, whilst later Verden Allen brought a few nostalgic tears to the cheeks of some with a few Mott the Hoople songs interspersed with more recent material.
While his keyboard playing is as good as it ever was, I felt that perhaps his voice was now on the wane, and some of the songs weren't delivered as powerfully as they might have been.

Photo: Noel Buckley for GRTR!
Following on were Swedish heavy rockers Bonafide, who have supported bands such as Deep Purple, Status Quo and Europe at various Scandinavian festivals.
The set consisted of new and old, with songs from the forthcoming album along with past favourites, culminating with Fill Your Head with Rock, for which they were eventually joined on stage by Silverjet who are touring with them, road crew and I think an X-UFO member.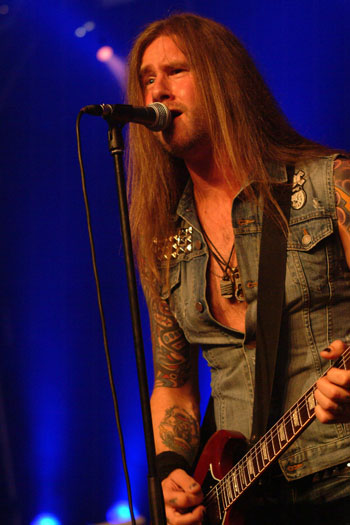 Photo: Noel Buckley for GRTR!
Headlining on the Saturday were original Canterbury scene prog rockers Caravan. Featuring founding members Pye Hastings and Richard Coughlan, and long time member Geoff Richardson they took us on a journey through their back catalogue, especially, given it's up-coming 40th anniversary, songs from For Girls Who Grow Plump in the Night.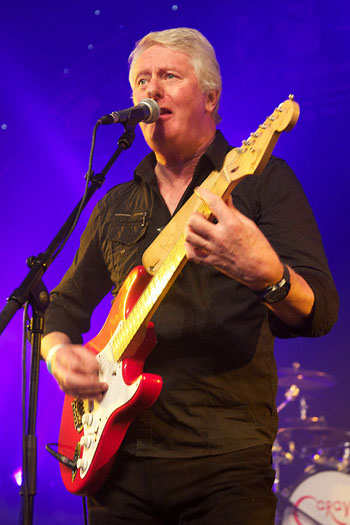 Photo: Bob Singleton for GRTR!
I was never a great fan of Caravan, back in the day, preferring to listen to Man and Nektar, but on this showing, maybe it's time for me to properly sit down and listen again, with older and wiser ears. Certainly the large crowd gathered in the main tent loved every minute of their set.
SECOND STAGE

The second stage on Saturday was sponsored by Rotary International (no not the watches... the charitable organisation) who presented a whole raft of blues, rhythm & blues, and blues rock acts.
Highlights included The Fat Penguins, Sidewinder, The Mustangs, Del Bromham's Blues Devils (a far more enjoyable set than his earlier Stray set on the main stage) and Mick Ralph's Blues Band.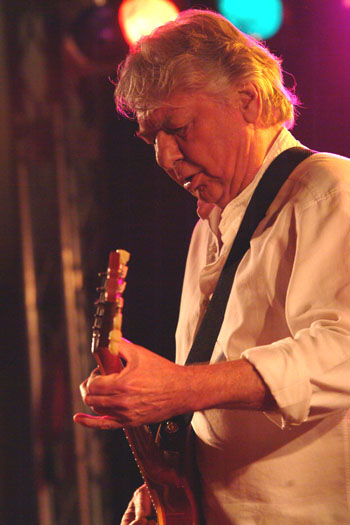 Photo: Noel Buckley for GRTR!
While the big names were on the main stage, the most consistently enjoyable music on Saturday was to be found on this second stage.
While the main stage had it's ups and downs, this second stage never failed to deliver good music, raw power, energy and soulful blues and rock.
Often there were more people to be found squeezed into this smaller tent than around the main stage... testament to the quality of music being played here.
With the rather damp weather it could be argued that some were seeking shelter, but even when the sun shone, the numbers in and around this second tent just kept increasing. I also managed to catch the very enjoyable sets of Tracie Hunter and Adrian Nation in the acoustic tent next door.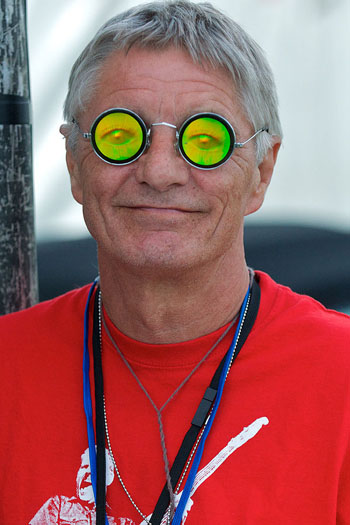 Photo: Bob Singleton for GRTR!
SUNDAY 5 AUGUST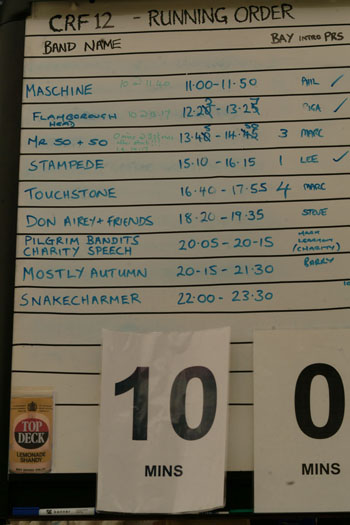 Photo: Noel Buckley for GRTR!
Sunday was another damp and grey day, but on the main stage Brighton prog rockers Maschine (formerly Concrete Lake) lived up to their best new band accolades from both the Classic Rock Society and the readers of Classic Rock Presents Prog.
They were followed by melodic prog band Flamborough Head before the now slightly bluesier, darker prog of Mr So & So turned things up a notch or two after lunch.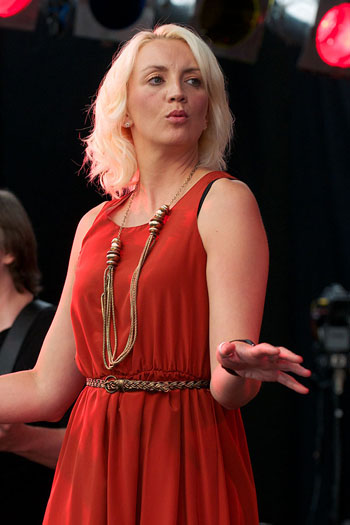 Photo: Bob Singleton for GRTR!
Then came some good, old fashioned heavy melodic rock in the form of Stampede.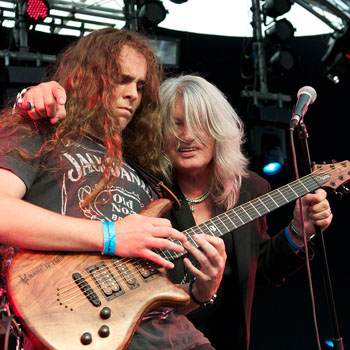 Photo: Bob Singleton for GRTR!
Of all the early 80s NWOBHM bands, it pains me that Stampede never achieved as much commercial success as the likes of Saxon, Iron Maiden and Def Leppard... maybe they were just too melodic and not quite heavy enough for those dark days of Thatcherism.
Following them on stage were one of my current favourite bands, Touchstone. I've yet to see them put in a below par performance, and Sunday's was a typical performance; lots of joking interplay between vocalist Kim Seviour and founder Rob Cottingham between songs but a tightness when playing, without ever losing a sense of fun and enjoyment.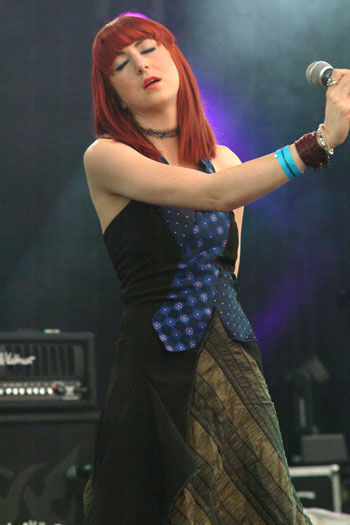 Photo: Noel Buckley for GRTR!
Watch them play and you'll see smiles all around and little nods and winks amongst the band members. This is a band who musically are at the top of their game. The set, which included Curious Angel and When Shadows Fall ended on the now obligatory Touchstone version of Mad World.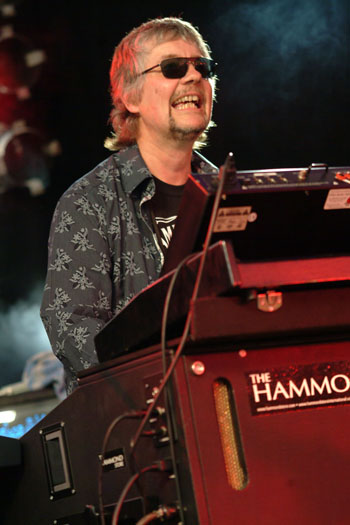 Photo: Noel Buckley for GRTR!
The next act on stage really needed no introduction, but he got one anyway, which was quickly followed by a huge cheer. A musical CV that includes the likes of Rainbow, Ozzy Osborne, Judas Priest, his own solo projects, and since 2002 Deep Purple, Don Airey has a vast array of songs in his back catalogue from which to chose from to play.
The set list included People in Your Head, Shooting Star, Lost in Hollywood and All Night Long, with the highlights being a superb rendition of Child in Time and as an encore a morphing of Gimme Some Lovin with Dazed and Confused. Joining him on stage were Jamiroquai's Rob Harris on guitar, Carl Sentance (Persian Risk, Krokus) on vocals, Alex Meadows (Electrasy, Tom Jones) on bass and Tim Brown (Kee Marcello, Aynsley Lister) on drums.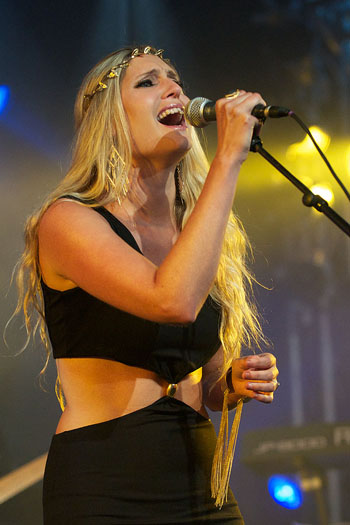 Photo: Bob Singleton for GRTR!
The penultimate set on the main stage was provided by Mostly Autumn, a band who have seen many changes in personnel over the years. Indeed at times over the course of the weekend it seemed there were more current and former members playing in other bands than actually with Mostly Autumn!
The set kicked off with the instrumental Distant Train which segued into Answer the Question, which saw the appearance of Olivia Sparnenn, who has taken over the lead vocals slot since Heather Findlay left a little over a year ago.
Although fairly new to the job, she exuded confidence, and her pure, ethereal voice was a perfect match for the music going around her. Highlights of the set included Evergreen, Deep in Borrowdale and Heroes Never Die.
SECOND STAGE
I'll leave the headline for a little later to give an overview of what had been going on on the second stage, again sponsored by Rotary International and with a strong blues based flavour.
---
Check out our photo galleries for photos of most of the listed performers

---
First up on stage at 11.00 (and because of the early hour, sadly a mainly empty tent) were Sonic Blue playing a set consisting mostly of blues standards from the like of John Lee Hooker, Howlin Wolf, Sonny Boy Williamson and Bo Diddley.
I thoroughly enjoyed listening to them and hope they get a better slot next time so that a larger audience may enjoy them too. They were followed by the high energy rockabilly of Blackwebb, who also enthralled this reviewer with great vocals and a tight, hard driving rhythm section.
Standout set of the day, though, came courtesy of Ben Poole, a twenty two year old blues/rock guitarist who will no doubt soon be playing bigger stages. While Chantel McGregor may be the current flavour of the day, and with good reason, she should soon be joined by Ben at the forefront of modern British blues-rock.
After such a brilliant set, Steve Roux & The Brass Knuckle Blues Band almost came as an anti-climax, which is a little unfair, as any other day their infectious style would have a dead man dancing. For those who are fans of the 70s British style of blues rock (think Clapton, Free, Cream and early Led Zep) then Snakewater should be right up your street.
This power trio from Manchester are definitely worth a second look, and if they're gigging in your area I'd recommend you go and see them. For those who like their blues-rock to have a country flavour then you need to see someone like Rosco Levee from the deep south... deep south of England that is, as he's from Kent, not Tennessee or Alabama, but he sure could be.
They played a wonderful set of foot-stomping country rock'n'roll which was much appreciated by a now almost full tent. Genuine American blues did make it's presence felt on the second stage, courtesy of Detroit based Marcus Malone who offered up a mix of deep toned grooves ranging from heavy rock to soulful blues/rock ballads, wrapped up with velvet vocals and a stage presence befitting a man who has played with the likes of BB King and Walter Trout.
Finishing off the second stage were sets from Dave Edwards' 3 Piece Suite and Nitroville, who I mostly missed due to staying to watch the headline act on the main stage.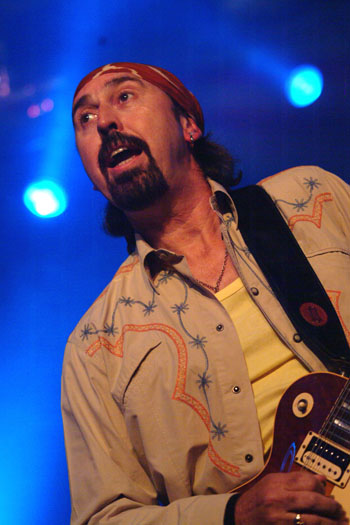 Photo: Noel Buckley for GRTR!
So who was it that could stop me from wandering away to the other stages? The headline for the Sunday on the main stage was a mix of some of the biggest names in British rock from the last 20 or so years; Snakecharmer.
Just look at the pedigree... Micky Moody and Neil Murray were both original members of Whitesnake, Laurie Wisefeld was with Wishbone Ash, vocalist Chris Ousey was in Heartland, Harry James in both Thunder and Magnum and Adam Wakeman (apart from having father Rick's keyboard playing genes) is part of Ozzy Osborne's band and is also kept busy working with a multitude of other artists including, dare I say it, Will Young and Atomic Kitten!
A super group for the 21st century then, or just an over-blown covers band? Obviously a lot of the material would be from the early, blusier, Whitesnake days.
When I attended their initial press conference in London last year, the main reason given for forming the band was to play the early stuff that so many fans still yearned to hear. But with original members from that band, Snakecharmer are definitely NOT a covers band... after all, how do you "cover" songs you were strongly involved in?
They may no longer be under the Whitesnake banner, but for many they are still a major part of the original spirit of Whitesnake. But Whitesnake is not the be-all and end-all of this band. New songs have been penned, and found their place on the set list alongside the expected Here I Go Again and Fool For Your Loving, amongst others.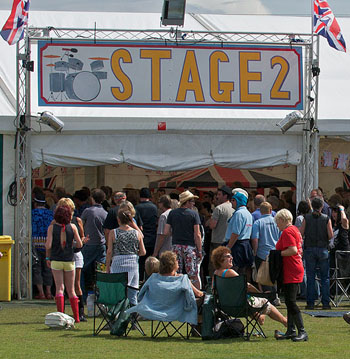 Photo: Bob Singleton for GRTR!
Overall impressions of the festival are that it's a well run, friendly and safe event, welcoming to families (and their dogs, too, unfortunately) with great music to be heard wherever you go.
It's difficult for me to list highlights as I enjoyed listening to pretty much all the bands, though it's fair to say that for sheer consistency of great toe-tapping music, the second stage was THE place to be.
While there were good bands (and some great ones too!) on the main stage, the bands on the second stage, especially on the Saturday and Sunday, rarely failed to deliver.
We all have our favourites among the main acts, so those who, for example, love X-UFO will follow them wherever they can. What I can do, as part of this review, is point out the "lesser" acts you may not have heard of before.
I would strongly urge anyone with a pulse and a love of music to check out, in no particular order of preference, Ben Poole, Virgil & The Accelerators, Winter in Eden, Silverjet, Sidewinder, Maschine, Sonic Blue and Marcus Malone.
As for me, I can't wait to see what the 10th Annual Cambridge Rock Festival has to bring. Finally, a big thank you to all the staff who helped run the event and make it such a pleasant and fun place to be, with a big thumbs up to George Davidson (Stage Manager on the main stage) and his assistant Dave Kitteridge for getting each act out on time... no mean feat!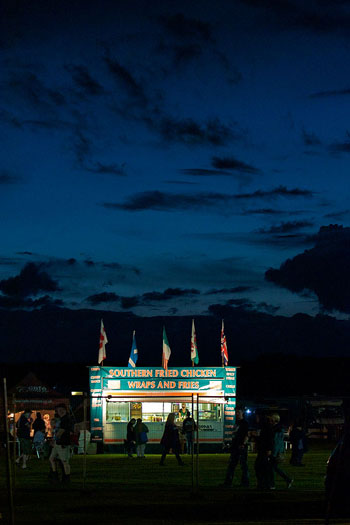 Photo: Bob Singleton for GRTR!
Photos by Noel Buckley and Bob Singleton
Review by Bob Singleton
Photo Gallery by Noel Buckley (Main stage)
Photo Gallery by Bob Singleton (Main stage)
Photo Gallery by Bob Singleton (Other stages)
You can use the direction arrows on your keyboard to easily navigate through the galleries. If using a Windows PC you can also use the mouse wheel to flick from one photo to another.
---