Just witnessed your best live gig?.. send us a review!
ACOUSTIC FESTIVAL OF BRITAIN
Uttoxeter Racecourse, Staffs 25-27 May 2012
Photo Gallery

(You can navigate easily from one photo to another using the direction keys on your keyboard)
Review and photos by Bob Singleton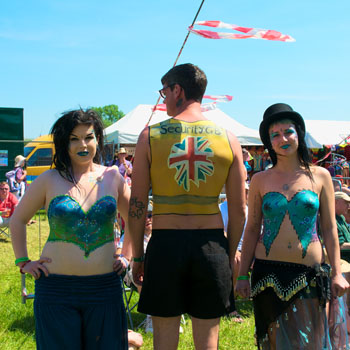 Day 1: Friday 25 May 2012
Described as 'an eclectic programme of unplugged and acoustic music' the festival ranges across the board with folk, bluegrass, roots, Celtic, blues, pop, rock, ska, burlesque and more in evidence.
Nothing of a surprise there, then. What was a surprise, however, was the number of electric guitars and basses being played at an acoustic event, although most were to be found on the main stage.

Now in it's seventh year, and it's third at Uttoxeter Racecourse, the festival has an enviable reputation as one of the friendliest events on the calendar.
It also prides itself as one of the most comfortable for visitors thanks to being able to pitch ones tent next to ones car, and the provision of clean, flushing loos and hot showers.
With the camp site just yards from the main entrance, the beer tent and food stalls made a roaring trade throughout the three days.
This year, in addition to the four stages at the racecourse, the organisers had also arranged a small stage in the town centre in order to bring the festival to the locals in the hope of luring a few of them to the main event itself.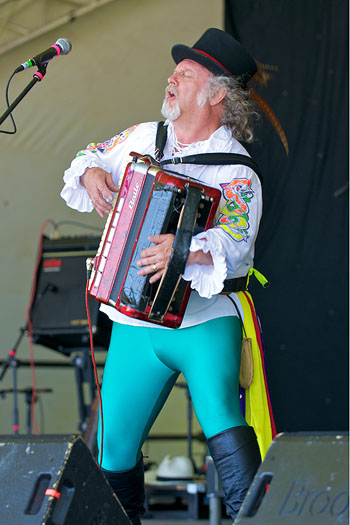 First up on the main stage was Shamus O'Blivion and the Meggadeath Morrismen, playing a set of high tempo reels and jigs all done with a rocky edge and much cheek.
The programme notes say that they're probably the best band you've never heard of, and certainly are the ideal band to kick off such a festival. All are accomplished musicians, who after 10 years of playing together, go from song to song with great ease and enthusiasm.
While many people were wandering around the festival site, getting a feel for where everything was, those who had ventured towards the beer tent were soon dancing to the music coming from the main stage.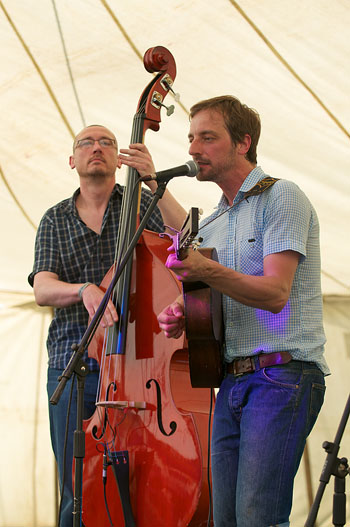 Following them in the nearby Real Ale Tent were Grassoline playing a pleasing mix of Americana/newgrass style of country music. This gave the stage crew time to get ready for the next artist on the main stage, Tracie Hunter.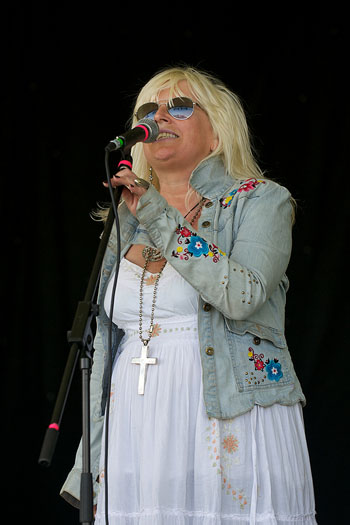 With the recent release of a new (acoustic) album, it was always likely that Tracie Hunter's set would encompass most of the 'new' songs. I say 'new', but included on her latest album, Vasilisa, is the first song she ever wrote, Marylebone, as well as three covers; The Buzzcocks' Ever Fallen in Love..., Hazel O'Connor's Will You? and to finish off the set a moving tribute to her father with her rendition of 3000 Miles From Here.
Also included in this near perfect set were Perfume & Cigarettes, Broken, Liverpool and King of Tides.

Elsewhere on site one could join a didgeridoo worksop, learn the ukulele, play African drums or listen to poetry readings.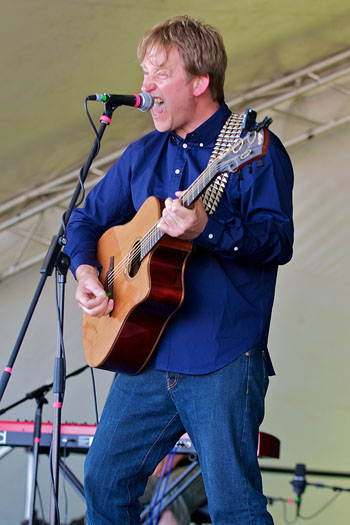 Grassoline had moved on from The Real Ale Tent and could now been found playing in The Dome, whilst on the main stage Swans In Flight had just started their set, which included Push to Play, Love Rescue, Light Surprise and Error of My Ways.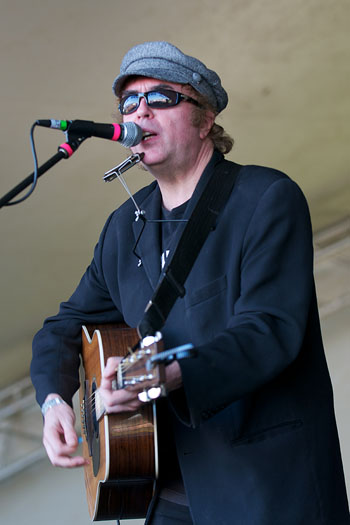 Following the Swans on the main stage was former Icicle Works founder and lead singer Ian McNabb who included Fire Inside my Soul, Little Girl Lost, Liverpool Girl and covers of The Beatles' You've Got to Hide Your Love Away and the Harry Warren/Al Dubin composition I Only Have Eyes for You in his well received set.

I then attempted to search out Patsy Matheson & Becky Mills who were due to duet together in The Festival Eye, but, as was to happen more and more often as the weekend progressed, either they didn't turn up, they were running late, or they got moved to another stage at another hour, only for no-one to be told.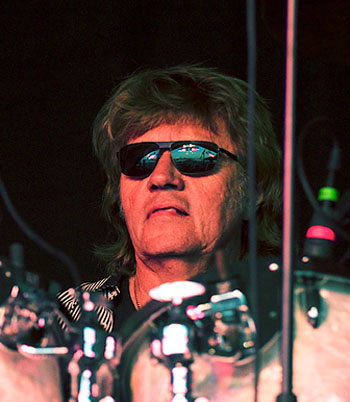 Whatever the problem I wasn't going to waste too much time searching in vain for them when any minute The Move were due to headline the main stage.

Featuring founding members Bev Bevan (drums) and Trevor Burton (guitars), the current incarnation of The Move, which includes Phil Tree on bass, Neil Lockwood on keyboards and Gordon Healer on guitar, has been around since 2007 and has kept busy playing gigs and festivals up and down the country as well as abroad.
Kicking off with two of their best known hits, Flowers in the Rain and Fire Brigade, the set included covers of Go Now, Walking the Dog, Peter Green's I Need Your Love so Bad, I Saw Her Standing There, Ain't No Sunshine and other blues standards they would have played in their formative years before bringing the night to a crashing and fitting climax with California Man and Blackberry Way. All in all a thoroughly enjoyable first day.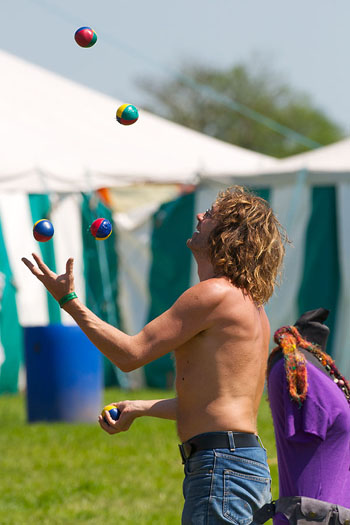 Day 2: Saturday 26 May
Friday had been a hot sunny day with a welcome breeze to help cool us down; Saturday was even hotter and with less of a breeze, shade (by way of any of the tents) was greatly sought after, which possibly explains why 16 year old Polly Money was playing to a heaving Real Ale Tent audience at 11 in the morning!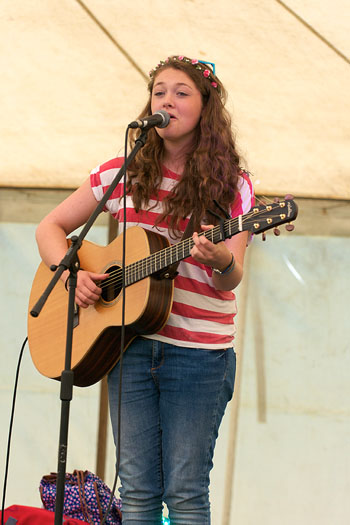 Whilst only 16, Polly wrote her first song at the age of 10 and released her first album in 2010, shortly before having to undergo major surgery to correct a curved spine caused by scoliosis.
Influenced by artists such as Taylor Swift and The Dixie Chicks, Polly kept the crowd entertained for a good half hour. Later that day she was also to be found in The Dome and on the Town Stage...not a bad first introduction to a festival and I'm sure she'll be invited to many more this summer!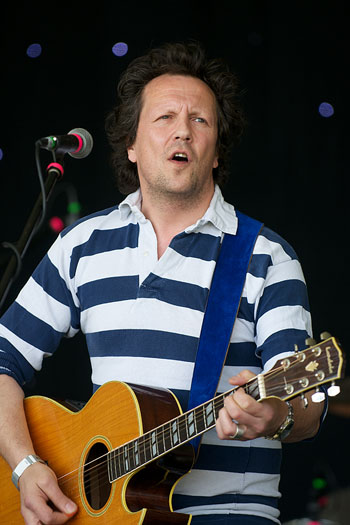 Whilst the Real Ale Tent certainly provided shade, with so many people inside it was actually more like an oven and the irony was that it proved to be actually cooler (and a lot less sticky) outside, in spite of the unrelenting sun beating down, where Seven Little Sisters were preparing to play the main stage.
Playing a blend of bluegrass, Cajun, Irish and punk they soon had a steadily growing crowd dancing and clapping to the music.
Elsewhere around the festival Robin Williamson (of Incredible String Band fame) could be found in The Dome, followed by Adrian Nation, whilst poets and morris dancers were keeping the crowds entertained in the Real Ale Tent.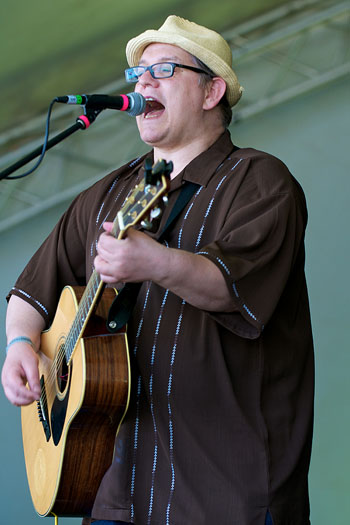 Meanwhile back on the main stage King Hammond (the alter ego of former Bad Manners member Nick Welsh) had the crowds dancing with a ska set that included Mr DJ, Rocking on Ridley Road, Monkey Boots, Rough Rider (a Prince Buster cover) and Kiss my Arse!

There then followed a mid afternoon lull, either by design or accident, where not much seemed to be happening anywhere. Stackridge had originally been due to play the main stage at 4.00pm, but had pulled out several days earlier and both the original and updated programmes showed blanks against all the other stages, yet music could still be heard wafting around the racecourse.
Rumours abounded about so-and-so being moved to a different stage at a different time, and artists were approaching anyone wearing a laminate desperately asking 'I'm xxxxxxxxx, do you know where I'm meant to be?'
That's how I came to see Kraft, a psychiatric nurse, entertaining those in The Dome with a rap set about the problems of mental illness, the woes currently besetting the NHS and the perils of smoking too much dope.

Eventually official announcements from various stage managers (that didn't for once contradict each other) showed that comedy contortionist and escapologist Chris Cross had been bumped up the order on the main stage to later allow Mike Peters to do his set there rather than in the more cramped Real Ale Tent; and what a good decision that proved to be.
With the patter of Ross Noble and an obviously freakishly disjointed body, Chris Cross had everyone both gasping in awe and horror at the way he could dislocate both shoulders to perform various tricks... as he said it himself 'I put myself out for my fans' Utterly compelling. Utterly gross. Utterly awesome.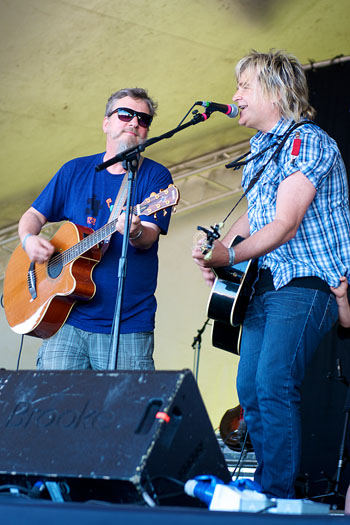 Former Alarm and current Big Country frontman Mike Peters then took the stage to a rousing welcome and proceeded to play a selection of Alarm and Big Country songs, such as Strength, Look Away, In a Big Country, Breathe and Fade In, Fade Out, Fade Away before being joined on stage by Glenn Tilbrook and their various children for the final song of the set.

After Mike Peters I had hoped to catch Pig Earth but with all the changes to the festival schedule I discovered that they had been moved up the order and had played at the same time as Mike.
With so many changes going on I was anxious to ensure that I would still be able to catch certain acts on the lesser stages and was happy to learn that one particular gentleman I wished to see was still in his allotted slot.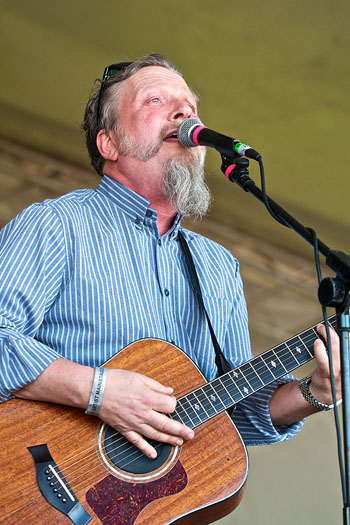 In the meantime, back on the main stage, Glenn Tilbrook regaled everyone with a mix of Squeeze, Fluffers and Co-Operative songs including Take Me I'm Yours, The Next Thing I Knew, Through The Net and Tempted, interspersed with a cover of Peter Green's Oh Well, and Elvis's Dixieland Rock.
Glenn then invited any member of the audience who wanted to come up and join him on stage to play to make themselves known and after a few more songs including Up the Junction, 'Steve' form the audience joined Glenn on stage for a rendition of Goodbye Girl... a memory he'll no doubt treasure, along with the ovation he received from the crowd.
The set ended with Chat Line Larry, Pulling Muscles (From The Shell) and as an encore, after drawing the winning ticket for the Love Hope Strength Foundation raffle, Black Coffee in Bed.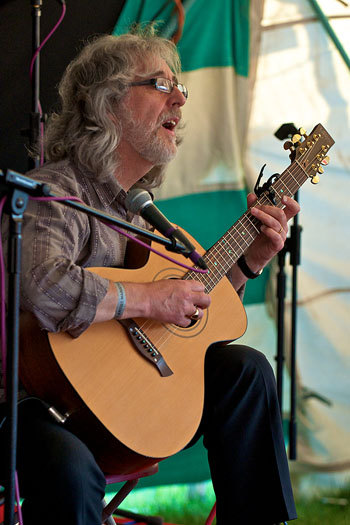 After Glenn's set I quickly made my way to The Dome which was already filled to overflowing for the appearance of Gordon Giltrap who, sadly for this reviewer, spent the first twenty minutes or so tuning his guitar whilst recounting amusing stories.
I left before his set actually began as I was one of only two photographers invited back-stage at the main stage to record for posterity Joan Armatrading receiving a Lifetime Achievement Award from the BBC's Sue Marchant on behalf of the festival organisers.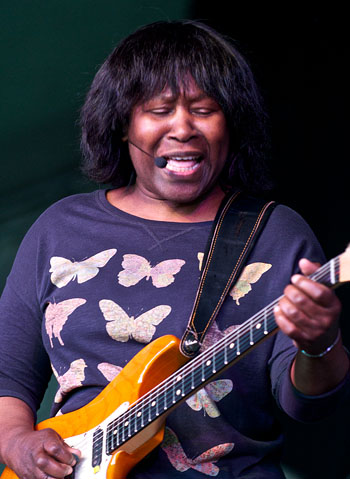 With her new album, Starlight, due out two days later, Joan Armatrading's set was always going to contain the unknown, and so it proved.
Kicking off with the classic Show Some Emotion from the 1977 album of the same name, there followed two songs from the new album; Single Life and Close to Me before a return to the more familiar in the shape of the 1980 song All The Way From America and Crazy from her 1992 album Square the Circle.
Next was the slow love song Tell Me from the new album before another song the whole crowd recognised, Love and Affection.
And so the set meandered on; from the familiar to the unfamiliar, leaving all but the hardened fans feeling disappointed and confused.
Yes, the set included better known songs like The Weakness in Me and, right at the end, Me Myself I, but too many of the songs were not well known enough, nor catchy enough, to hold the attention of many in the crowd.
They say first impressions always count; well it could equally be said that last impressions count, too. While her encore featured the hit song Drop The Pilot, it ended on the unknown Summer Kisses from the new album.
The following morning, chatting to various festival goers, the general consensus was that the set had been considered a poor one, when, I believe, ending on the better known of the two songs would have changed that perception. The lesson to learn from this is to always end on a favourite.

Set list: Show Some Emotion, Single Life, Close To Me, All The Way From America, Crazy, Tell Me, Love And Affection, Tall In The Saddle, My baby's Gone, Starlight, The Weakness In Me, Cool Blue, Kissin' And A Huggin', (I Love It When You) Call Me Names, Best Dress On, Me Myself I with an encore of Drop The Pilot and Summer Kisses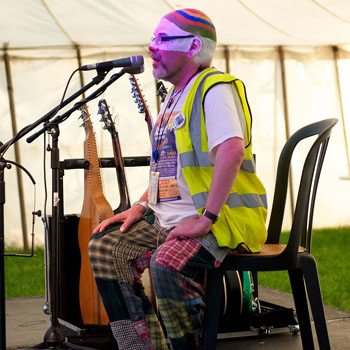 Day 3: Sunday 27 May
For those of us suffering from sunburn, Sunday provided a few clouds and (ever so slightly) cooler temperatures, but the various stages were still hot with talent.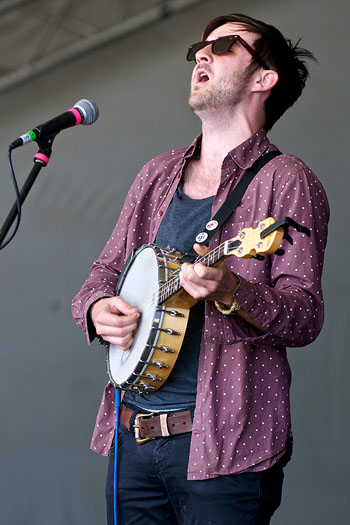 Kicking off the main stage were Rusty Shackle with their take on Celtic, Folk, Bluegrass and Blues. Memorable moments from their set were 3 a.m. and a down-tempo jokey song that included a pastiche of the Hokey Cokey and We Are The Cheeky Girls... very, very amusing and just the thing to get an 11.00am audience in the mood for another day of music and partying.

As had been the case on the previous two days, elsewhere the entertainment consisted of various types of Morris dancers, music workshops, poetry readings and Poly Money was making yet another appearance, this time in The Dome.
The various food stalls were as busy as ever, and the other stalls seemed to be selling their wares too. Disappointingly, numbers seemed to be a little down on the previous day, in spite of a major act on the main stage at lunchtime.
Indeed, when I first saw the list of acts booked (before the timetable was published) I had expected this next act to be headlining the Sunday, not taking the stage at 12.45pm!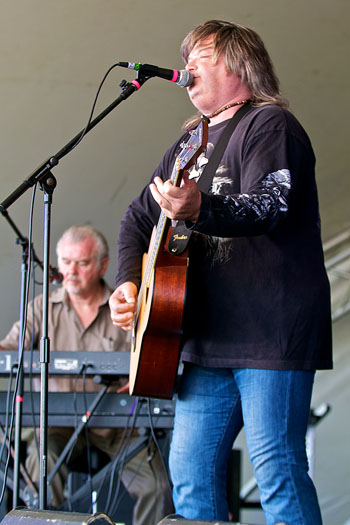 However, for reasons unknown, (surely it can't be age, as The Move, a band of similar vintage, had rocked late on the Friday night) The Animals entertained a crowd seemingly more intent on eating than dancing.
Featuring original drummer John Steel and keyboard player Mick Gallagher who first joined the band in 1965, they played a set that included all their best known and biggest hits, along with various covers, such as It's My Life, Don't Let Me Be Misunderstood, Dimples, Bring It On Home To Me (originally recorded by Sam Cooke), Don't Bring Me Down, Boom Boom and ending with We've Got to Get Out of This Place and House of The Rising Sun.
Peter Barton's vocals had those audience members originally intent on eating lunch and satisfying their stomachs instead having their souls satisfied. A great set from a band who just know how to entertain.
---
...the depressing dirgeful offerings of Justin (Sullivan) and Dean (White) left a sour and unpleasant taste in the mouth... why whip several thousand people into a happy mood only to serve them this bitter tasting pill? Such a set has no place at a festival, unless it's being sponsored by Dignitas.

---
To keep the Sunday crowd further entertained, the Real Ale Tent saw a great performance from T-Rextasy, one of the better tribute acts on the circuit, before the main stage welcomed Justin Sullivan and Dean White from New Model Army.
Included in the set was an a cappella version of Another Imperial Day, followed by, amongst others, Marry The Sea, Heroin and You Weren't There.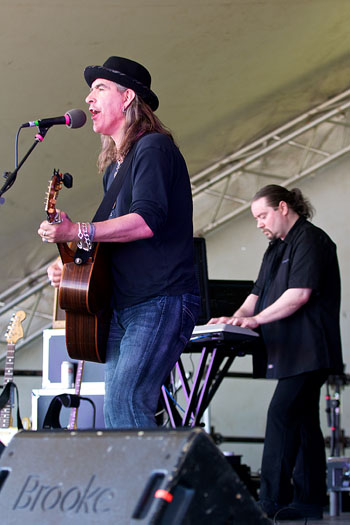 To be perfectly honest, after the feel-good set played by The Animals which had got even the most reluctant audience members on their feet and dancing... or at least clapping and singing along, the depressing dirgeful offerings of Justin and Dean left a sour and unpleasant taste in the mouth... why whip several thousand people into a happy mood only to serve them this bitter tasting pill? Such a set has no place at a festival, unless it's being sponsored by Dignitas.
Granted, die hard NMA fans would have been pleased, but most of the audience spent the set sat in their seats, talking amongst each other and finishing off the lunches that had been interrupted by The Animals.
Certainly the applause at the end of the set was the most muted received by any of the main stage acts during the course of the three days, and seemed to be more of a 'thank God that's over' rather than a genuine show of thanks and appreciation.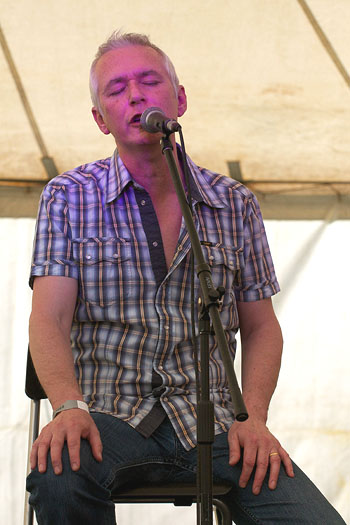 To help lift my mood, I wandered over to the Real Ale Tent where Danny Bowes and Ben Matthews from Thunder kept the crowds entertained with outrageous tales from the road, interspersed by the odd song, while in The Dome (having been moved from the soulless Festival Eye tent that no-one seemed to want to play) Press Gang (traditional folk re-worked with the use of hurdy gurdies, accordions, rap and audience participation) were warming up the many hundreds squeezed inside and overspilling outside in readiness for Tir Na Nog, an Irish acid-folk band who, in the past, have toured with Jethro Tull, Roxy Music and featured many a time on the John Peel sessions.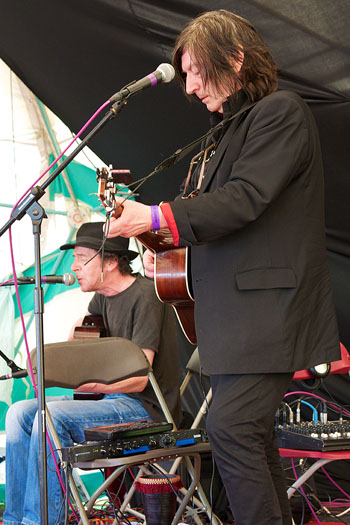 With Tir Na Nog in The Dome, this meant Uli Jon Roth was sensibly moved from there to the much larger Real Ale Tent where he regaled an ever increasing audience to a completely improvised session... 'let's play a few chords and see where it leads us', and off he went for the next thirty minutes, playing almost without a break, merging from one tune into another.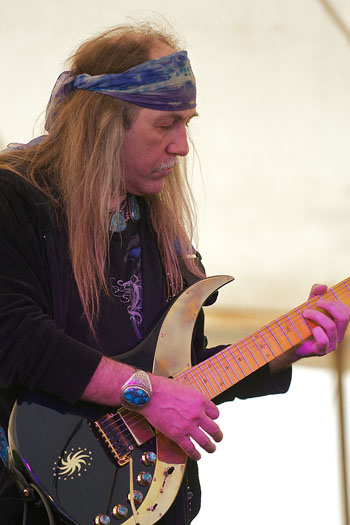 Somewhere, I recognised Beethoven's Für Elisse, some Brahms, The Beatles' Yesterday and All Along The Watchtower but I know there were many more as intros from semi-familiar songs were interwoven thanks to his own accomplished and intricate guitar playing with choruses from other songs. When it was over (all too soon) the crowd rose as one to applaud a maestro at work.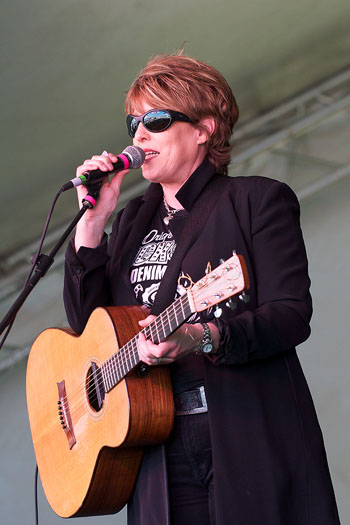 Over on the main stage, Katrina Leskanitch (of Katrina and The Waves fame... only without any Waves this time) was getting ready to play.
It was difficult not to be reminded, the day after Engelbert Humperdinck had failed so miserably, that Katrina had been Britain's last success, in 1997, in the Eurovision Song Contest, and she went on to show why there will always be a place for gloriously happy, if sometimes inconsequential, pop songs with a set that included Rock 'n' Roll Girl, Red Wine and Whisky, Que te Quiero, Going Down to Liverpool (with which The Bangles had a hit), Sun Street, Kirsty MacColl's They Don't Know and finishing off with Love Shine a Light and Walking on Sunshine.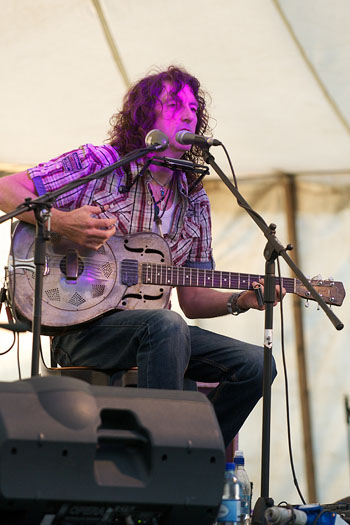 It was just the sort of set that was needed to help round off an enjoyable festival before heading home. Yet there was still a little more to take in. In the Real Ale Tent, Gwynn Ashton jokingly thanked all the other acts for supporting him before playing a mix of old and new songs including One Way Ticket to The Blues and Ain't Nobody's Fool.
---
Overall I left the festival having made new friends on both sides of the barriers, and with the genuine belief that it is certainly one of the friendliest and cleanest festivals on the circuit.
---
To help bring the event to a fitting close, festival favourites The Outcast Band played the final set of the main stage, enthralling all with a set that included To The End, Orphans, Blood and Soil, November, Needles and Ink, Don't Go Home, The Longest Mile, Home by the Sea and The Garden Song.

Overall I left the festival having made new friends on both sides of the barriers, and with the genuine belief that it is certainly one of the friendliest and cleanest festivals on the circuit.
The organisers had made a genuine effort to get the local community involved by having a stage in the town centre (such a shame that just one or two neighbours should complain about the noise, thereby forcing the council to send people hiding behind bushes with decibelometers!)
However, at times there was a certain amount of disorganisation, with acts being moved from one stage to another, and times being changed without telling anyone. I was also surprised at the amount of amplification on view for what is advertised as an acoustic festival... not that I'm complaining... I like nothing more than the wail of a screaming guitar!



Review and photos by Bob Singleton
---