WARREN HAYNES Man In Motion Provogue PRD7340 (2011)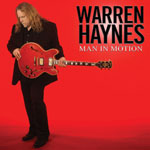 Warren Haynes's aptly titled 'Man in Motion' is as much a labour of love and leap back into the soul music of his childhood as a long overdue second solo album. It's the work of a virtuoso player who has the chops, the vision and maturity to fulfil a musical dream.
Every nuance, every ounce of passion and every strand of creativity is incorporated into the title track as Warren's aching vocals are perfectly complimented by a wah wah inflected rhythm track, a kicking horn section, salient keyboards and his own BB King inflected guitar line. His guitar cries out on the outro as drummer Raymond Webber adds some subtle cymbal work. The opening track sets out the blue print for an album that combines some essential Memphis soul elements and Warren's more familiar jamming style.
'Man In Motion' is a brave and successful attempt to embrace the music of a particular era and represent it in a fresh and vital way in the contemporary musical landscape. It is an album full of real feel, craft and moments of spontaneous inspiration. And if by the half way mark of 'Hattiesburg Shuffle' the band appears to have explored the outer limits of their oeuvre, Warren drags the music back to its bluesy source with his best vocal on the album. It's the perfect example of an artist digging deep into his musical roots and reaching for another performance level.
The whole project works simply because this is a real band record rather than a Warren solo effort with hired hands. The music is as honest as it is organic and the songs are full of real substance, feel and drive. At no time does any of the album sound forced, not even on the more pedestrian balladry and tempo change of 'A Friend To You', which in spite of its languor triumphs because of Warren's heartfelt vocal and an inherent Percy Mayfield feel.
'Man In Motion' is a subtle blend of luscious textures, instrumental virtuosity and above all intuitive band interplay And if the opening title track sets the standard then the following 'River's Gonna Rise' elevates the album to another level as it soars with a funky undertow. Warren's aching vocal, the potent gospel bv's and the vocal triumvirate make the most of a sumptuous groove. Warren adds an exhilarating solo with repeated caustic notes and wah wah washes as Ruthie fills the spaces with some beautifully judged bv's. Contemporary soul music doesn't get any better than this.
This is soul music that envelopes you even if it does demand a little patience to glean its hidden rewards.
The only cover of the album, William Bell's 'Everyday Feels Like A Holiday', plods along as an exercise in vocal delivery and relies on an ascending chord change and some clean trebly notes to push it along. But as Warren surreptitiously slips into an expansive solo, beautifully shadowed by Raymond Webber's dynamic drumming which ultimately shapes the whole piece, you realise the beauty of a cooking band. If soul music is the expression of an inner core, then this jammed out conclusion to the song achieves its goal thrillingly.
Ron Holloway picks up the baton on 'Sick of My Shadow' with an incredible wah wah sax intro on a funky groove that adds to the album's coherent feel. As with the very best album's there's a flow and unhurried feel, something like one of those mid 70's Traffic jams (no pun intended) without the stoned excesses. The incredible twin sax break and subsequent sparring with Warren's guitar works perfect because of the peerless rhythm section of bassist George Porter Jnr., drummer Raymond Webber and Ivan Neville's funky keyboard fills and Ian McLagan's sweeping organ. The hand picked band steps up to the plate and stretches the song to its full potential.
'Real Lonely Nights' is almost two songs in one, ostensibly an Al Green style single with real radio potential before a combination of outrageous sax and guitar interplay, expansive cymbal splashes and a funky groove propel it into the kind if jammed out piece that will delight Warren fans. Sax and guitar engage in a rumbustious musical conversation brought to an abrupt end by the shrillest note. The following languid bluesy feel of 'Hattiesburg Hustle' is a beautifully nuanced piece complete with stop-starts and processed vocals either side of Warren's deeply expressive and aggressive vocal phrasing, neatly offset by a flighty Garcia style guitar flurry.
'Take A Bullet From You' is a slice of classic soul melded to a BB King guitar solo and wailing sax and Warren uses one of his oldest songs 'Save Me' for a moving outro, complete with a piano, organ and guitar coda.
If like me you didn't always get the over extended jamming intensity of Gov't Mule then, 'Man In Motion' is Warren Haynes in a more accessible vein marrying classic soul with deep blues, three part harmony singing and the kind of inspirational jamming that only comes from a cooking band.
*****
Review by Pete Feenstra
---
| | |
| --- | --- |
| | Print this page in printer-friendly format |
| | |