Just witnessed your best live gig?.. send us a review!
TOTO, Hammersmith Apollo 26 June 2011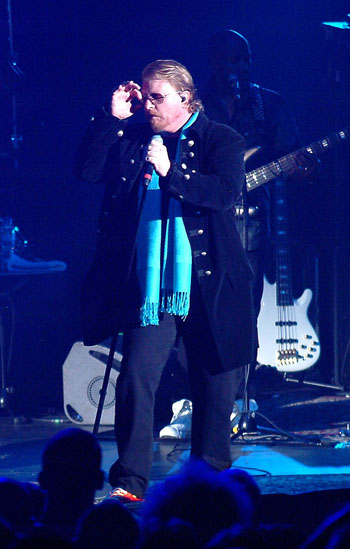 An amazing sight to behold outside the Hammersmith Apollo - massive queues waiting to get into tonight's gig.
It's been a great week for melodic rock fans with Night Ranger on Thursday, Cinderella or Bon Jovi last night and now Toto (with Rod Stewart, Stevie Nicks & co down the road at Hyde Park and Alice Cooper sweating it out in the tiny 100 Club).
Spotted in the audience were rock writing legends Dave Ling and Derek Oliver (both responsible via their reviews for getting me into this band) plus Jeff Scott Soto (who was also at the Night Ranger gig). A good mixed crowd as well of all ages proving Toto's music has a timeless appeal.

This tour would draw heavily on the classic 'IV' album plus the two Joseph Williams sang on, namely 'Fahrenheit' and 'The Seventh One'.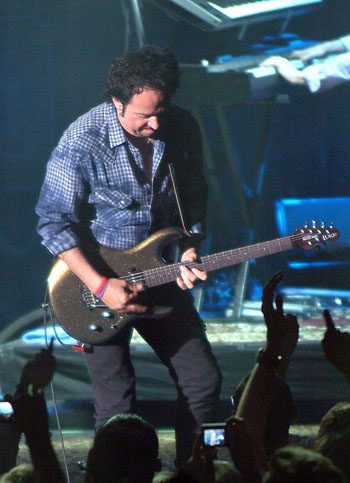 Joining Joseph Williams were Toto mainstays Steve Lukather, Simon Phillips, Steve Porcaro and David Paich, with Nathan East standing in for Mike Porcaro, who is too ill to tour but is doing well according to his brother Steve's onstage announcement.
The band were rounded out by two backing singers, including Jenny Douglas-McRae, who has toured before with the band. They both certainly added to the band's rich vocal sounds and took co-lead vocals on a couple of numbers.

Kicking off with the riff heavy instrumental 'Child's Anthem' is always a good way to start things off, quickly followed by 'Till The End' (how good was it to hear the original vocalist sing this one?), 'Afraid Of Love' and 'Lovers In The Night'. Not a gap between these songs made for a upbeat start to the night's music.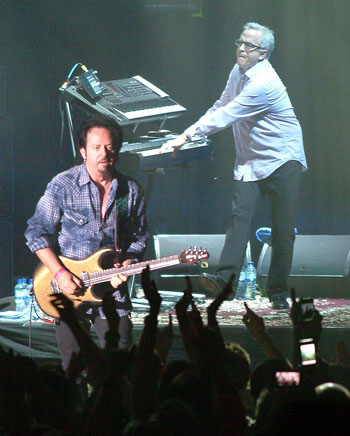 The band were on top form and a treat to finally hear Joseph Williams sing live with the band. His voice is still in fine form and a real highlight was their hit 'Pamela'. Sheer AOR bliss to the ears!

Of course the two big hits from 'IV' were wheeled out - 'Africa' and 'Rosanna' to massive applause. Even after all these years both songs never fail to please live.

A few curveballs in the set included Michael Jackson's 'Human Nature' (co-written by Steve Porcaro hence it's inclusion tonight) and 'Lea', a song rarely performed live by the band.
We did have the funky 'Georgy Porgy' one of the few songs by the band I don't like but being followed by 'Can't Stop Loving You' was a good choice.

A lengthy, almost prog rock workout, on 'Home Of The Brave' closed the set in fine style. The song allowed all the band members to strut their musical stuff.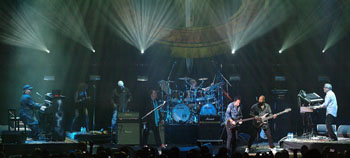 Zoom (Click large image to cancel)

The crowd reaction at the end was simply amazing, they were loving the band big time. One encore in an extended 'Hold The Line', with Steve Lukather's son, Trevor joining the band. Like his dad he knows his way around a guitar and has a lively onstage presence. The only song I would have loved to have heard was 'Only The Children'.
Superb night of high quality music that is timeless, and long may the band continue, if only in a touring form, as I doubt we will see any new music again from the band but you never know...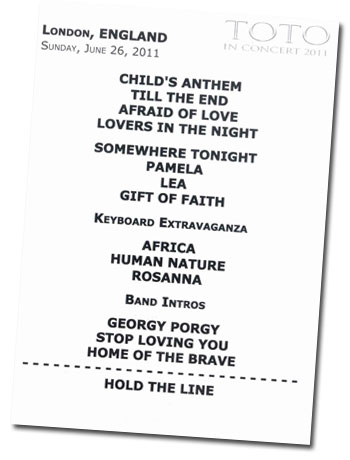 Review by Jason Ritchie
Photos by Noel Buckley
---