TODD RUNDGREN A Cappella/Nearly Human/2nd Wind
2-CD Edsel (2011)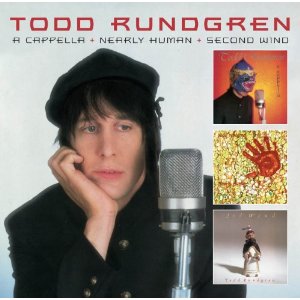 2011 has been a good year for Todd reissues, with both Edsel and Esoteric revisiting albums from the seventies onwards. A shame perhaps these reissues don't come from the same label, for reasons of consistency, although as reissues the Edsel releases have the edge in terms of bonus tracks and liner detail. In short, a good job.
A Cappella from 1985 is just that with Todd voicing the instruments, literally. It therefore sits oddly in the overall scheme of things (but then when did he do anything predictable?). It does however reinforce his vocal credentials. ***
On the other hand, 1990's Nearly Human (split across two discs) is a highly listenable collection of songs with luminaries such as Bobby Womack and Narada Michael Walden.
It is one of Rundgren's most consistent and commercial-sounding, albums, although firmly rooted in his soul stylings. Songs like 'Parallel Games' and 'Can't Stop Running' are highlights, although 'Unloved Children' and 'Fidelty' are pretty cool too. And his reading of 'Feel It' which he co-wrote and produced for The Tubes is simply wonderful. *****
2nd Wind from 1991 was recorded completely live in front of an audience (when he told them not to make any noise so it sounded like a studio album) and follows its predecessors funky vibe. Some may think it is too close to Hall & Oates schmaltz (who of course were produced by Todd) but Rundgren seems to operate best within the confines of a stellar musical cast and disciplined arrangements.
Standouts include 'Who's Sorry Now', 'If I Have To Be Alone' and 'Second Wind'. Only 'Public Servant' (with its 'Whole Lotta Love'-ish guitar break) breaks the soulful ambience to deliver a rockier groove.
But again '2nd Wind' is a wonderful vehicle for Rundgren's writing, producing and vocal talents. ****
Edsel are planning to release several other Rundgren reissues in 2012 including 'Back To The Bars' and 'Hermit Of Mink Hollow'.
Review by David Randall