Just witnessed your best live gig?.. send us a review!
THIN LIZZY
Hammersmith Apollo, 22 January 2011
Photos by Noel Buckley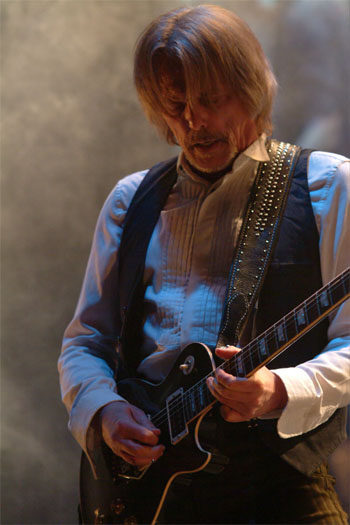 25 years ago one of rock's great characters, musicians and storytellers, Phillip Parris Lynott, fell victim to the rock n roll lifestyle at just 36. But the Thin Lizzy legend has never looked healthier and this anniversary has seen renewed activity in the Lizzy camp, from a BBC4 documentary to a new line-up undertaking a UK tour.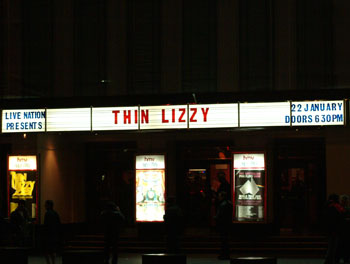 For the last decade and a half, a declining number of former Thin Lizzy members had been touring to keep the name alive, but John Sykes' metallised stylings and clichéd posing were becoming increasingly tiresome and when they parted company 18 months ago, I was pleased that the Lizzy name was not being tarnished further.
But last year came news of an intriguing new line-up with long-time guitarist Scott Gorham partnered by Vivian Campbell on a sabbatical from Def Leppard, Ricky Warwick ex of the Almighty singing, keyboardist Darren Wharton back in the band, and best of all, drummer and founder member Brian Downey back in the fold.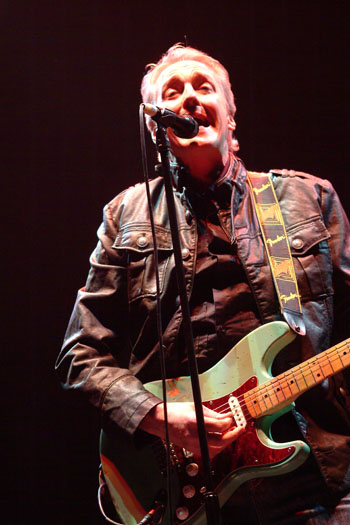 Support came from two bands - punky Americans the Supersuckers, who unfortunately I missed out on, and FM, seemingly the hardest gigging band around right now, making up for their long absence. It was also on this stage nearly 26 years ago that I first saw them, supporting Reo Speedwagon! (Kevin Cronin's pink jump suit that day still gives me recurring nightmares, but I digress....)
The melodic rockers played a 40 minute set with most of the classics such as That Girl and Bad Luck, and newer songs like rocky opener Wildside. I sensed most of the Lizzy fans there were unfamiliar with their material, although the dual lead guitar solos in Face to Face and Over You would have given them a sense of déjà vu.
A few of us did head to the front during I Heard it through the Grapevine, and with the band on top form, and Steve Overland's vocals as superb as ever, I hope they made some new friends.
Now to business. The $64,000 question is - has the new line up recaptured the classic Lizzy Sound? Up to a point is the answer: it was great not to hear the subtlety of the songs drowned out by squealing guitar solos or over the top drumming, but when you add Ricky's rhythm guitar and the keyboards, at times it was just too noisy with the songs not given space to breathe.
Vivian and Scott are a well matched pairing, and the famous harmony lead guitars were on fine form, while the latter seemed rejuvenated - I have never seen him look so animated whereas in the previous line up, stage-wise if not musically, he seemed firmly in Sykes' shadow. He also appeared to take the lion's share of the solos too.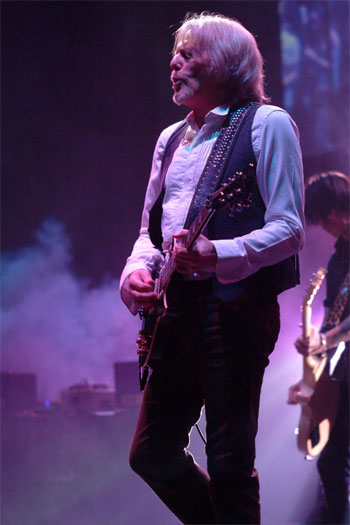 I was never a fan of The Almighty who I thought a poor man's Motorhead, but Ricky Warwick could barely be faulted. His voice has a naturally rougher edge than Philip Lynott but his vocal phrasing was respectably close to the original. He is also a confident frontman and looks the rock n roll part in his western shirt and tattooed arms, although his handlebar moustache should be confined to a 1970's adult movie.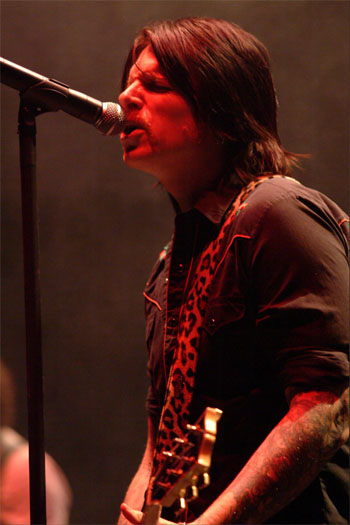 With a fine stage set with the iconic Lizzy logo prominent in neon, the set got off to a flying start, with classics Are You Ready, Waiting for An Alibi and Jailbreak rattled off with barely a pause for breath. Generally it was a greatest hits set with the likes of Don't Believe a Word, Dancing in the Moonlight and Emerald, but there were a number of surprise touches.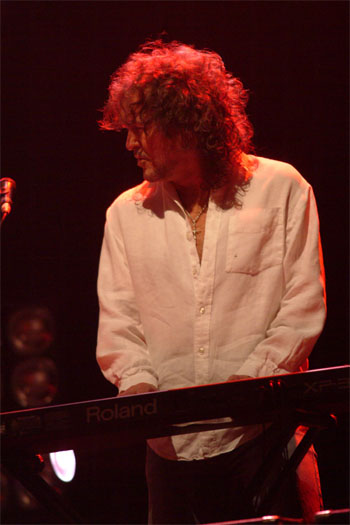 These included Do Anything you Wanna Do, complete with the guitarists pounding out the intro on drums, Angel of Death with its typically early 80's futuristic keyboard intro, Still in Love with You with Darren and Ricky sharing the vocals and great solos from both guitarists, and a brilliant version of Whiskey in the Jar with Vivian producing the solo of the night.
But my own favourite moment was hearing the rarely played Wild One from 1975's Fighting, a song whose lyrics about a restless spirit and harmony lead guitars showcase peak time Lizzy at their best.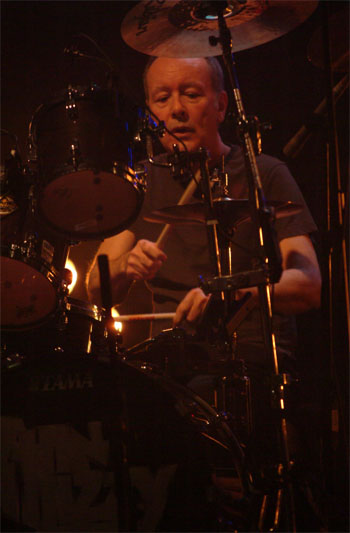 Brian Downey got to do his drum solo during Sha-La-La and they ended with the usual one-two punch of my favourite ever Lizzy song Cowboy Song and Boys Are Back in Town, with even the balcony getting to their feet.
I was curious as to the encores but Rosalie, complete with audience participation, and Bad Reputation, rocked the place before a sensational version of another classic, Black Rose, with a frenzied duel of Celtic-themed guitar solos, rounded off the night.
There are one or two songs I was surprised not to hear - Suicide, The Rocker - but that would be carping. This was a show that restored the tarnished Lizzy legend and would have delighted the man himself.

Review by Andy Nathan
Photos by Noel Buckley
Photo Gallery
Andy Nathan
---
---