SUSAN CATTANEO Heaven To Heartache Jersey Girl Music (2011)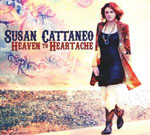 Heaven To Heartache, the second album from Boston based singer songwriter Susan Cattaneo, kicks off with Gotta Get Gone a number that combines some wonderful blues guitar and dobro interchanges courtesy of Pat Buchanan and Randy Khors. Their playing is underscored by Tommy White's glorious pedal steel, and is topped off with warm honeyed vocals. It's like the Dixie Chicks meet Bonnie Rait and oozes class.
As an opener, it's a corker and while Susan Cattaneo's debut album Brave And Wild was rooted in the sounds of East Coast rock, Heaven To Heartache explores the sound of the wide open spaces and campfire stories of the West.
It's a beautifully played and recorded set. With Lorne Entress (Lori McKenna) producing, and the majority of the album recorded in Nashville, Susan is supported by a cast that's a veritable 'who's who' of session players who've graced the stage with the some of the greats, including guitarist Pat Buchanan (Faith Hill, Dixie Chicks, Mary Chapin Carpenter), drummer Paul Leim (Roy Orbison, Elvis, Neil Diamond, Dolly Parton), dobroist Randy Khors (Dolly Parsons, Hank Williams III) and fiddler Glen Duncan (Merle Haggard, Loretta Lynn, Patty Loveless).
Spanning the spectrum of the best sounds to come out of Nashville, from the dreamy Baby We Fly (with backing vocals care of Mickey B, and more excellent pedal steel from Tommy White) and the mournful Put That Bottle Down, to more the more tongue in cheek Shania Twain orientated Girls Night Out and Shave, it's never less than a radio friendly ride.
With effortless vocals and quality control set high, Susan Cattaneo could easily rise up the country crossover ranks. As for the mainstream, it's entirely possible, but maybe more likely on her own side of the pond.
***½
Review by Pete Whalley
---
| | |
| --- | --- |
| | Print this page in printer-friendly format |
| | |