STAN BUSH Reissues Rock Candy (2011)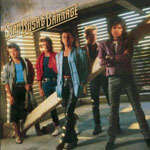 The first two albums from Stan Bush, who has also provided some class tracks to movies like Transformers, Kickboxer, Blood Sport and others.
Previously of rock band Boulder, Bush then worked with Styx's Pat Ryan before recording this 1983 album for Columbia. With REO Speedwagon's Kevin Beamish in the producer's seat, this a classic full on solid set, with all out metal riffs one minute and softer melodic Speedwagon / Chicago vocals the next. It's big and soaring and very well written.
The intro to 'Don't Accuse Her' could be AC/DC with keyboards, move it moves in a Survivor direction with plenty of vocal harmonies and a heavy rhythm.
This should have been huge, because it's much better than many of the period contemporaries. Sadly it didn't take off, something about a change of A&R led to a lack of promotion becoming a common story. ****
1987 Bush released the album with a backing band called Barrage, which featured ex members of Black Rose, John Parr's band and Rick Springfield's band. Aimed at competing with the likes of Bon Jovi, it's a harder edged and crunchier affair. From the outset of 'Temptation' you still have some well written songs and big choruses, but the AOR is more rock/metal and less pomp than the debut.
'Love Don't Lie' is an gentle acoustic number then it's back full on with 'Primitive Lover', an all out commercial hard rock number.
The album is notable for featuring 'The Touch' which was included on the original 80s Transformers movie.
Elsewhere on the album there's some saxophone, a nice touch. ****
Whether it's pomp filled AOR or hard rock, both angles are classic melodic rock at their best and feature new Stan Bush interviews in the sleevenotes.
Review by Joe Geesin
---
| | |
| --- | --- |
| | Print this page in printer-friendly format |
| | Tell a friend about this page |