Welcome home, Slash...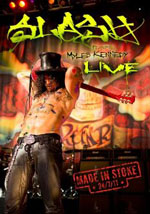 One of the most distinctive, and instantly recognisable, guitarists to have graced the music business over the last 25 years or so Slash returned to the place of his childhood in July this year and the ensuing show has now been released on DVD.
Touring in support of his recent self titled solo album, the former Guns N Roses and current Velvet Revolver guitarist played a packed out gig at Stoke's Victoria Hall. The set list made up of 21 tracks that cover his entire career, from GnR to Snakepit, Velvet Revolver and right up to his current album.
With vocals provided by Alter Bridge's Myles Kennedy and a backing band that can easily handle any song thrown at them, the audience quite rightly loved it and luckily for those that couldn't make it to the gig, this DVD captures that feeling.
The highlights are, understandably, numerous - from a superb run through 'Night Train', Snakepit's 'Mean Bone', a stunning 'Rocket Queen' - you would think that the set list couldn't get any better. However, you would be wrong as the firepower of back to back closing numbers 'Slither', 'By The Sword', 'Mr Brownstone' and 'Paradise City' is immense.
Kennedy's vocals are at their best during the track 'Starlight' and I am not sure if that is because during the GnR songs there tends to be a feeling of almost trying to sound like Axl Rose, not an easy job, with 'Civil War' coming the closest. Reminiscent of the big Guns N Roses shows is Slash's 'Godfather Solo' (sandwiched nicely here between 'Patience' and 'Sweet Child O' Mine').
Bass player Todd Kerns takes fellow Stoke legend Lemmy's place on vocals during 'Doctor Alibi' whilst 'Watch This' is a great instrumental workout.
Throughout the show drummer Brent Fitz has a smile etched on his face and it is clear that the band are enjoying themselves. Slash seems to have more freedom here than during Velvet Revolver shows and more attention is given to Guns material than we have seen from him in the years since he left the band.
Bonus material includes interviews with Slash and Myles Kennedy, as well as Slash's Uncle Ian who tells us about the time he spent living with them, the close relationship they still enjoy and a tour around the home they once shared. This is not your usual DVD extra and clearly shows how proud he is of his famous nephew.
Myles Kennedy has been confirmed as the vocalist on all the tracks on Slash's second solo album, which is to be recorded shortly, and it's a fair bet that the whole band here will be involved.
There are also rumours of the remaining members of Velvet Revolver convening in December to try out some more singers in their ongoing quest to replace Scot Weiland. In the meantime, I am sure most Guns N Roses fans will see this DVD and cross their fingers that a day may come when the original line up hit the stage together once again.
****
Review by Nikk Gunns