The Long and winding road to universal appeal...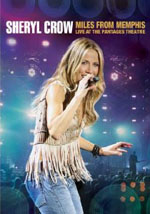 In early 2009 Sheryl Crow decided she wanted to write and record in a more organic manner than she had on her recent releases Detours (2008) and Wildflower (2005). So in some ways it was inevitable she would return to her roots and make a record soaked in the southern soul and r&b music she'd grown up on in Kennett Missouri, a town about 100 miles from Memphis.
While the album by that name was a change of direction perhaps, initially, viewed with suspicion by her fans - not least because of the early shopping channel distribution - it yet again demonstrated why she's sold over 35 million albums worldwide. And that's quality singing and songwriting that has universal popular appeal.
Wherever you dip into her creative output you're going to find something that clicks - for me her rock chick period in the late nineties that spawned Sheryl Crow (1996) and The Globe Sessions (2009) is a personal favourite - and 100 Miles From Memphis is no exception.
When it was 'in the can' it was only natural that she would reassemble the studio band - affectionately known as The Thieves - to take the album on the road. Miles From Memphis captures the final date of the 2010 tour - a breast cancer benefit gig - at The Pantages Theatre, Hollywood, California.
It's a set that includes the bulk of her latest album interspersed with hit singles and some of her best album tracks. The difference this time around, of course, is The Thieves - Chris Bruce's funky/soulful guitar work perfectly complementing the blues lines of Doyle Bramhall II, while the horns of Ephraim Owens and Shelly Carroll blend with the backing vocals of Nayanna Holley and Stephanie Alexander to provide a 'classic' soul sound.
Whether a deliberate ploy or not, the result is a remarkably fresh sound that harks back to the 'good old days' when gigs weren't rehearsed to synchronised swimming levels of note by note perfection. A good example is the blistering extended workout on Roses And Moonlight where the band just get in a groove and run with it.
This approach adds a new lease of life to some of the older material, but two of the most impressive tracks are the country inflected version of Redemption Day which - if rumours are to be believed - may hint at the direction of her next album, and the beautiful solo piano/gospel version of I Shall Believe that explodes into a climatic set finale.
It almost goes without saying that the DVD is beautifully shot, although it's not an overly visual show, and bonus material is minimal - a behind the scenes introduction to the band and soundcheck versions of two album tracks not included in the main show.
Miles From Memphis may just be a day on the winding road Sheryl Crow is travelling, but it's one to be savoured and enjoyed.
****
Review by Pete Whalley